Hello, Truckers! Trucking is one of the biggest businesses in America; truckers are practically risking everything to move everything around the country from place to place. We should appreciate all the wonderful truckers out there and celebrate their contributions to our society. Many truckers spend so much time away from their families to provide this timely trucking service, and we at TaxExcise.com want to honor their service in the event of Father's Day. Therefore, we are giving out a special discount on form 2290 pre-filing for the upcoming tax year. Form 2290 pre-filing for the next tax season, TY 2022-2023, is actively happening on TaxExcise.com. So, use this opportunity and pre-file form 2290 online at TaxExcise.com.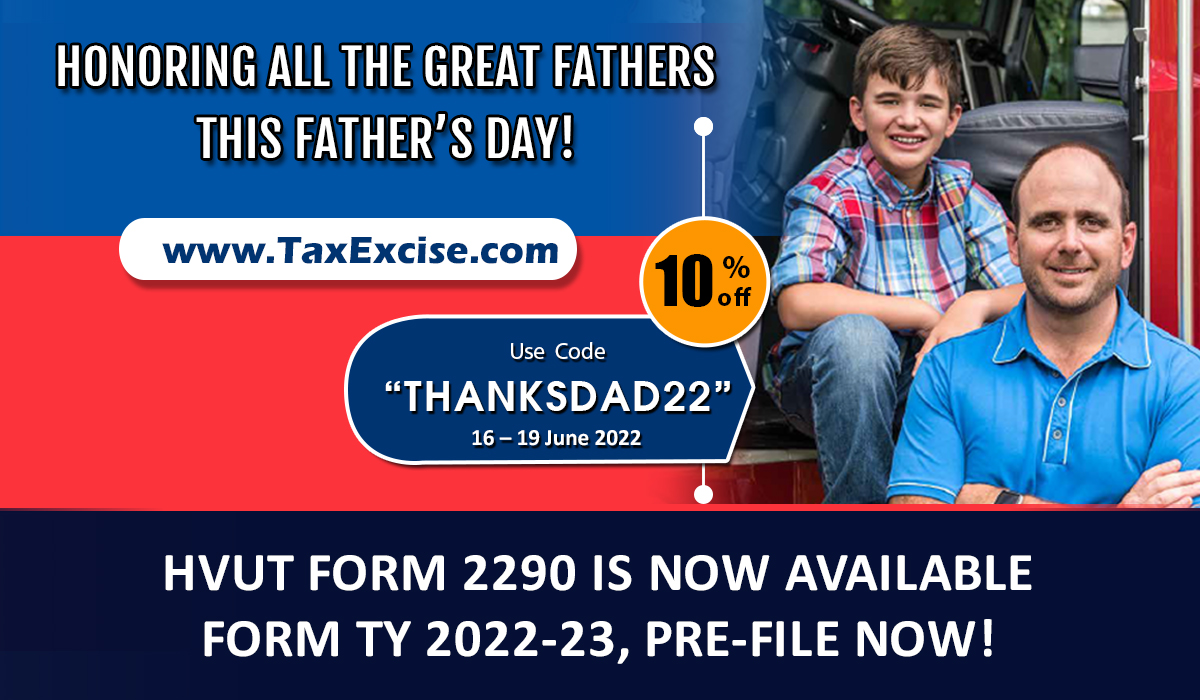 Form 2290 pre-filing is open at TaxExcise.com!
Tax period generally starts around the first week of July and lasts till the end of the next June. 1st July 2022-30th June 2023 is the upcoming tax period of this year. So, all the truckers and truck taxpayers should file and report their HVUT form 2290 to the IRS from the first week of July. And the deadline to file form 2290 truck tax reports to the IRS is August 31st, 2022, for this year's tax period. Therefore, taxpayers should not miss the deadline to pay their taxes and get the schedule 1 copy on time to operate their trucking business smoothly. But the IRS will get crowded during the tax season as many truckers will file their form 2290 truck tax reports. To overcome this problem, TaxExcise.com has introduced form 2290 pre-filing services, where you can file form 2290 reports online days before the tax period actually starts. We will securely hold your 2290 truck tax reports in our system and transmit them to IRS once they are open for form 2290 in July. In this way, truckers get extra time to prepare their 2290 tax reports and efile online ahead of the tax season. Their form 2290 will be among the first to reach the IRS for further processing, and they will get the schedule 1 copy at the beginning of tax season.
Use the special Father's Day coupon code to save more!
Let's celebrate Father's Day with our special coupon code to save big on your form 2290 pre-efiling charges. TaxExcise.com is an IRS-approved modernized form 2290 online e-filing service provider, and we have been providing truck tax online e-filing services for over two decades. You can pre-file form 2290 at the most economical and pocket-friendly prices. Use the coupon code 'THANKSDAD22' and get a flat 10% discount on your form 2290 pre-filing preparation fees. This Father's Day celebration offer is valid from 16th to 19th June 2022. SO, pre-file form 2290 today and enjoy the Father's Day offer at TaxExcise.com.