This July 2022 marks the beginning of a new tax season for Truckers to complete and pay the Heavy Vehicle Use Tax Form 2290. The Form 2290 and Schedule 1 will falls due for renewal for Tax Period July 2022 through June 2023. The Internal Revenue Service insists Truck Taxpayers to choose electronic filing to report and pay the HVUT Form 2290 returns. Electronic filing is simple, easy and fastest way to complete and pay the 2290 taxes online at your convenience. No more appointment blocking with IRS, No more paying Tax Accountant or Tax Preparers, all you can handle it by yourself  conveniently.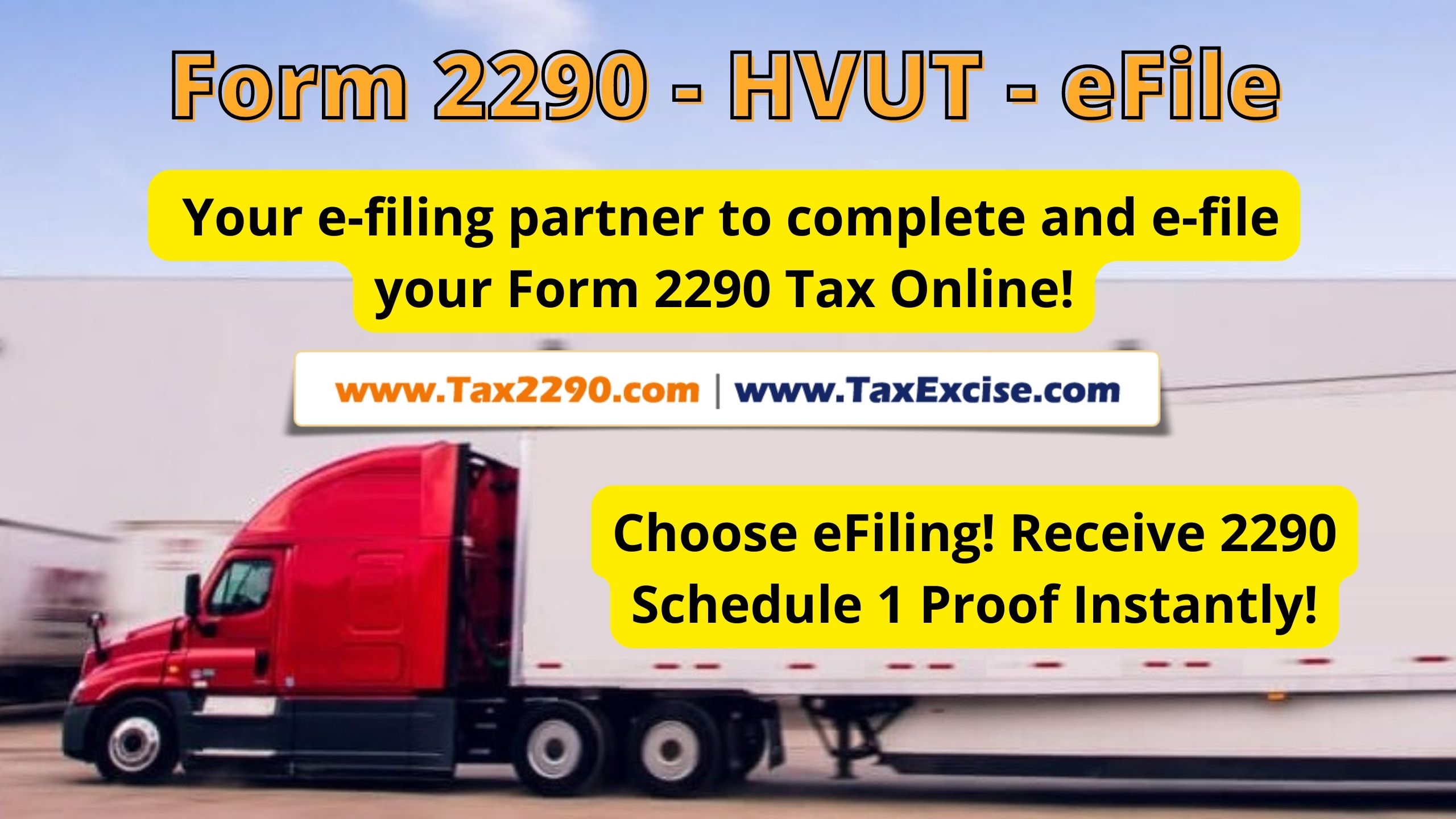 IRS Tax Form 2290 – Heavy Highway Vehicle Use Tax Reporting:
Most of the Truckers might be aware of  this HVUT Form 2290 taxes. However, they are few who don't know about this 2290 taxes. The IRS Form 2290 is used to report this HVUT taxes,  taxpayers  who registers a heavy highway motor vehicle in their name with a taxable gross weight of 55,000 pounds or more must file Form 2290 and pay the tax.  Heavy vehicles that are used for 5,000 miles or less (7,500 for farm vehicles) are required to file a return but are excluded from paying the tax, can be listed under tax exempt or suspended vehicles.
You'll receive your watermarked Schedule 1 to your inbox after the  IRS accepts your Form 2290. We insist the truckers to ensure that the watermark on your printed copy of Schedule 1 is legible before submitting it to your state department of motor vehicles. You may need to reprint with fresh ink or on a different printer to ensure a legible watermark.
Form 2290 Truck Tax Season – July 2022 to June 2023
This heavy vehicle use tax form 2290 is July 1, 2022 through June 30, 2023. The filing deadline for Form 2290 is based on the month you first use the taxable vehicle on public highways during the reporting period. The new tax year starts from July 2022 and that also marks the first used month of any heavy vehicle that would be operated for the whole 12 months period.
The filing deadline is not tied to the vehicle registration date. Regardless of the vehicle's registration renewal date, taxpayers must file Form 2290 by the last day of the month following the month in which the taxpayer first used the vehicle on a public highway during the taxable period.
Usually August 31, 2022 is the deadline to complete the HVUT returns and pay the taxes in full for the year. The tax for the current filing season will be prorated for vehicles you first use on a public highway after July. File Form 2290 by the last day of the month following the month in which you first used the vehicle on a public highway.

Electronic Filing HVUT Form 2290 with the IRS
Truck taxpayers must e-file your Form 2290, Heavy Highway Vehicle Use Tax Return, if you are filing for 25 or more vehicles. However, the IRS encourages e-filing for anyone required to file Form 2290 to receive quick delivery of their watermarked Schedule 1. With e-file, you'll receive it almost immediately after IRS approving your e-filed Form 2290.
The IRS makes it mandate to every trucker to use an approved Employer Identification Number (EIN) or federal ID to complete the 2290 tax returns online. With out a valid EIN your 2290 will be rejected and will not be issued with a Schedule 1 proof. IF you don't have an EIN for your business, register for it online today.
Electronic filing with the IRS Approved and Authorized TaxExcise.com. (also refer as Tax2290.com)
TaxExcise.com powers the website Tax2290.com, an IRS Authorized Electronic Truck Tax Filing Service provider since 2007, for more than a decade.
It is free, easy, fast, safe and secured to set up an account with the TaxExcise.com. Helps to manage all your tax returns at one place and records keeping is free.
It is 100% accurate, no need to manually do your math. It is automatic and accurate.
Enjoy completing your 2290 truck tax returns online at TaxExcise.com, easy navigation, step by step process to help you do it by yourself in minutes.
No need to install any software, it is a secured cloud solution and you can access it from anywhere anytime. You can start now and come back to complete from where you left, no need to start all over again.
IRS watermarked Schedule 1 proof is sent to your inbox, download a copy of it anytime and any number of times you need it. We will securely have it in your user account for years.
Use Bulk Upload and Import features to complete 2290 taxes for a big fleet. We can handle any number of vehicles in a tax return. No restriction on the number of vehicles reported in a tax return. Where else not all the eFile provider support this.
Use clone a tax return from the dashboard, if you haven't changed any of the tax data from last year. Super fast and easy to pull data from the already filed return and get it accepted by the IRS instantly.
Text and Fax copies will always keep you informed of your tax return status  and a copy is Fax right-away.
Pricing is  easy, pocket friendly, affordable and simple. No complete pricing or hidden pricing or transaction cost added. What you see is what you pay, straight forward and rightly priced website.
Support Desk at your sides to help you through your electronic filing process. Connect with the Team through LIVE Chat, Phone Call or Email.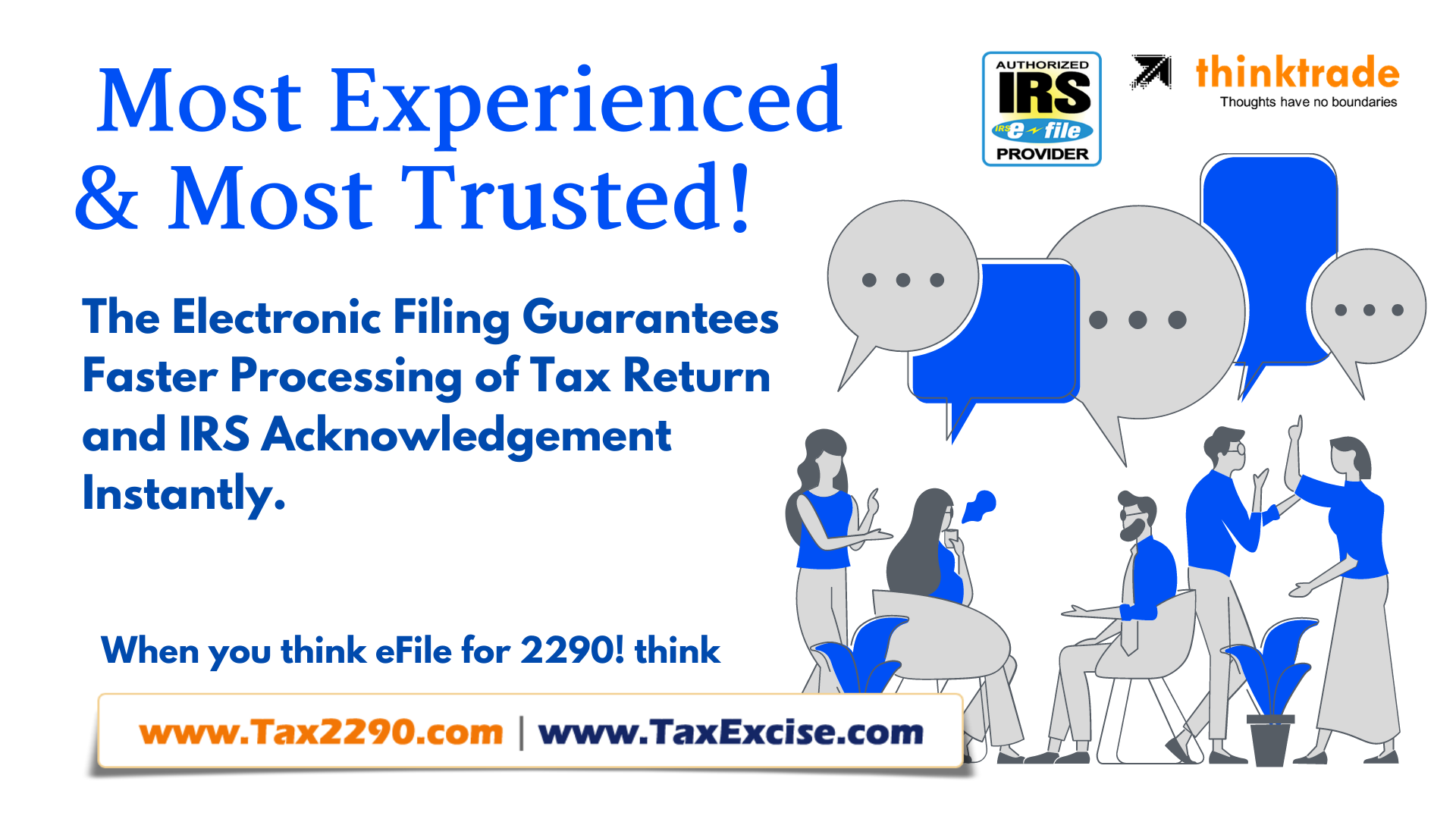 When it comes to handling taxes it is the experience and trust matters. TaxExcise.com is the most experienced and trusted platform for the Truckers, Truck Taxpayers and Carrier Operators to complete the 2290 taxes with ease. We bring you the best in class online cloud website for ever hardworking truckers. We have processed more than 5 million trucks and 40 thousand trucking businesses continuously filing taxes since 2007.
TaxExcise.com is a product of ThinkTrade Inc. a Tennessee based Tax Software Development company. Tax2290.com is powered by TaxExcise.com and the one stop shop to complete and pay all the Federal Excise Tax Forms at one place.