The electronic filing platform have seen a consistent growth over the years and now this is the most preferred method to report and pay the Federal Taxes. The electronic filing also leads the taxpayers to directly report and pay the taxes with the IRS. The situation due to pandemic has pushed the taxpayers towards electronic filing. TaxExcise.com is a pioneer in handling Quarterly Excise Tax returns since 2007, infact the only website that supports electronic filing for all the Federal Excise Tax Forms at one place.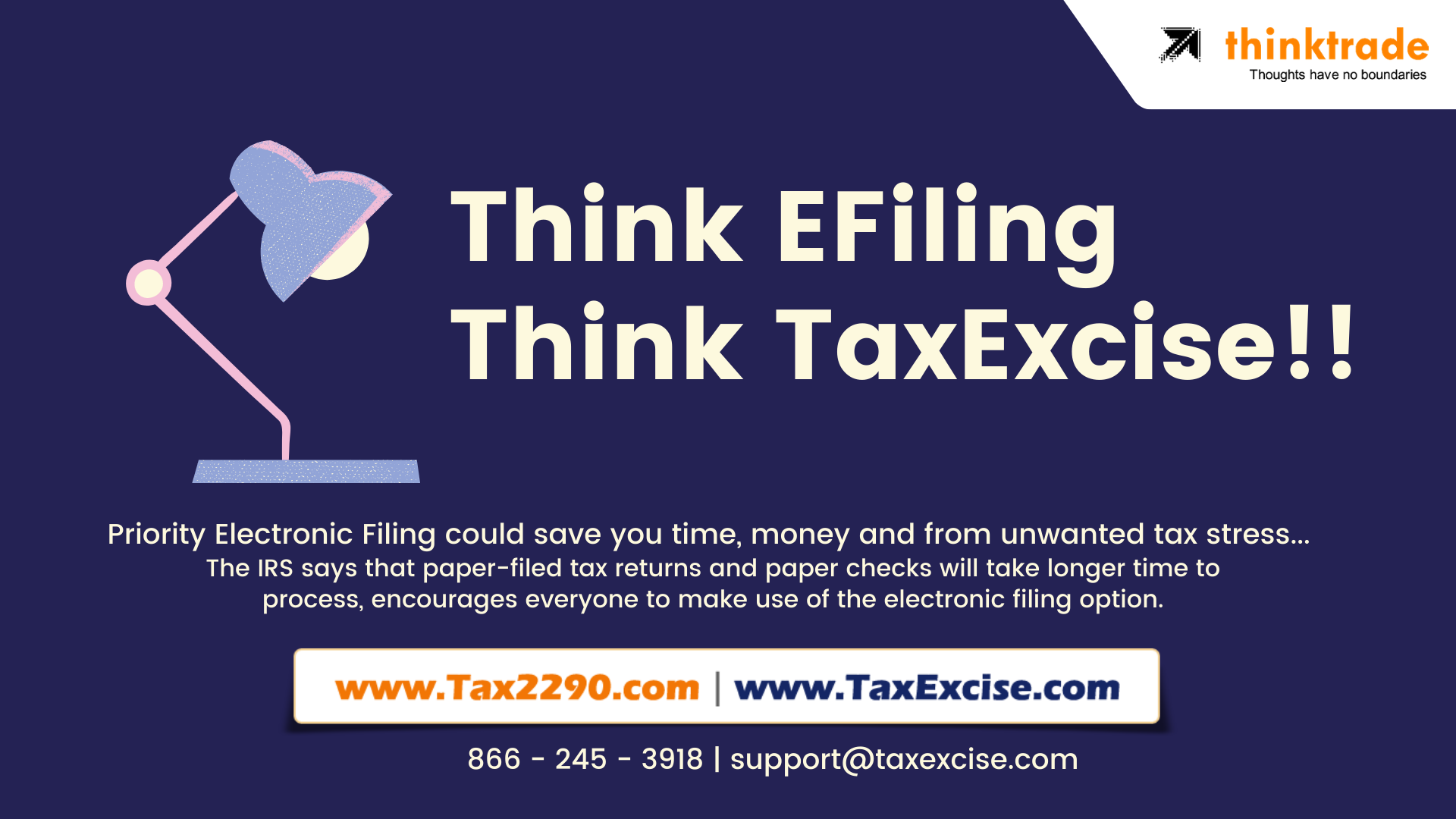 April 30 – Due Date – Form 720 Taxes
The Quarterly Excise Taxes reported by the businesses that deals with a service or trade goods that has a excise tax attached to it. This has to be collected from the buyers or from the users who get the service from these businesses and paid to the IRS using FET Form 720. This is a quarterly tax and reported at end of the quarter.
The first quarter of 2021 taxes falls due this April 30, Today and you have less than 24 hours to get it reported and paid to the IRS. Electronic filing is a saviour for many business that has to deal with these taxes. It gives them the opportunity to handle these taxes by themselves, eFile it directly with the IRS, Save a large portion of the Tax Preparation fee.
TaxExcise.com and the Search Ends Here!
Our tax products are designed and tested by in-house tax experts, ensuring every new clause, form or feature is updated and sent to you to complete your tax return online. Experience 3x faster excise tax filings, 5x faster acknowledgement and 10x faster tax help; file excise tax returns in under 10 min.
Electronic filing can help you report taxes accurately, on-time, with zero errors. Reminds you of your return status once there is an update from the IRS. Help your work easy when something went wrong and the IRS rejected your tax return. Experts are around you to help you with your tax returns, when you have a question we're just around the corner to help you out.
Most Trusted and Most Experienced – TaxExcise.com
TaxExcise.com is not just one another website in the market, it is trusted by thousands of taxpayers across the America and efile their Federal Excise Tax Returns and Heavy Vehicle Use Tax Returns since 2007.
Unique Product Features with TaxExcise:
Intuitive Interface with Rationalized Tax Engine.
Quick Jump option helps you get to the section you want to work on.
As you give your inputs, we check for errors.
Help along the way: Explicit support materials.
Flexible IRS Payment Options.
Quick Mail Alerts on your Return Status.
Keep a Safe Electronic Copy of Your Return.
Prepare & file your tax from any device!
FREE Support and Experts to help you on tax returns
Custom Made Website for every taxpayers to enjoy electronic filing
Why wait? take your step forward and join the digital way of handling your Federal Excise Tax reporting. Save time, money and don't let your taxes take your time away. Use it effectively to improve your business and we take care of your tax filing. Talk to us today at 866 -245 – 3918 or write to us at support@taxexcise.com.
---
The Form 2290 – Federal Vehicle Use Tax reporting on your Heavy Highway Vehicle that is first used in March 2021 falls due for the Pro Rated or Partial Period 2290 Taxes. Choose eFiling and receive your IRS Watermarked Schedule 1 proof instantly. Economic and Most Trusted by Truckers since 2007.