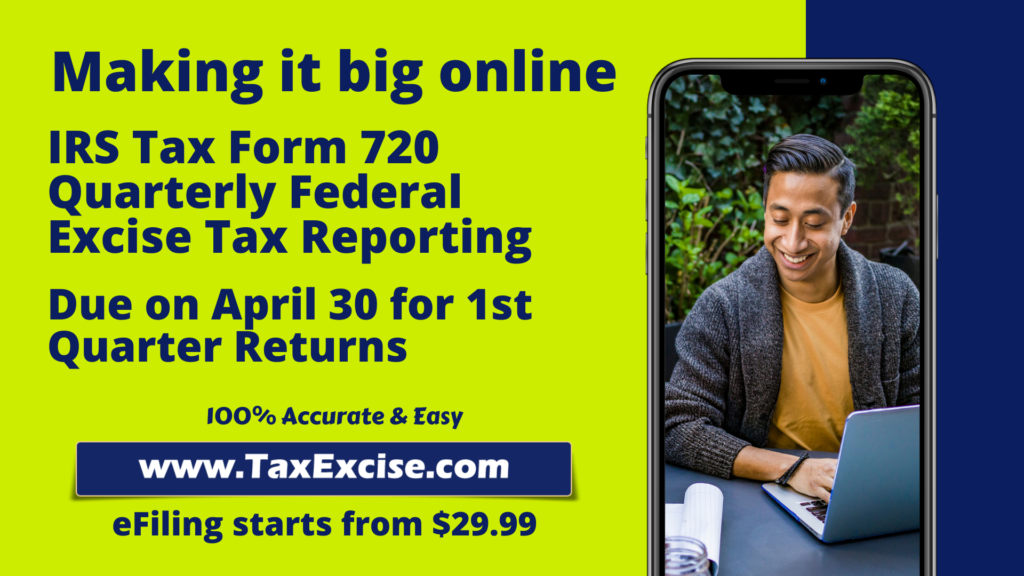 Are you unsure if you need to file Form 720 and pay the excise tax? We've come to inform you just that. If you own a company and sell goods and services that are listed on Form 720, The fee, on the other hand, is found in the items that consumers buy, such as fuel for your vehicle or plane tickets. Businesses that deal with these goods and services are responsible for paying the bill. Excise tax is paid on a quarterly basis, and the first installment is due by the end of this month, so you must pay taxes on or before April 30, 2021. This is a reminder to excise taxpayers to log in and efile form 720 (Excise Tax) and report their returns electronically on www.TaxExcise.com as quickly as possible.
Part I and II of the form deal with the form's corresponding liabilities. Until reporting tax to the IRS, you can read and consider the criteria outlined for each sector, as the tax is measured differently for each service or good. Make sure your math is right, otherwise the IRS will automatically reject your form 720. Application Form 720 does not support any extensions. As a result, efiling excise tax on or before the due date is needed (31st January). You have plenty of time to file your return, so you should avoid procrastinating on taxes at all costs.
Now comes the most important part of the tax process: filing the federal excise tax return form 720 electronically rather than on paper. Initially, paper filing was the only solution, but as technology progressed, efiling became a viable alternative. Online filing is a method that simplifies your job and allows you to finish it in minutes. Electronic reporting has the advantage of excluding the risk of errors, inaccurate calculations, and poor filing. The method is made fast and secure, resulting in a better filing experience, from data entry to calculation, delivery to the IRS, and electronic payment.
TaxExcise.com is an approved efiling service provider for filing Form 720 online. For more than a decade, we've been providing e-file solutions. Efiling enables you to do so with immediate assistance. Please contact us at 1-866-245-3918, send an email to support@taxexcise.com, or live chat with us for more information.