Truckers, you may ask how Mobile Applications can help you in efiling 2290 for your trucking business. Mobile apps have a very rich future in terms of business growth! Yes, Tax2290 Mobile App can get you the IRS Watermarked Schedule 1 proof in minutes, helps you to ease your tax 2290 reporting when you are on road and busy trucking.
Believe us, Tax2290 Mobile Apps are super fast and super easy to report and pay 2290 Heavy Vehicle Use Tax returns. Not only that you can save a lot using our Tax2290 Mobile App, apply the code "ANDROID2290" or "IOS2290"and save yourself 10% flat off on your eFile charges. Smart apps for Smart Filing and Smart Saving!
As one of the most reliable company supporting American Truckers to report the Form 2290, Federal Heavy Vehicle Use Tax returns online, we bring the latest mobile technology to you, having the greatest number of powerful features enabling you to prepare and report 2290 Taxes. No matter, how you decide to prepare your 2290 tax returns: whether it would be using your home/office computer or smartphone devices, we promise to ease your electronic tax filing experience.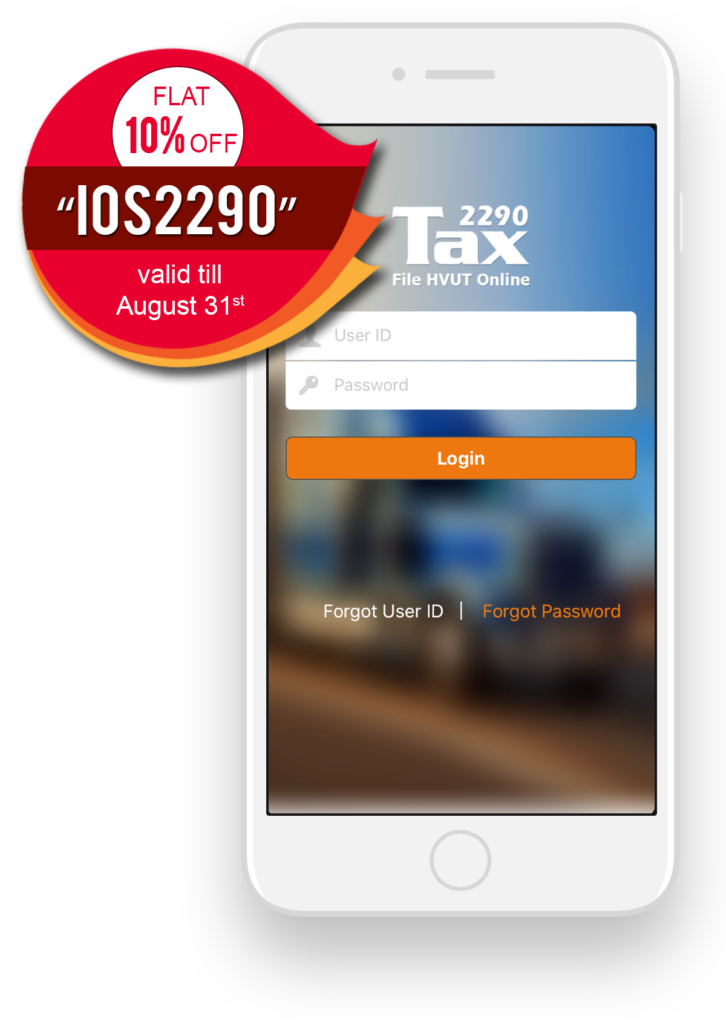 We've got you the smart solution compatible with all android and apple devices that could connect with an internet, is ready to do your 2290 taxes in a jiffy. Our Tax2290 android and apple mobile app that combines the convenience of online tax preparation with the expertise of professional support, which we call it door step tax reporting.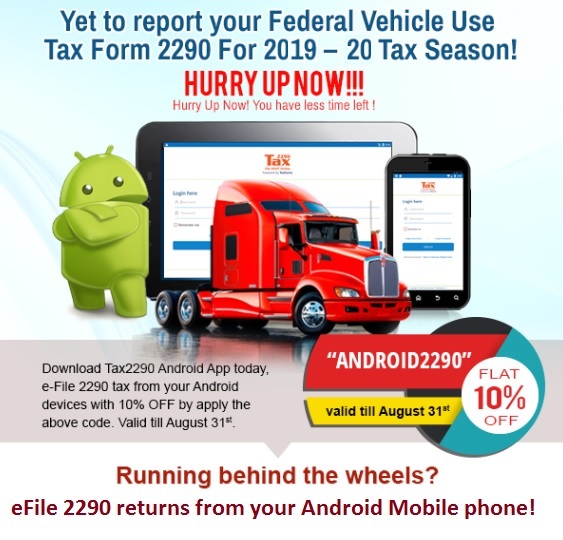 By doing your 2290 taxes online you could focus your attention towards your trucking business rather than spending a lot of time preparing your paper work or convert them into digital copies sharing with your paid prepares.
Whether you use mobile phones, tablets or other smart mobile devices – you need to have tax 2290 mobile apps to report 2290s on the go, no need to look out for anywhere outside. 2290 efile right from your mobile devices.
Download our Tax2290 Mobile Apps for both Android and iOS devices at the app stores.