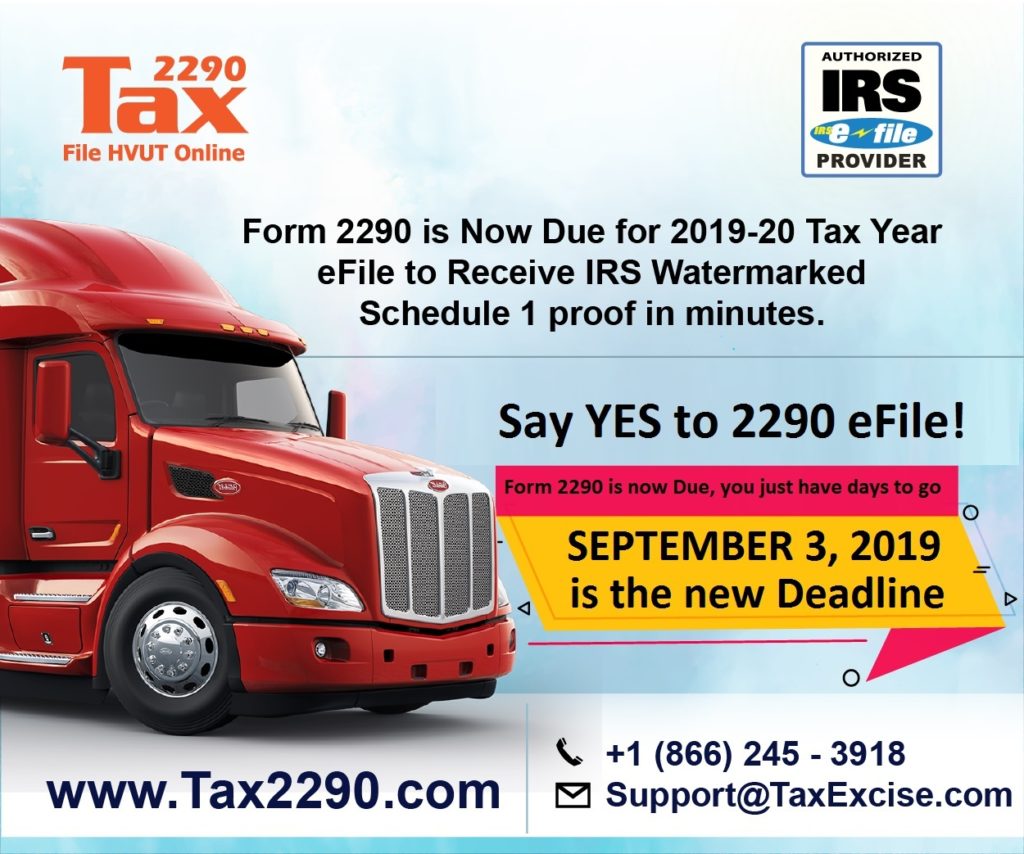 It's August and the Federal Vehicle Use Tax Form 2290 filing is due for the tax year 2019-20. The long weekend approaching and September 3 is the deadline for this years 2290 filing. Never delay further to put yourself into stress of last minute filing. Always file early to allow some time for you to rectify issues if any. IRS will be sure about filing 2290 returns well with in the due date.
Form 2290 and Tax Year 2019 – 20
The Federal Vehicle Use Tax Filing for the tax year starts from July and August, usually reported or filed for the month the taxable vehicle is first used on public highways during the current period. This tax year July 2019 through June 2020 September 3 is the last date to report HVUT returns.
Form 2290 and Schedule 1 should be filed for all heavy vehicles that weight 55,000 pounds or more and when it is driven by more than 5000 miles (7500 miles for Agricultural Vehicle) on a public highway. Vehicles driven less than the above specified miles can be termed as exempt vehicle or suspended vehicles and does not owe any tax however it has to be reported with the IRS under suspended category.
Schedule 1 Proof for Payment
The Federal Vehicle Use Tax returns processed by the IRS and a watermarked Schedule 1 with the eFile stamp and date of filing will be sent as a proof of payment. This Schedule 1 watermarked proof can be used to register the vehicle with the state and federal authorities. Electronic filing is the best and fast way of submitting 2290 returns with the IRS for processing, where else the traditional paper filing or manual filing will take upto 3 to 4 week. eFile saves you time and money, the top most is you can do your 2290 returns on your own.
September 3, 2290 Due Date
The IRS Form 2290 for Heavy Vehicle Use Taxes (HVUT) must be filed annually by August 31st, this year September 3rd for 2019-20 Tax Year for all registered vehicles used on public highways during the current tax period. The current tax period for heavy highway vehicles begin on July 1, 2019, and ends on June 30, 2020. August 31 falls on a weekend and the next business day September 3 acts as the new deadline.
2290 Support and Walk through.
We are waiting and looking forward to help you on your 2290 questions, we have a dedicated support lines at (866) 245 – 3918 and also have a team to take care of your email questions at support@taxexcise.com. LIVE chat for instant questions, just connect with us by clicking on the chat link on the website on all the pages. We're just a phone call away.