The D-Day to report and pay the 2nd Quarter Federal Excise Tax returns in IRS Tax Form 720. The last few hours to get it done with the IRS. Electronic filing is the best way to get it prepared and reported with the IRS. We can assure you that the returns will be processed by the IRS faster than any other mode of filing. Paper filing takes minimum of 3 weeks to get it processed by the IRS, where else the electronic filing for the efiling takes just 20 minutes for an update. At the worst case when IRS servers are busy processing thousands of returns you will get an update on the same day of filing.
July 31 Due Date for 2nd Quarter Federal Excise Tax Returns.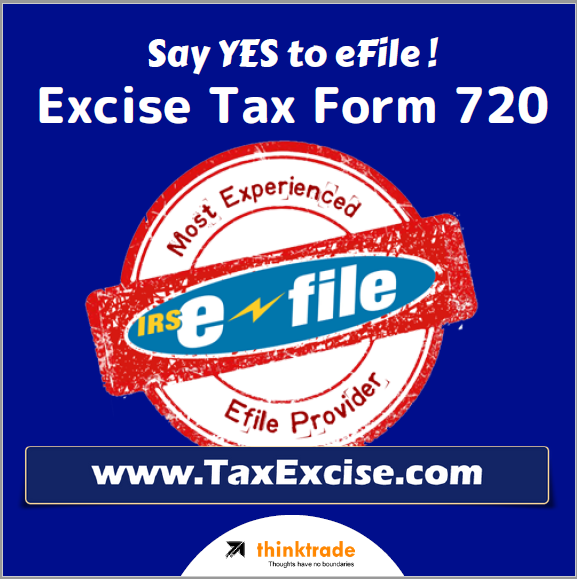 One advantage of using an electronic filing system is speed. Obviously, using technology it is much faster than utilizing a local postal service to mail the completed tax forms. For instance, when filing your Federal Excise Taxes, using the Internet and efiling tax forms directly to the IRS will only take minutes. No need for standing in lines and manually filling out forms. eFiling fasten the process of accepting a tax return. Specifically for last minute filers, eFile is the best option and the time taken to complete preparing a tax return online at TaxExcise.com is much less when compared to manually prepare a tax return.
Environmental taxes—petroleum oil spills, imported petroleum products, ozone-depleting chemicals (if you must pay these environmental taxes, you'll also have to complete IRS Form 6627)
Communication and air transportation taxes—phone service or air transportation
Fuel taxes—diesel, kerosene, gasoline, natural gas
Retail tax—trucks, trailers, tractors
Ship passenger tax
Foreign insurance taxes—health insurance policies issued by foreign insurers
Manufacturers taxes—coal, tires, "gas guzzler," vaccines
Specified health insurance policies
Sport fishing equipment
Electric outboard motors
Bows and arrows
Indoor tanning services
Waterways fuel
Expert Tax Preparation & e-Filing Advantages
TaxExcise.com has better ways to handle your Federal Excise Tax filing worries, being an expert and the most experience e-file service provider for all Federal Excise Tax Forms since 2007 we have the e-filing advantages and know your expectations. More over we're the 1st IRS Authorized e-file service provider for all excise tax forms. More to add and they are;
An excellent combination of comfort and expertise accessible from your home or office, desktop computer or tablet devices or from your smart phones
Dedicated tax expert who will work hard to take care of your filing and guarantee 100% accuracy as well as your satisfaction with his work.
Email or Chat or Call, we have experts to handle it with care. You're with the most trusted e-file website since 2007 and rated top "the market leader" by your fellow truckers.
Secured and Safe tax filing services from a renowned Tax e-filing company. 100% secure by Thawte SSL with encryption measures built in and an assurance about confidentiality of your personal information through McAfee Secure.
Anytime, anywhere access to your tax information and documents. This includes access to your Federal Excise Tax Returns, Schedule -1 copies, year-round assistance.