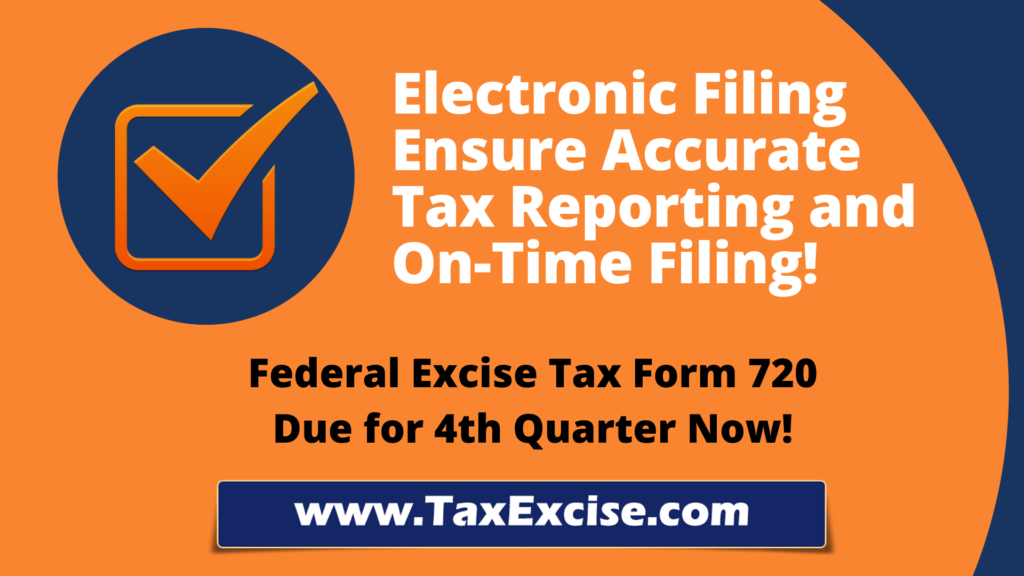 Time for Quarterly Federal Excise Tax Form 720 reporting for the 4th Quarter of 2020. Make a choice this year to move towards Electronic Filing, easy way to handle tax reporting and pay taxes online. TaxExcise.com is the only website that support electronic filing for the Excise Tax Returns reported on IRS Tax Form 720. New Deadline is February 1, 2021 (Jan 31 falls on a weekend, so the next business day falls the automatic due date)
The pandemic crisis poses a new set of challenges for US corporates and small businesses, post COVID they are all claw their way towards recovery. Companies now will continue to focus on a return to growth, with an eye on rebuilding revenue, customer strategies, planning and improving access. Still the COVID restrictions are playing grounds, social distancing and wearing masks could help our self to stop the spread. We're here to help you address immediate challenges on tax reporting, such us the Federal Excise Taxes for the 4th quarter end. January 2021 is the due date and we're all set to help you with your tax filing responsibilities. Let it with us and we make it for you, easy affordable and simple process that could ease your tax reporting. Online payment and acknowledgement shall help you stay protected and safe.
Easiest Way of Federal Excise Tax Filing & Economic Service
Efiling or electronic filing is submitting your federal excise tax returns online to the IRS directly from TaxExcise.com website. There are two ways to filing your federal excise tax returns. The traditional way is the offline way, where you manually fill in directly or through a tax preparer you file your returns. The other way is when you e-file through the internet. E-filing has become popular because it is easier, doesn't require prints of documents, and can be done in less time!
IRS acknowledgement would be sent to your registered email inbox. If you have subscribed for Text Alert, message will be shared to the cell number. You may print a copy of your Form 720 PDF any time by accessing your user account. Choose e-file, pay the processing fee with your credit/debit card and submit your Quarterly Federal Excise Tax return for processing.
Expert Tax Preparation & e-Filing Advantages
Many tax payers now prefer Electronic Filing over Paper returns as the IRS is delaying acknowledgement for some reason. In fact IRS recommends Electronic filing; it is fast, easy and simple; saves you from travelling out. Online access doesn't required to download or install any new software's in your computer. TaxExcise.com is under world-class cloud infrastructure offered by AWS with the maximum security features that helps us away from all possible cyber attacks.
TaxExcise.com has better ways to handle your Federal Excise Tax filing worries, being an expert and the most experience e-file service provider for all Federal Excise Tax Forms since 2007 we have the e-filing advantages and know your expectations. More over we're the 1st IRS Authorized e-file service provider for all excise tax forms. More to add and they are;
An excellent combination of comfort and expertise accessible from your home or office, desktop computer or tablet devices or from your smart phones
Dedicated tax expert who will work hard to take care of your filing and guarantee 100% accuracy as well as your satisfaction with his work.
Email or Chat or Call, we have experts to handle it with care. You're with the most trusted e-file website since 2007 and rated top "the market leader" by your fellow truckers.
Secured and Safe tax filing services from a renowned Tax e-filing company. 100% secure by Thawte SSL with encryption measures built in and an assurance about confidentiality of your personal information through McAfee Secure.
Anytime, anywhere access to your tax information and documents. This includes access to your Federal Excise Tax Returns, Schedule -1 copies, year-round assistance.
Quality Support over Phone, Email and Chat
TaxExcise.com experts are available through the business hours from 8:00 AM to 8:00 PM Central Time to help you through with your electronic filing questions and support you through your tax reporting. Talk to us at 866 – 245 – 3918 or write to us at support@taxexcise.com. We're also available at https://TaxExcise.com/te for a LIVE Chat support.
---