Dear truckers! You can comfortably e-file form 2290 truck tax online at taxexcise.com. We offer simple, quick, and accurate form 2290 e-filing services. With all the necessary details and information ready, you can complete the form 2290 e-filing process in just a few minutes at TaxExcise.com and get your official IRS stamped/watermarked Schedule 1 copy directly to your e-mail. We also send your schedule 1 copy via fax or additional e-mails upon request. And you can opt for our text alert services to know your form 2290 status with the IRS.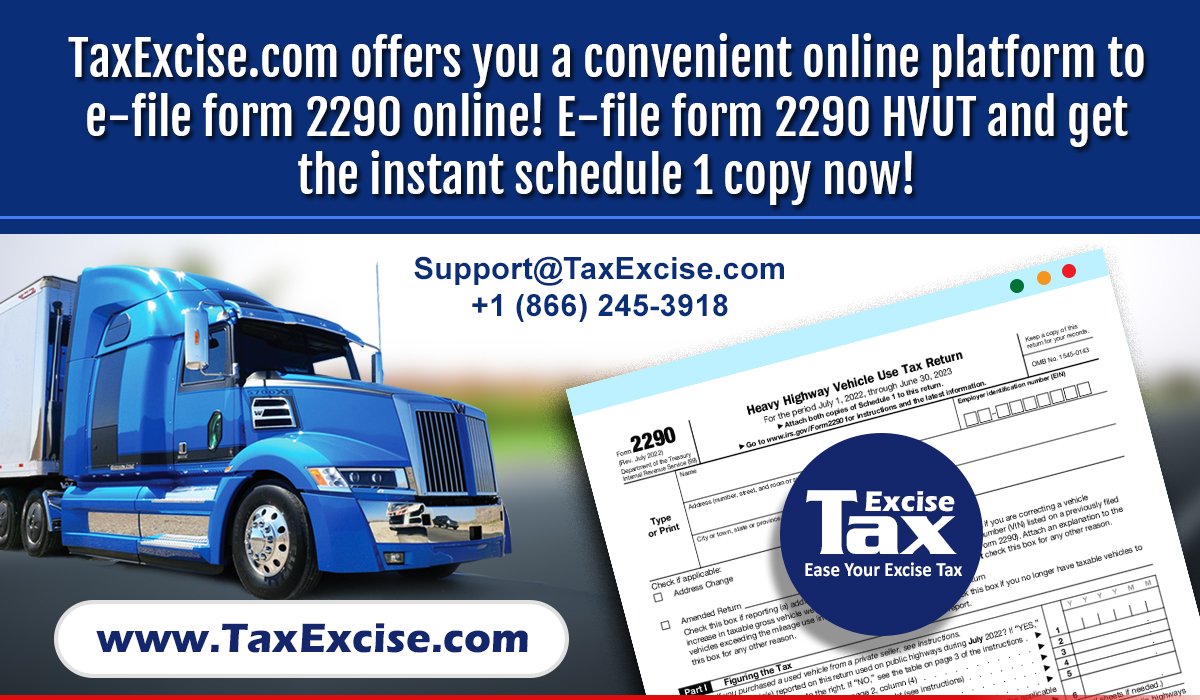 Roles of a Third–Party Designee to e-file your truck taxes in TaxExcise.com!
You can also assign a third party to e-file form 2290 online on your behalf in TaxExcise.com and any other 2290 online service provider. They can be your employee, a tax preparer, or any other third party to report your form 2290 tax returns to the IRS. And they must check the Yes box in the Third-Party Designee section in form 2290 while filing the taxes online. Also, enter the designee's name, phone number and personal identification number (any five-digit number). The authorization applies only to the tax return on which it appears.
By checking the Yes box in form 2290, you are authorizing your third-party designee for the following responsibilities,
The IRS can speak to your third-party designee to answer any questions regarding all information reported in form 2290 truck taxes for you.
They can exchange information concerning form 2290 with the IRS.
They can also request and receive written tax return information related to form 2290, like notices, correspondence and account transcripts.
Remember that your third-party designee only reports taxes and handles tax-related queries with the IRS. They don't represent you before the IRS or any other authorities. Also, they don't bind you to anything like additional tax liabilities.
The authorization automatically expires one year from the due date for e-filing form 2290 truck taxes to the IRS on your behalf. If you or your designee wants to revoke this authorization, send a written statement of revocation to:
Internal Revenue Service,
7940 Kentucky Drive,
Florence, KY 41042-2915.
Pro-rated truck taxes for February used vehicles are due in less than 10 days!
Truckers can e-file form 2290 pro-rated truck taxes monthly in TaxExcise.com based on their heavy vehicle or truck's first used month and get the valid schedule 1 copy. Pro-rated form 2290 for February 2023 used heavy vehicles are due on March 31, 2023. Ensure you e-file form 2290 and get the schedule 1 copy for your February used vehicles within the deadline. For more details, contact our customer care team at +1-866-245-3918 or write us at support@taxexcise.com.