Dear truckers and taxpayers! TaxExcise.com is an IRS-approved form 2290 modernized online e-filing service provider. We are the first online service provider authorized by the IRS to provide form 2290 e-filing services to benefit the hardworking trucking community of the United States. As technology has developed, there are more convenient ways to e-file form 2290 online. IRS made form 2290 e-filing mandatory for truckers reporting 2290 truck taxes for 25 or more vehicles. Also, they encourage single-vehicle filers like the owner–operators to report their truck taxes through e-filing because it is easy to process and issue the schedule 1 copy.
Let us look into some benefits of e-filing form 2290 on TaxExcise.com.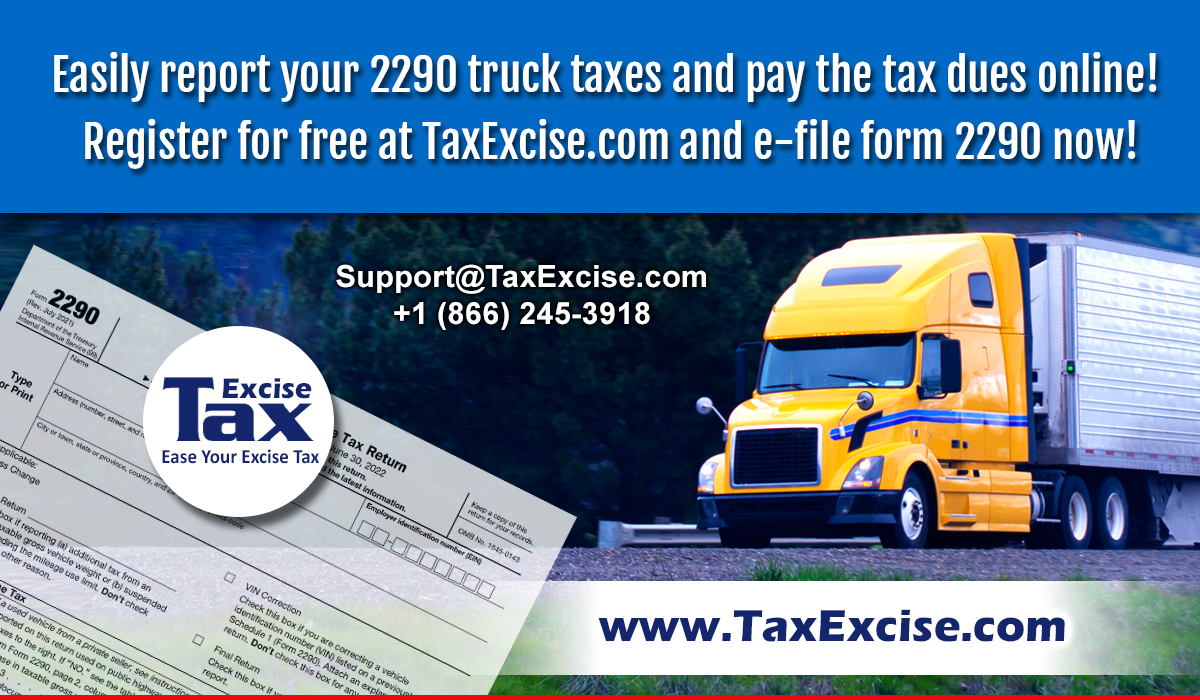 Free registration.
You can register for FREE at TaxExcise.com by clicking the 'Register' button on the top-right corner of our website. And you should fill out the form with relevant details, accept the terms & conditions and click 'Submit.' That's all; you are successfully registered with us and can start filing IRS form 2290 online now.
Tax Calculator Feature.
TaxExcise.com provides an exclusive tax calculator facility to help taxpayers estimate the truck tax dues using their tax information beforehand. You can avail of this service for free while e-filing form 2290 tax reports on TaxExcise.com.
Online Tax Payments.
You can pay your truck tax form 2290 online by all the IRS-approved payment methods through TaxExcise.com. We offer a safe and secure payment gateway to facilitate your IRS payments successfully. The approved payment methods of IRS form 2290 online are,
Electronic Funds Withdrawal (Direct Debit)
EFTPS – Electronic Federal Tax Payment System
Credit/Debit Card
Check or Money Order
Instant Schedule 1 copy.
After completing online form 2290 reporting and payment, IRS will process and send your official digitally watermarked Schedule 1 copy to your email within a few minutes. You can also download it from your TaxExcise.com account anytime you want.
Pro-rated truck taxes online reporting.
We support form 2290 HVUT e-filing on a pro-rated basis also. Truckers can e-file form 2290 pro-rated truck taxes monthly in TaxExcise.com based on their heavy vehicle or truck's first used month and get the valid schedule 1 copy. Pro-rated form 2290 for February 2023 used heavy vehicles are due by the end of this month. Ensure you e-file form 2290 and get the schedule 1 copy for your February used vehicles within the deadline.
For more details, contact our customer care team at +1-866-245-3918 or write us at support@taxexcise.com.