Time is on for Truckers to start preparing the Federal Vehicle Use Tax returns for the new tax year, July 2019 to June 2020.
Pre File 2019 – 20 Form 2290 Tax returns at a Special Discounted Price! Apply Code "EARLYBIRD" to treat yourself the special discount for prefiling 2290 truck tax returns!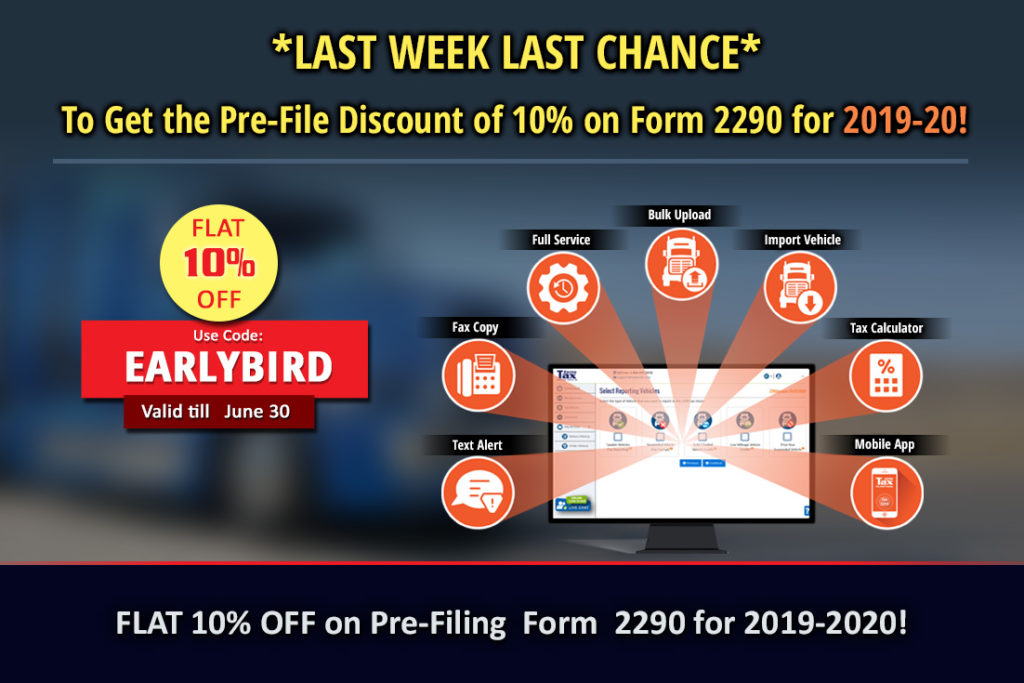 Howdy fellas! TaxExcise.com & Tax2290 has good news for you all waiting to file form 2290 tax returns online for 2019-20 tax year. You can now pre-file your returns online only at TaxExcise.com.
Being pioneer in the world of e-filing, we have put great effort in making this possible for you. So you can submit your form 2290 tax returns electronically for 2019-20 even before the tax year officially begins. At a flat 10% discount on our e-file preparation fee with the coupon code "EARLYBIRD", valid till 30th June. HURRY!
What Happens When You PRE-FILE @TaxExcise.com?
Our motto behind the pre-file is to offer you an easy renewal process of your schedule-1 copy for the new tax year since, IRS e-file servers would likely be snail-slow during season time due to the e-file traffic they receive.  So the sooner you e-file at TaxExcise.com, the faster you get your Schedule-1 copy stamped! It is true that IRS wouldn't accept any 2019-20 tax returns until first week of July 2019.
However TaxExcise.com would hold your tax returns filed through us and securely submit them to the IRS the moment they open for 2019-20, and deliver your schedule-1 copy to your e-mail address instantly.
Do note, the IRS would remain closed on the below mentioned days and would process the returns on the next business day:
July 4th Thursday – Independence Day (Federal holiday)
Saturday & Sunday
Be the early bird and e-file your form 2290 tax returns today. TaxExcise.com recommends all truckers to e-file their returns online at the earliest in order to stay on safer grounds.
Call us at 1-866-245-3918 or mail us at support@TaxExcise.com for any suggestion and queries. Rest assured, our Tax Experts would never let you go wrong!