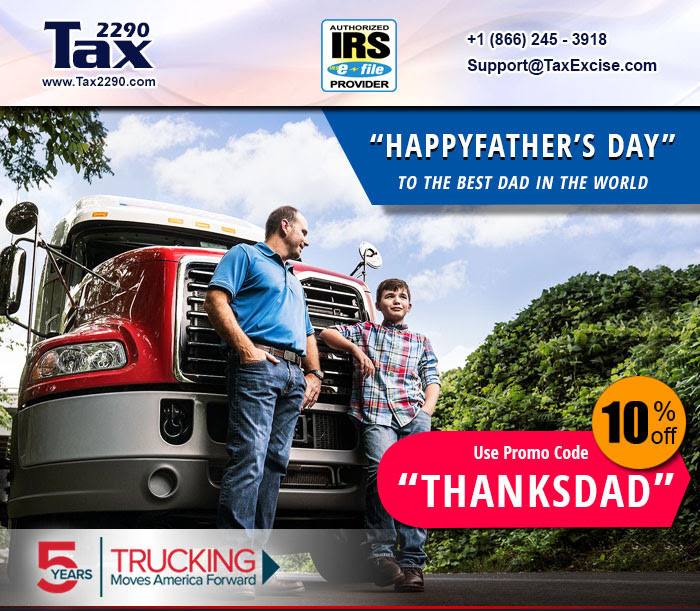 Anyone can be a father, but it takes someone special to be a dad, and that's why I call you dad, because you are so special to me. You taught me the game and you taught me how to play it right – Wade Boggs
Being a Father itself is a great responsibility and being a Father with Trucking as his business makes him a super dad. Dads involved Trucking won't tell you how to live, they live and let you watch them and learn what life is.
With Fathers Day right around the corner, we at www.Tax2290.com – product of ThinkTrade Inc., wish all the Trucking Dads around the nation a very happy father's day. A father is someone you look up to no matter how tall you grown. www.TaxExcise.com – Product of ThinkTrade Inc. would like to show its respect to all the Trucking Dads in its own style by offering a FLAT 10% OFF on all its Service Fee.
If you are a Son / Daughter of a Trucker dad and would like to gift him something that would benefit him, do so by gifting him the Discount Code "THANKSDAD" which can SAVE UP TO $40 for him when he E-files his Heavy Highway Use tax Form 2290 through www.Tax2290.com / www.TaxExcise.com . If you are a Trucker use the same Discount Code "THANKSDAD" and save some of your hard earned money while you E-file your HVUT Form 2290 online with www.Tax2290.com / www.TaxExcise.com and use that to buy a return gift to your loved ones.
www.Tax2290.com / www.TaxExcise.com is now ready and set to accept Highway Use Tax returns for 2019 – 2020 on a pre-filing basis. For any questions you may have feel free to contact our Tax Experts @ 1-866-245-3918 or write to them @ support@taxexcise.com or ping them using the LIVE CHAT Option available on the Application.
"My dad's my best mate, and he always will be." – Cher Lloyd