A shout–out to all truckers and trucking taxpayers! TaxExcise.com wants to remind you that the new tax season, 2023 – 2024, is here. You must file your HVUT returns to the IRS using Form 2290 without any delays and get the Schedule 1 copy before the deadline. The last date to report Form 2290 HVUT returns to the IRS for the current tax season is August 31, 2023. So, we request all truckers and trucking taxpayers to choose Form 2290 e-file on TaxExcise.com to report their taxes and get the Schedule 1 copy on time.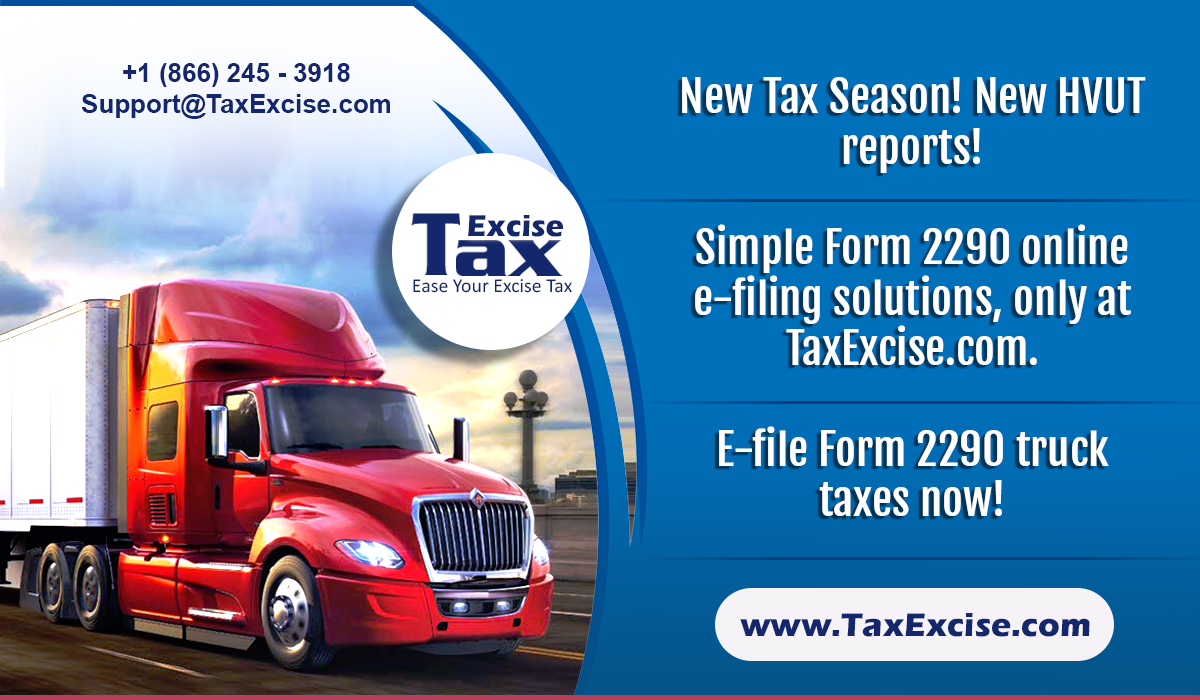 Effective method to report your Form 2290 taxes this season.
IRS made Form 2290 e-filing mandatory for truckers reporting Form 2290 HVUT returns for 25 heavy highway vehicles or more in their fleet. Also, they advise all truckers, even owner–operators, to e-file Form 2290 online because the e-filing process is simple, effective, automatic, accurate and easy for the IRS to process the tax reports without any hurdles.
All heavy highway vehicles are entitled for Form 2290 reports.
Truckers with taxable heavy vehicles must report and pay Form 2290 tax reports based on their category in Form 2290. Heavy vehicles must have a total gross weight of over 55,000 pounds and are estimated to cover more than 5,000 miles (7500 miles for agricultural vehicles). Form 2290 taxes differ for each heavy vehicle based on its taxable gross weight. Therefore, truckers must identify their weight category in Form 2290 and report the 2290 truck taxes accordingly. Trucks that don't belong in taxable vehicles are also entitled to report Form 2290 returns as tax-suspended vehicles. Truckers with tax-suspended vehicles must report Form 2290 to the IRS but need not pay 2290 taxes. IRS Schedule 1 copy is required for taxable and tax-suspended vehicles based on their category in Form 2290.
E-file Form 2290 on TaxExcise.com!
TaxExcise.com is an IRS – approved Form 2290 online e-filing service provider. We also provide convenient e-filing services for federal excise tax Form 720, refund claims Form 8849 with all its schedules, and online IFTA tax preparation. We offer a comfortable platform where taxpayers can easily e-file their tax returns and get the proper acknowledgement from the IRS. As the new tax season has started, you should e-file Form 2290 online on TaxExcise.com to stay ahead of the deadline and get the IRS Schedule 1 copy on time.
Form 720 is due for the second quarter, E-file now!
Also, Federal Excise Tax Form 720 for the second quarter of this tax year is due on July 31, 2023. Therefore, Form 720 taxpayers must e-file Form 720 on TaxExcise.com to get timely tax filing this quarter. You can also choose a single-price package to e-file Form 720 for all quarters of this tax year. So, don't miss the deadline; e-file Form 720 on TaxExcise.com and get the proper acceptance from the IRS as proof of tax filing and payment within the deadline.