Hello, truckers! TaxExcise.com wishes you a Happy Fourth of July. It is time to honor and appreciate our trucking community which keeps our nation moving. Truckers play a major role in the prosperity of the nation's economy, delivering goods all over the country, even on holidays. TaxExcise.com celebrates this Independence Day with our truckers by providing an exclusive discount to e-file Form 2290 tax reports for the new tax season.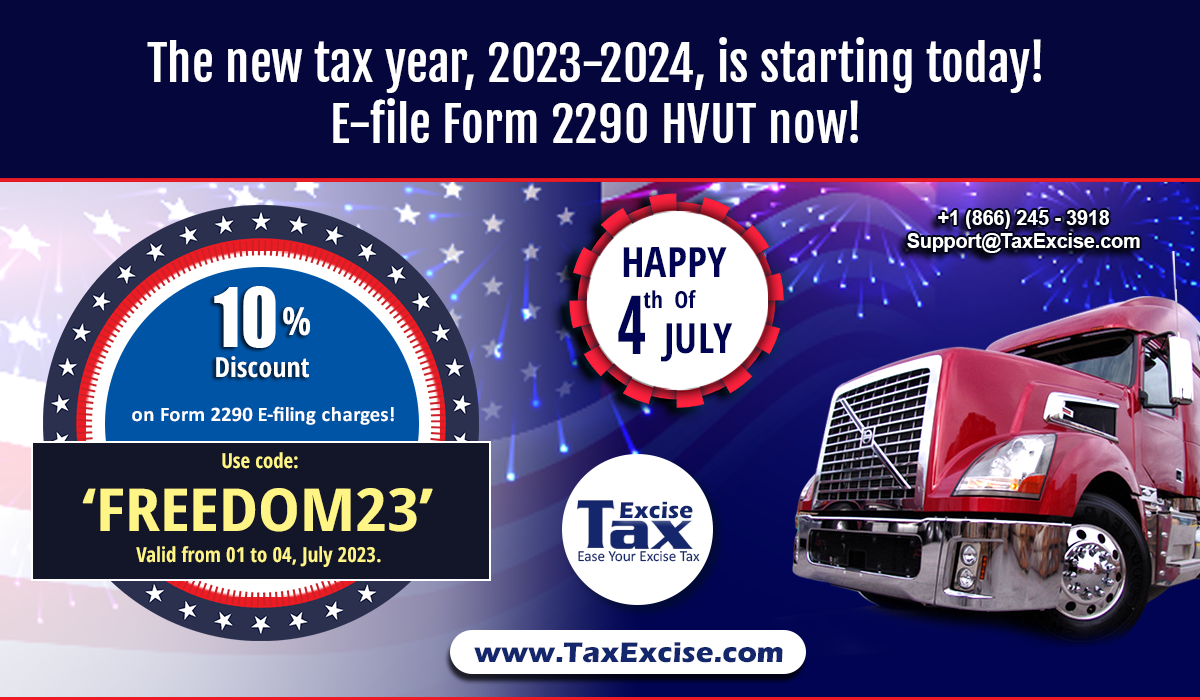 The new tax season has started today!
Finally, the new tax season is here. All truckers and trucking taxpayers must prepare to report their Form 2290 HVUT for this season and receive the Schedule 1 copy before the deadline. If you have pre-filed your tax reports already, you will receive the Schedule 1 copy immediately after the IRS processes your tax returns. E-filing Form 2290 online is the best way to report your truck taxes easily and effortlessly get the Schedule 1 copy on time.
E-file Form 2290 Tax Reports on TaxExcise.com.
IRS made e-filing compulsory for truckers reporting Form 2290 HVUT for 25 or more heavy vehicles. Also, it is convenient for truckers to e-filing for a single heavy vehicle because it is simple, accurate, and fast. IRS encourages all truckers, from owner-operators to trucking conglomerates, to e-file Form 2290 online as it is easy to process the tax returns and issue the Schedule 1 copy. Once you e-file Form 2290 on TaxExcise.com, the IRS will process your tax returns, and you will get the Schedule 1 copy instantly. You don't have to wait a few weeks to get your Schedule 1 copy through the mail. You can download the Schedule 1 copy from your email, print and use it as proof of Form 2290 filings.
Use the coupon code to save big!
We invite all truckers and trucking taxpayers to celebrate this Independence Day with TaxExcise.com. Use the coupon code 'FREEDOM23' to get a flat 10% discount on your form 2290 e-filing charges to celebrate the spirit of freedom. This coupon code is valid from July 01 to 04, July 2023. We call out all the truckers to use this discount and e-file form 2290 at the beginning of the tax season and save big bucks using our special Independence Day offer.
For queries and support, don't hesitate to get in touch with our customer help desk at 1-866-245-3918 (toll-free) or write to us at support@taxexcise.com; we will reply promptly.