Hello, truckers! It's the middle of July, and you must report your Form 2290 HVUT returns for the new tax period, 2023 – 2024. The last date to report Form 2290 for this tax period is August 31, 2023. IRS encourages all truckers to e-file Form 2290 online and made Form 2290 e-filing mandatory for truckers reporting 2290 taxes for 25 or more heavy highway vehicles. Therefore, it is highly advisable for all truckers to e-file Form 2290 online and the Schedule 1 copy on time to smoothly continue their trucking operations on public highways.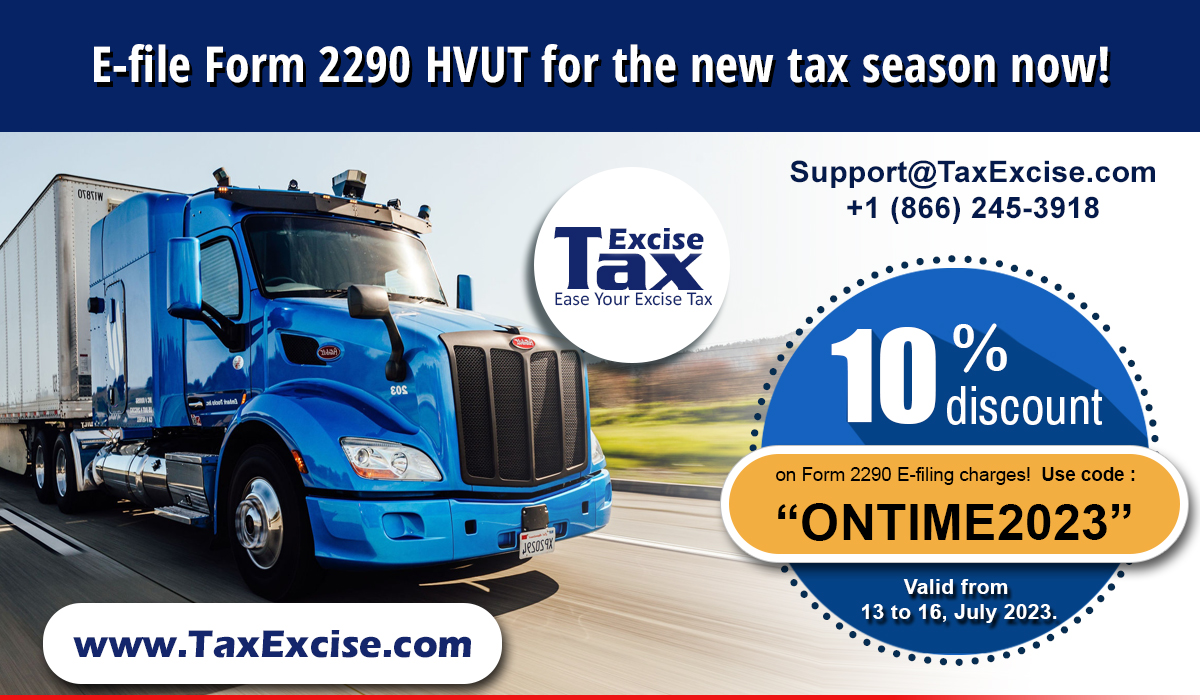 TaxExcise.com is the platform of every trucker and truck taxpayer.
TaxExcise.com is an IRS – approved modernized federal excise taxes e-filing service provider. We are the first online service provider authorized by the IRS to give this valuable Form 2290 e-filing services for the benefit of the trucking community. Millions of truckers and trucking taxpayers have benefited through our Form 2290 e-filing services so far. They choose TaxExcise.com to e-file Form 2290 online every tax season. We make this quality 2290 e-filing service possible with our innovative technologies and timely customer support. Our platform is suitable for all truckers and trucking taxpayers. From single vehicle owner–operators to trucking conglomerates, our TaxExcise.com accommodates all scales of Form 2290 tax reports. Tax preparers and bookkeepers can also run their tax filing business for their trucking clients and employers through TaxExcise.com. We provide specialized features and flexible prices for them to run their tax filing business smoothly. They can add as many businesses as possible and e-file Form 2290 tax reports for them in our platform. Also, they can add sub-user accounts to delegate their work to their team.
Explore the attractive features to e-file Form 2290.
TaxExcise.com contains many amazing features that help trucking taxpayers e-file Form 2290 smoothly and effectively. We provide useful facilities like bulk information upload to enter multiple vehicle information at once, clone tax returns to repeat last year's Form 2290 truck tax reports; validate returns to cross-check and ensure 100% accuracy, instant schedule 1, get IRS digitally watermarked schedule 1 copy to your email once the IRS approves your tax returns. Also, additional features make your Form 2290 e-filing process easy, accurate, and hassle-free. Along with Form 2290, truckers can also e-file Form 2290 VIN correction, Form 2290 amendments and Form 8849 Schedule 6 refund claims in our platform. We are the one-stop solution for all your Form 2290 e-filing needs.
Use our exclusive coupon code to save big!
The new tax season started on July 01, 2023, and it is the middle of July. We are giving a special discount for our users to save big on their Form 2290 tax e-filing charges on our platform. Use the coupon code 'ONTIME2023' to get a flat 10% discount on your form 2290 e-filing charges to celebrate the spirit of freedom. This coupon code is valid from July 13 to 16, July 2023. So, we want all truckers and trucking taxpayers to use this coupon code to get the discount on your Form 2290 e-filing charges. For queries and support, don't hesitate to get in touch with our customer help desk at 1-866-245-3918 (toll-free) or write to us at support@taxexcise.com; we will reply promptly.