Tax2290 Electronic Filing is for You!
Anyone can prepare and report the Federal Vehicle Use Tax Form 2290 electronically. No matter how many trucks you report? what type of business you run? if you owe 2290 then electronic filing is for everyone.
August 31 is the Due Date and you just have 2 more days to go and just 1 business day this time, Monday. Act fast and get it reported and paid electronically in minutes at TaxExcise.com and Tax2290.com. Talk to us at (866) 245 – 3918 or write to us at support@taxexcise.com.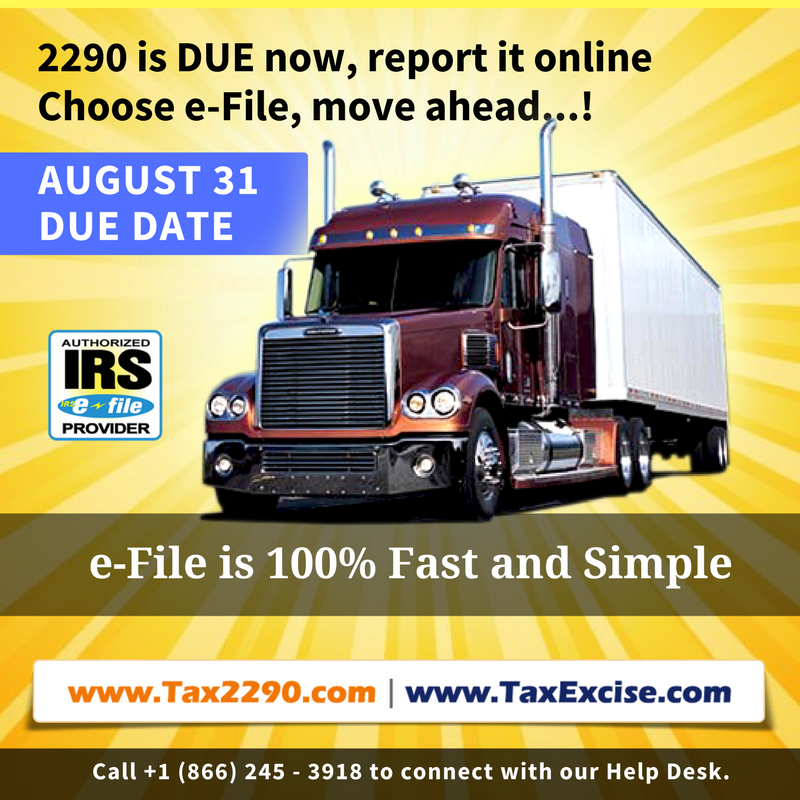 For Owner Operators
Prepare, Report and Pay 2290 taxes on your heavy vehicle in 3 simple steps. Manage you Tax Form 2290 PDF's and IRS Watermarked Schedule-1 Payment Proofs at one place. Free and exclusive support from our Support Desk. Record Keeping is easy and secured, access to your dashboard anytime from anywhere. No upfront charge to try efile, pay when you're ready and ok to efile. Pay what you see and no hidden charges or no transaction charges. Market leader and top rated website for Owner Operators, in fact the most preferred for our smart features. Talk to our support desk and we're available on weekends till August 31 to help you with your 2290 efile.
For Businesses
Flexible pricing, pay once for a tax year and file 2290s throughout the year when you add additional vehicles to your fleets. Apply VIN corrections and Amend 2290s, Subscribe for FAX and Text Alerts to get an instant update on your return status. Bulk vehicle data upload and import from previously reported tax return. Clone a Tax Return and complete your 2290 in a jiffy. Safe record keeping for years, all your 2290 pdf and schedule 1 proof copies are stored for you to pull when ever you have a need. Dedicated support desk available in call, chat and email. Flexible and easy pricing, no hidden charges.
For Tax Practitioners or Tax Accountants
One master account and add multiple users or accountants to prepare and report tax returns for your clients, control 2290 efile from one single account. Seasonal filing package on client counts and do unlimited returns for them. Discounted and bulk pricing option to efile for larger client base, support all the way to help you with the website features. IRS watermarked schedule 1 proof copy is shared instantly once IRS accepts and issues it.
For Book Keepers
Start preparing taxes full time or season for all your users, add them once and start managing as many as you have in one single account, flexible payments. Go for seasonal pricing package or pay as you add them, you choose your preference. Great website for book keepers helping truckers with their Federal Heavy Vehicle Use Tax returns.
2290 Call Support
Truckers no need to visit the IRS office to file Form 2290, you can electronically file Form 2290 and pay any Heavy Highway Vehicle Use Tax dues online. Generally, if you e-file Form 2290, you can receive your IRS-stamped Schedule 1 electronically in minutes after e-filing. You can print your Schedule 1 and provide it to your state Department of Motor Vehicles without visiting an IRS office. If you choose to visit your local office, be aware that many Taxpayer Assistance Centers now operate by scheduled appointments. Use the Taxpayer Assistance Center Office Locator to see if your local office will require an appointment. For more information about the highway use tax, talk to us or write to us, you can also do a live chat with our tax experts.