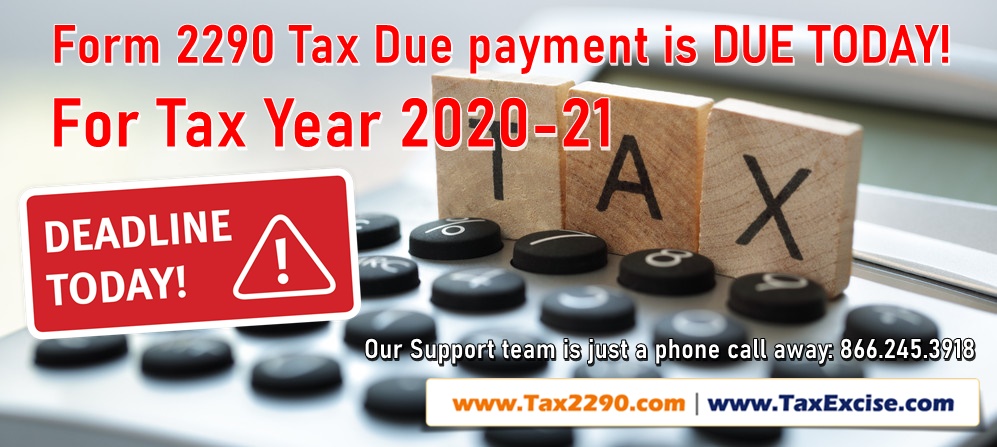 The Final day Countdown ends here! And with the clock ticking it feels like Déjà vu, It's that time of the year where every Trucking Business and Owner operator puts pedal to the metal to have Form 2290 completed on time. Every hardworking trucker knows that the first and most important key to being on the road while still staying compliant with the IRS depends on today. Completing the heavy vehicle tax return on time allows you to stay in business and also ensures you maintain a clean streak with Uncle Sam. Be sure to have the HVUT Form 2290 completed TODAY, August 31st to avoid any late filing charges with added penalties and interests.
Though most IRS offices are either closed or backed up on appointments. Their E-file services are active and returns are being processed in a few minutes. Electronically filing your tax return is the most easiest and convenient way to complete the HVUT Form 2290. Once transmitted it just takes a few minutes to receive your IRS watermarked Stamped Schedule 1 copy.
For any questions or added assistance on your tax returns, feel free to speak to our tax experts @ 866-245-3918 now available all 7 days of the week from 9am – 6pm Central Time. You can also email your questions to support@taxexcise.com For an immediate response during working hours you can also use the LIVE CHAT option available on the website.
Stay Safe, Stay Compliant, Happy Trucking!!