As per the existing IRS norms and regulations, the HVUT Form 2290 for any new vehicles is due by the last day of the month following the month the vehicle was first used on state or public highways. Any vehicle which was first used in the month of June 2021 is due for renewal before the end of July 2021. And if the vehicle is Taxable you will be paying a Pro-Rated tax amount only for the month of June and if motor vehicle does not exceed mileage 5,000 miles or less (7,500 miles or less for agricultural vehicles) it is considered exempt from tax.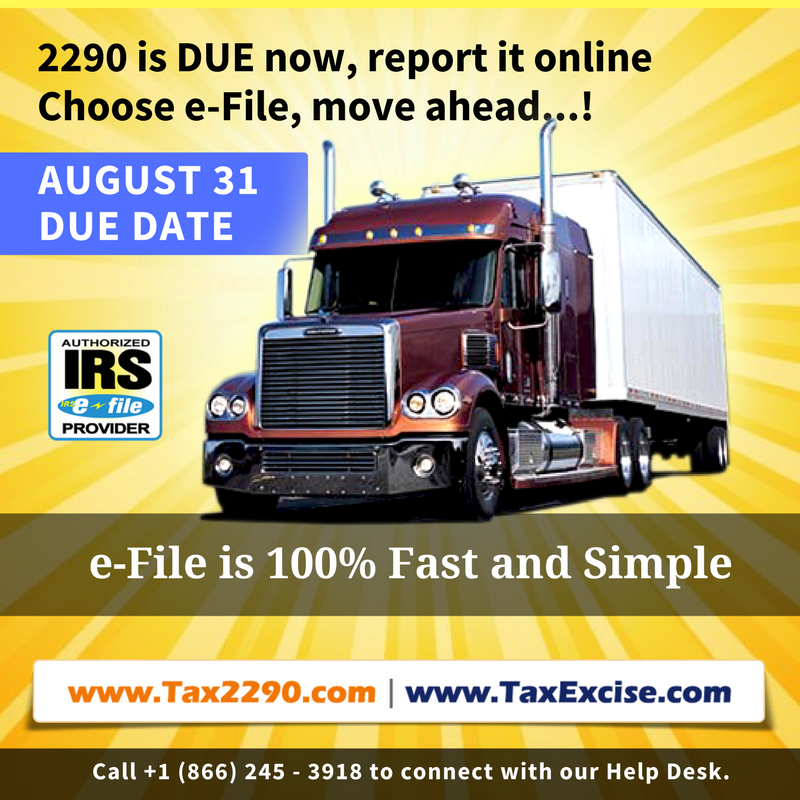 The Mileage use limit means you expect the vehicle to be used less than 5,000 miles or less (7,500 miles or less for agricultural vehicles). Generally most vehicles used for farming or agriculture are considered to be tax exempt. These units can be reported under Suspended/Tax exempt category. E-Filing is not that hard to accomplish, you can have your return completed within a few minutes and also receive an email with the Watermarked copy of your Schedule 1.
We at TaxExcise.com would also like to keep you informed that the IRS Form 2290 for Heavy Vehicle Use Taxes (HVUT) must be renewed annually for tax year 2021 – 2022 by August 31st.
Being the first IRS authorised service provider we have gained much needed trust and experience in customer service we ensure to keep assisting you throughout the week. On the road and no access to the internet, look no further we've got you covered. Our Tax Experts can be reached on our toll free number @ 866-245-3918 between 8:00 AM to 6:00 PM Central Time or you can email us about any questions or concerns to support@taxexcise.com for added support do also try out our LIVE CHAT option which is always available on the website 24/7.
Burn some rubber, keep trucking and Stay safe.