Tax Season for Form 2290 has officially begun. This year the IRS is expected to receive a large volume of returns and Electronically submitting your 2290 is the most easiest and convenient way of having your returns completed. Priority electronic filing ensures you report your taxes right and receive your Schedule 1 proof copies instantly.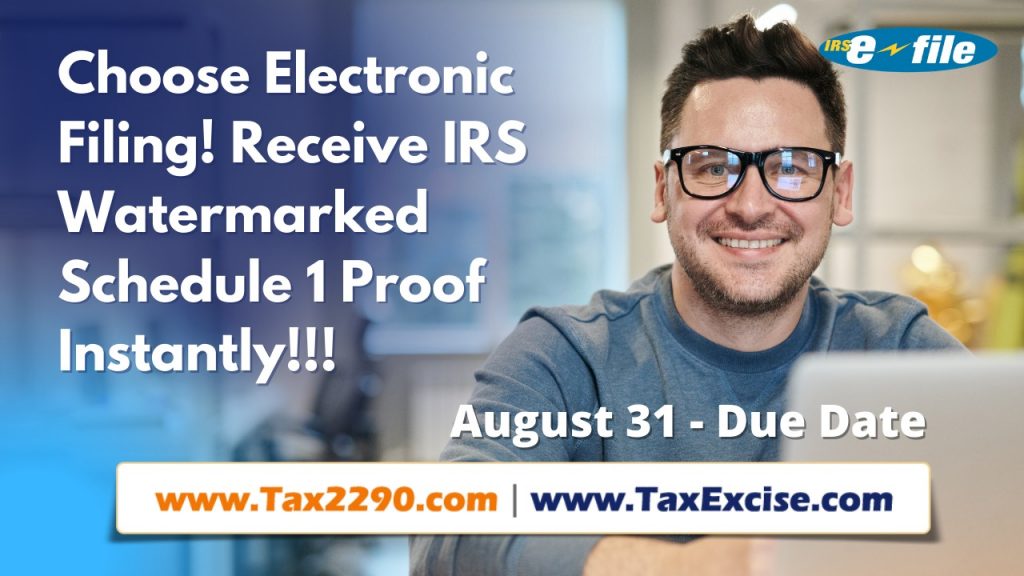 We at www.taxexcise.com/ www.tax2290.com would also like to keep you keep you reminded on all the other forms that are due this month:
Form 720 – Quarterly Federal Excise Tax Reporting
The federal Excise tax Form for the second quarter of 2021 and is due by the end of July. Most notably the PCORI (Patient-Centered Outcomes Research Institute) fee is usually filed during this period. Pcori for the 2020 year is always due after the second quarter of the following year. Do also Keep in mind that even though you have no excise taxes to report, you must file Form 720 by choosing a Zero Return (Zero Tax Liability). This is to notify the IRS that you have no Excise taxes to declare for the year.
IFTA – Fuel Use Tax Reporting
International Fuel Tax Agreement fuel reports are due four times a year, the last day of the month after each quarter closes. Prepare this report for the Second quarter of 2021 on or before the July 31st deadline.
For users who don't have access to a computer you can also use a mobile or tablet to download our android app simply by just selecting https://play.google.com/store/apps/details?id=com.taxexcise and for ios users https://apps.apple.com/us/app/tax2290-efile/id1475769017?ls=1
To ensure we are able to provide you with the best customer service, our tax experts are at your disposal for any Federal tax-related questions, Log on to www.taxExcise.com to get started. Feel free to reach us on our toll-free number @ 866-245-3918 or drop us an email to support@taxexcise.com do also try out our LIVE CHAT option available on the website. We're available now available 7 days a week between 8:00 AM to 6:00 PM Central Time.
Happy Trucking.
---