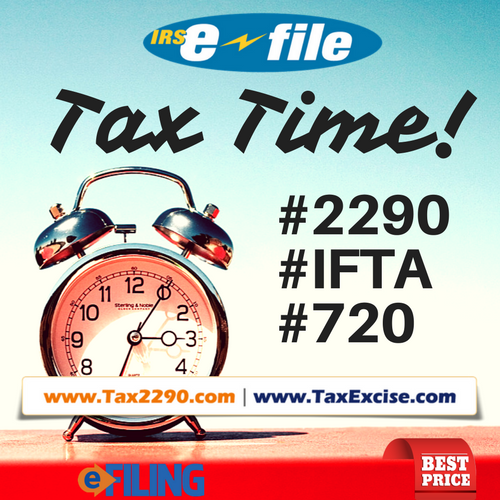 Time and Tide waits for none! Very old saying but suits every situation especially when it comes to Taxes. July and August are very important months for Excise Tax payers, August 31st will be the due date to renew Form 2290 HVUT for Tax Year 2017 – 2018 but end of July has its own special due dates.
HVUT Form 2290:
The due date to file Form 2290, unlike other months Form 2290 is not due for renewal only for vehicles went into operation the previous month. BY June 30th all the Stamped Schedule 1 Copy would have expired and August will be the deadline to renew Form 2290 for every single Heavy vehicle on the road.
Waiting until August will put you in the huge crowd that is waiting for the last moment. E-file right away and Keep on trucking.
Form 720:
Form 720 is a quarterly Tax; one must file it four times a year, Right now it's time to E-file your Federal Excise tax Form 720 for the Second quarter of 2017, which is due by the end of this month. Form 720 PCORI Excise Tax Filers please note that you file PCORI Taxes only once a year and that is with the Second Quarter Form 720.
IFTA:
The 2nd quarter of 2017 got over last month and July 31st is the deadline for filing 2nd quarter IFTA returns which is right around the corner.
So don't forget the July 31st Due date. It's recommended that you Prepare and file your Tax returns right away and avoid the last minute rush. The only place where you can File & Prepare all the above mentioned returns is www.TaxExcise.com. For any assistance contact us @866-245-3918 or write to us @ support@taxexcise.com.