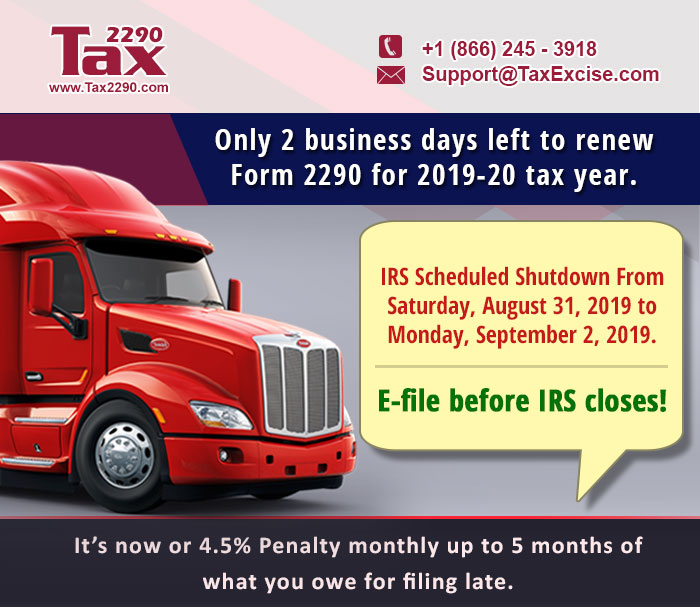 We are heading towards the end of August and the official deadline for IRS Tax Form 2290 is extended till September 3, 2019 for this tax year as the usual due date August 31 falls on a Saturday. The next business day, September 2 is a Federal Holiday so the official deadline is September 3, 2019.
Today August 29th and you have just couple of days to get your Federal Vehicle Use Tax Form 2290 renewed and receive back the Watermarked Schedule 1 Proof of Payment for this current tax year.
IRS Tax Form 2290 and Watermarked Schedule 1 receipt.
This Form 2290 is an annual tax paid in advance with the IRS for all the heavy vehicles use on a public highway from July and that is to be registered on your name with the federal bodies such us DOT and DMV.

Form 2290 and Schedule 1 proof receipt is needed to renew your registration with the federal bodies, license plats, insurance tags and so. When the vehicle is moving on a public highway and pulled over for inspection, then you need to present your IRS watermarked Schedule 1 receipt. Similarly if you're leasing or attaching your heavy vehicle with any trucking company they would ask for this Form 2290, IRS watermarked Schedule 1 proof receipt.
Filing Deadline for Form 2290 this tax year 2019-20.
IRS Tax Form 2290 is reported for the tax year covering 12 month period that starts from July 2019 to June 2020, and between July and August. Form 2290 must be filed for the month the taxable vehicle is first used on public highways during the current period, usually it would be July. When the vehicle is not used in July then it is prorated and filed by the following month of first use.
Form 2290 Support and Help
We've a dedicated help line at 866 – 245 – 3918 working exclusively for all the days till the September 3rd Deadline and we're available from 8:00 AM to 8:00 PM EST. for instant help. Connect with us in LIVE Chat from the website, Call and Email.