Celebrate Father's Day with 10% OFF by Pre-filing Form 2290 for TY 2021-2022. Use code: THANKSDAD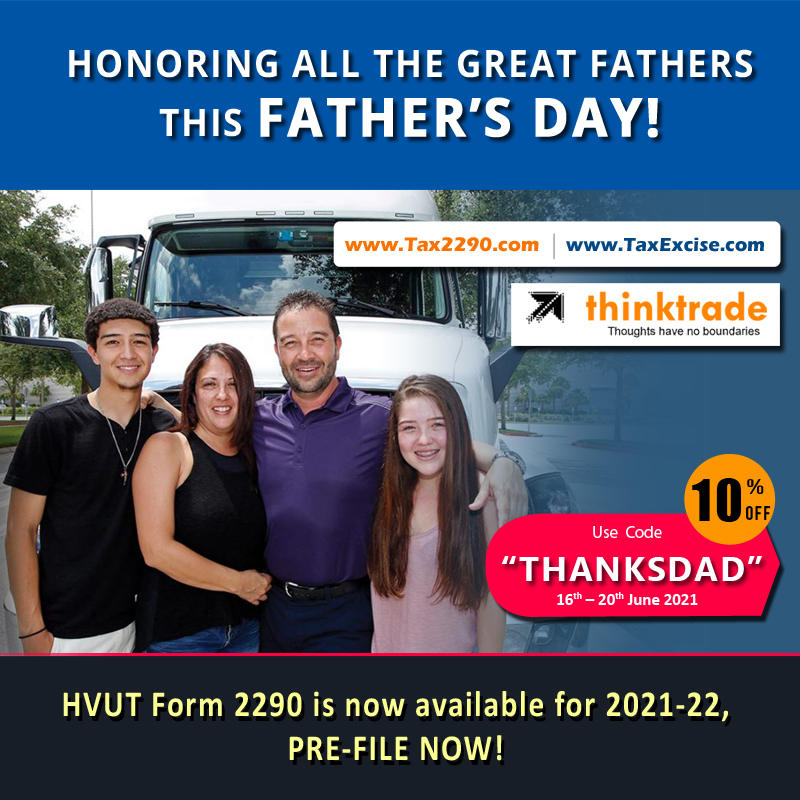 A son's first hero, a daughter's first love. We get it! It's hard to put into words just how special that man really means to you. Whether it's your dad, uncle, brother or grandpa, anyone who has been a father like figure and guided you onto greener pastures deserves recognition. What better way to make sure you express your love and gratitude for him the right way this Father's Day.
To show our gratitude and respect to our heroes we at Tax2290.com a product of Think Trade Inc, would like to wish everyone a Happy Father's day in our own style by offering a FLAT 10% OFF on all service fee payments. Simply use code THANKSDAD to avail a 10% discount on any and all payments valid from 16th through 20th June 2021.
Form 2290 HVUT returns for the current year July 2020 – June 2021 are still being accepted and stamped copies are returned within a few minutes. For returns that are being Pre-Filed for the upcoming tax year 2021-2022, the stamped copies will be issued only once the IRS begins to accept returns from July 1. Pre-file now to avoid any last minute rush.
We at www.taxexcise.com/ www.tax2290.com strive to go above and beyond in terms of customer service. For users who need added support or have any questions on your tax returns feel free to reach our fully operational help desk. We're available on all Business days between 9:00 AM to 6:00 PM Central Time. Our three way line of communication allows you to speak to us on our toll free number at 866-245-3918 or write to us at support@taxexcise.com, to have your questions answered instantly do also try out the LIVE CHAT option available on the Website.
Stay Safe, Stay Compliant and Happy Trucking!
---