The Quarterly Federal Excise Taxes reported in IRS Tax Form 720 is now due for the 2nd Quarter 2021, choose electronic filing and report the tax returns online in 3 simple steps. Electronic filing is fast and easy, accurate filing guaranteed, receive instant acceptance from the IRS. TaxExcise.com is the top rated website to report and pay the Quarterly Excise Tax returns with the IRS. The only website that supports electronic filing at an affordable rate, Zero Liability 720 return pricing starts at $29.99.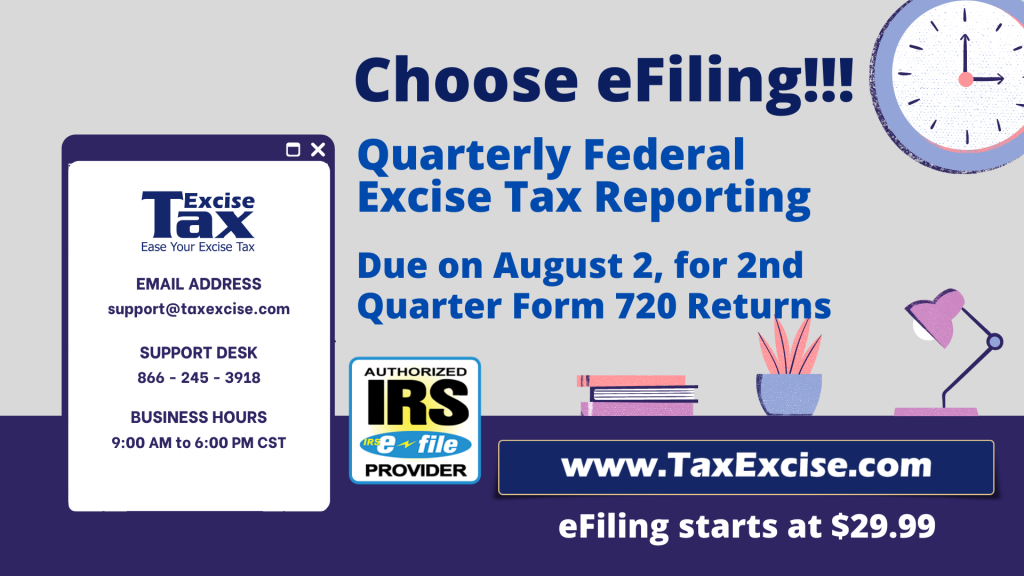 Time to start working with your federal quarterly excisetax returns for 2nd Quarter of 2020. July 31 is the deadline. You can do it online at @Taxexcise.com in 3 simple steps. Sign-up, Add your business & tax information, submit, get acknowledge. It is that easy to do it yourself. This time the actual due date comes on August 2nd as July 31 falls on a weekend. Extra time to complete your 720 tax reporting with the IRS in advance and receive the acceptance instantly.
Patient-Centered Outcomes Research Institute (PCORI) Fee
The PCORI fee initially applied to specified health insurance policies and applicable self-insured health plans with policy or plan years ending after September 30, 2012, and before October 1, 2019; however, in December 2019 the fee was extended for an additional 10 years under the Further Consolidated Appropriations Act, 2020 and now applies through plan years ending before October 1, 2029.

PCORI fee reporting online in Form 720
File the second quarter Form 720 annually to report and pay the fee no later than July 31 of the calendar year immediately following the last day of the policy year or plan year to which the fee applies. Issuers and plan sponsors who are required to pay the fee but are not required to report any other liabilities on a Form 720 will be required to file a Form 720 only once a year. They will not be required to file a Form 720 for the first, third or fourth quarters of the year. Deposits are not required for this fee, so issuers and plans sponsors are not required to pay the fee using EFTPS.
Getting Start with 720 E-file is a breeze at TaxExcise. No up-front fee to try our website, pay a nominal fee to efile. IRS would process and send you the acknowledgement immediately. No more guessing game… straight forward filing! 720 efile at its best with taxexcise. Talk to us at 866 -245-3918 or write to us at support@taxexcise.com.