Attention truckers and federal excise taxpayers! This message is for you. The last date to report form 2290 on a pro-rated basis for heavy vehicles first used on March 2023 and quarterly federal excise form 720 for the first quarter is May 01, 2023. If you are a trucking taxpayer or a Form 720 taxpayer, you must not miss the deadline and report the taxes on or before the last date. Otherwise, the IRS will charge heavy penalties, late charges, and interest on your tax dues. As the deadline is just a few days away, it would be best if you e-file form 2290 and form 720 on TaxExcise.com and get the acceptance to your registered email address at the earliest.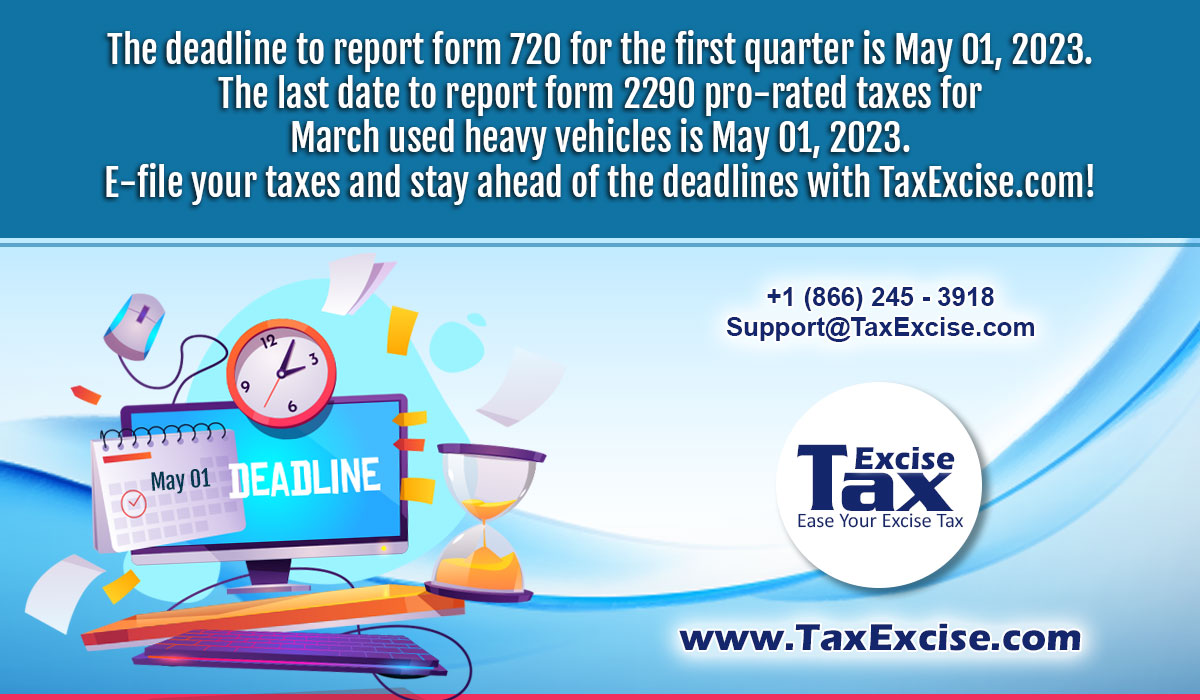 TaxExcise.com is an IRS – approved online tax e-filing service provider specializing in IRS tax forms like HVUT form 2290, quarterly federal excise tax form 720, refunds claim form 8849, and IFTA. We provide a smooth online platform to e-file your preferred tax form directly to the IRS and pay the tax dues through all IRS – approved online payment gateways. Therefore, E-filing your tax forms on TaxExcise.com is an effective way to report your taxes to the IRS and stay ahead of the deadline.
Secure Platform to Prepare Your Taxes Online.
The entire TaxExcise.com online platform is made for convenience, using modern technologies to provide smooth and accurate e-filing services. You can e-file form 2290 easily by choosing the appropriate options and using our tax calculator feature to estimate your pro-rated taxes. You can prepare your 2290 tax reports smoothly and transmit them to the IRS directly. Similarly, for form 720, you can choose your product/service/category from the menu, prepare your taxes accurately and transmit them to the IRS. All your business information, tax reports preparations, tax returns, payment transactions, and acknowledgments are end-to-end encrypted and cannot be opened without your proper authorization.
Instant Acknowledgement.
Once you successfully transmit your Form 2290 tax returns and pay the tax dues through TaxExcise.com, the IRS will process your tax returns and send your IRS digitally stamped Schedule 1 copy to your registered email address at once. Likewise, you will get instant acceptance from the IRS after the successful payment of form 720 taxes. The entire e-filing process will be over in 20 to 30 minutes in TaxExcise.com, which you can do from the comfort of your home/office using your smartphones and laptops.
Online Tax Payments.
You can pay your pro-rated form 2290 online and form 720 tax payments through all the IRS-approved payment methods on TaxExcise.com. We offer a safe and secure payment gateway to facilitate your IRS payments successfully. The approved payment methods of IRS form 2290 online are,
Electronic Funds Withdrawal (Direct Debit)
EFTPS – Electronic Federal Tax Payment System
Credit/Debit Card
Check or Money Order
Best Customer Support
Our customer support executives are at your service to guide you through the form 2290 e-filing process if you run into any hurdles or have any queries regarding the form 2290 truck tax and e-filing process. You can reach our customer support team at (866) 245 – 3918 on all working days from 8 AM to 6 PM EST or write to us at support@taxexcise.com.