Dear taxpayers! TaxExcise.com wishes you a Happy Christmas 2022 and a Happy New Year 2023! May this holiday season fill you and your family with light, laughter, and happiness. We thank you for this fantastic year, and we can't wait to have another excellent year with your tremendous love and support. We will continue our service by providing effective solutions to report federal excise taxes online with our innovative technologies and best customer care services.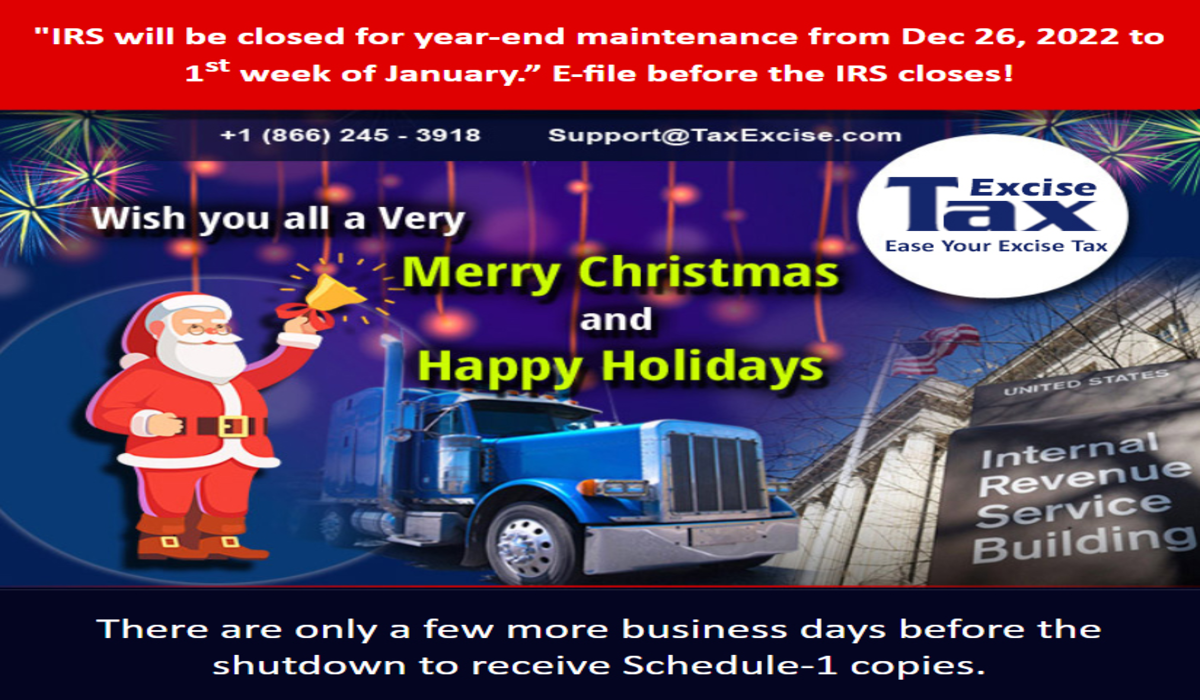 Best platform to e-file federal excise taxes online.
TaxExcise.com is an IRS-approved modernized online tax filing service provider where taxpayers can conveniently e-file federal excise taxes online and get instant approval from the IRS. Our platform is the one-stop solution for e-filing federal excise tax form 2290, quarterly federal excise tax form 720, tax refund claims form 8849, and online IFTA tax preparation. Those filing IFTA taxes can accurately prepare their tax reports online at TaxExcise.com since you cannot report IFTA taxes online as per the government's regulations. We make all the complicated parts of tax preparations, tax reports filing, and tax due payments simple, accessible, and comfortable. You must choose the appropriate tax forms, categories, sections, and parts for your product, service, or business. Then, you can easily prepare tax reports by entering the correct information, upload all supporting documents and transmit them to the IRS in a single click. After that, the IRS will process your tax reports and instantly send you the acceptance to your registered email address. Also, you can pay the tax dues through IRS-approved online tax payment methods. TaxExcise.com supports all IRS-approved online tax-due payment gateways like EFTPS, EFWs, and credit/debit cards, or you can even e-file your tax form online and pay your tax dues by sending a check or money order to the IRS.
IRS is shutting down for maintenance!
As the holiday season has started, the IRS will be closed for maintenance on the December 26th portal, and they will reopen only during the first week of January 2023. Therefore, we request all taxpayers to file the tax reports to the IRS before December 26th. You can always e-file your federal excise taxes at TaxExcise.com. We will hold your tax returns safely and transmit them to the IRS once they start accepting new tax returns.
Pro-rated form 2290 truck taxes for the November used heavy vehicles are due this month.
Also, form 2290 HVUT is due on a pro-rated basis for the heavy vehicles or trucks first used in November by the end of this month. Since the IRS is closing for the holiday season and maintenance on the 26th, truckers must report and pay their pro-rated form 2290 truck taxes before this date and get the IRS official schedule 1 copy on time.
Contact our customer support team for other queries.
TaxExcise.com offers the most pocket-friendly pricing structures that help you to e-file your IRS tax forms economically. We provide package and seasonal pricing structures for our users to save more money in their tax forms e-filing. You will also get yearly packages to e-file quarterly excise taxes for all four quarters. For more queries about tax forms, e-filing, and cost structures, reach our customer support team at (866) 245 – 3918 on all working days from 8 AM to 6 PM EST or write to us at support@taxexcise.com.