Hey there, truckers and truck taxpayers! We are going through this year's tax period, TY 2022-2023. As per the IRS regulations, truckers should report and pay the truck taxes using form 2290 in advance during the beginning of every tax season. Usually, a tax season starts at the beginning of July and lasts till the end of next June. This year's tax season began on July 2022, and the truckers are actively filing their form 2290 and reporting the truck taxes to the IRS. The last date to file the form 2290 HVUT returns and pay the tax dues to the IRS is August 31, 2022. Therefore, TaxExcise.com requests the truckers who have not yet reported the form 2290 HVUT to e-file form 2290 online at TaxExcise.com and get the instant schedule 1 copy to stay ahead of the deadline.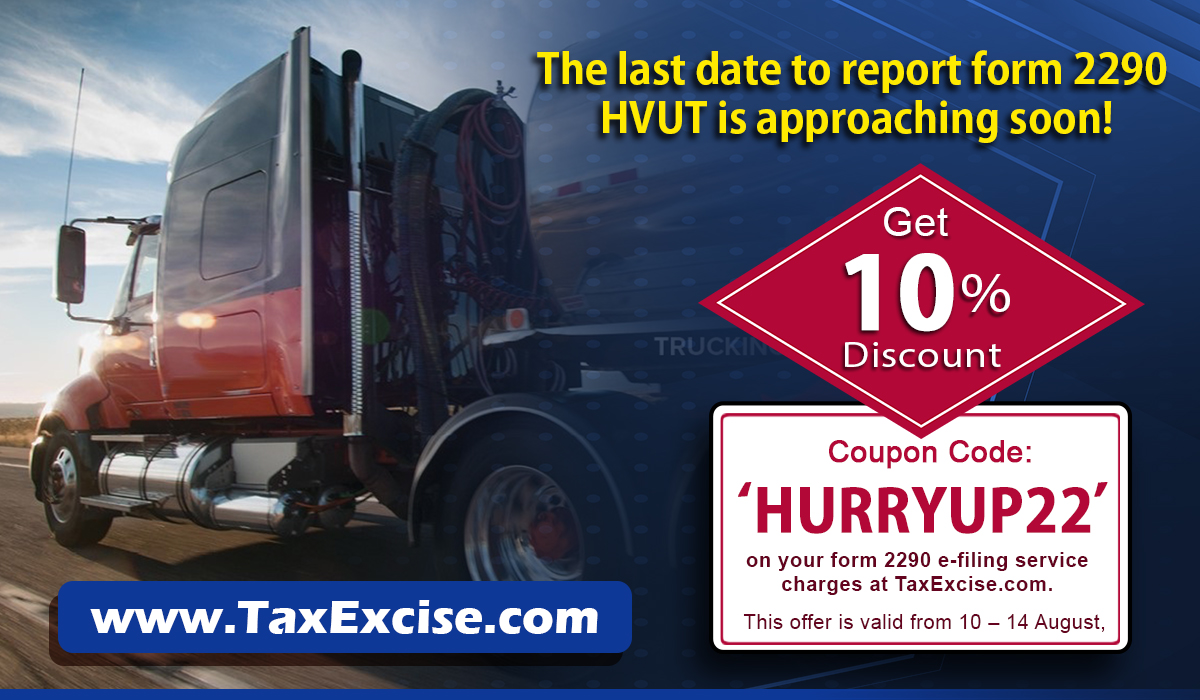 E-file form 2290 at TaxExcise.com today!
Many truckers have moved to the electronic filing system to report their form 2290 HVUT because it is simple, accurate, economical, and, most importantly, less time-consuming. Also, the IRS made it mandatory for truckers with 25 or more vehicles to e-file form 2290 HVUT online through an IRS-approved form 2290 e-filing services. You can smoothly report form 2290 truck tax returns for many vehicles within a few steps, and it is also easy for the IRS to process the tax returns without any hassle.
TaxExcise.com is an IRS-approved modernized federal excise tax electronic filing service provider. We are the first online tech service provider authorized by the IRS to give out form 2290 online e-filing services to the beloved trucking community of the United States. Now, TaxExcise.com proudly serves truckers with convenient form 2290 online e-filing solutions enabling them to e-file form 2290 easily throughout the year. Truckers can register for free at TaxExcise.com and create their profile and e-file form 2290 by themselves without needing any expert guidance. The whole platform is perfectly user-friendly; anybody can follow the step-by-step approach and e-file form 2290 successfully at TaxExcise.com. We also support all IRS-approved tax payment methods like EFTPS, EFW, and credit/debit card payments.
Avail of our special offer and save big!
The last date to e-file form 2290 HVUT to the IRS is August 31, 2022. TaxExcise.com is offering a special discount for all truck taxpayers as the deadline to report the form 2290 HVUT is coming up. Use the coupon code 'HURRYUP22' to get a flat 10% discount on your form 2290 e-filing charges. This special offer is valid from August 10 to August 14, 2022. We request all the truckers to e-file form 2290 online at the beginning of the tax season and get the schedule 1 copy from the IRS on time. For queries and support, please get in touch with our customer help desk at 1-866-245-3918 (toll-free) or write to us at support@taxexcise.com; we will reply to you promptly.