Hello, truckers! The new tax season, 2022-2023, is started and form 2290 HVUT filing is happening, as usual, to report the truck taxes for taxable heavy vehicles. Truckers and truck taxpayers must report form 2290 in advance for the entire tax period and get the IRS stamped schedule 1 copy to smoothly continue their truck operations on the public highways of the United States. The last date to file form 2290 HVUT returns and complete the 2290 tax payments to the IRS is August 31, 2022.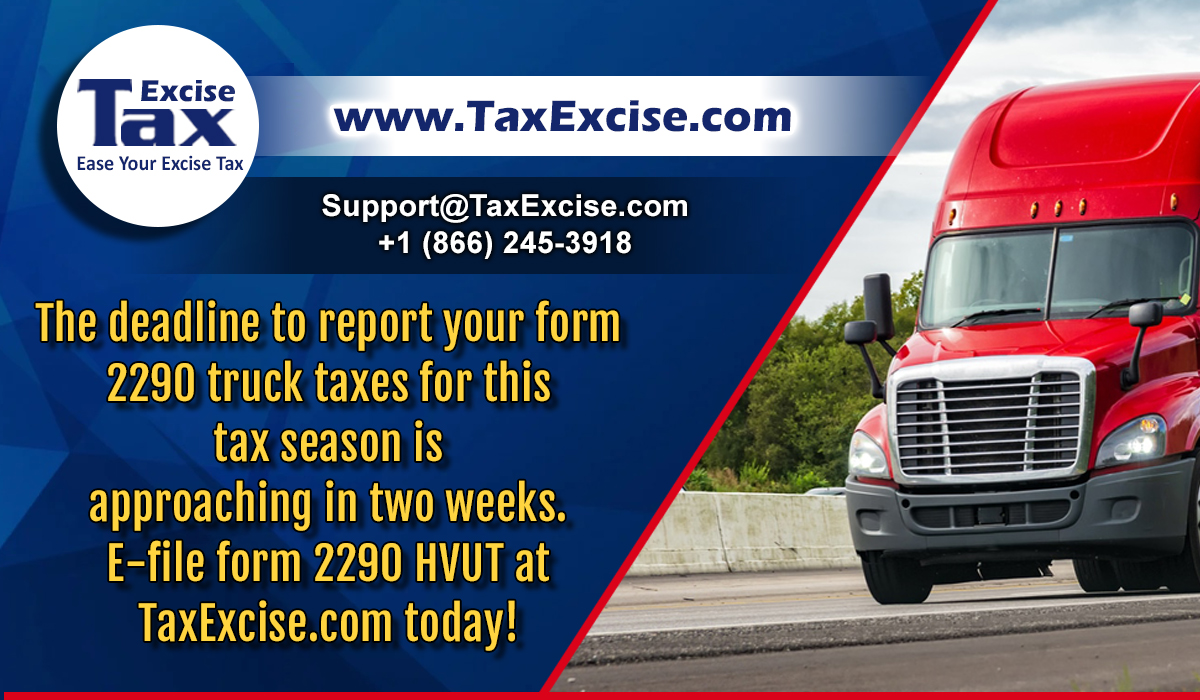 Report the taxes within the deadline!
The tax period starts at the beginning of July every year and ends by the last of June of the following year. Therefore, the current tax period, TY July 2022 – June 2023, has already begun around the first of July. IRS started accepting form 2290 tax reports for the current tax period. Truckers are actively reporting their form 2290 HVUT returns to the IRS and getting their stamped schedule 1 copy as proof of payment. If you haven't reported your form 2290 truck taxes, you should immediately prepare your 2290 tax returns and report them to the IRS before it's too late. The last date for form 2290 tax reporting is coming up in two weeks. The IRS is very strict about the deadlines and won't give any extension to pay the 2290 truck taxes. Therefore, truckers and taxpayers must never miss the deadline and file form 2290 tax returns to the IRS on or before August 31, 2022.
E-file form 2290 at TaxExcise.com!
IRS made electronic filing mandatory for the truckers reporting form 2290 truck taxes for 25 heavy vehicles and more. Therefore, truckers must e-file form 2290 online through an IRS-approved form 2290 e-filing service provider for every tax season. Also, the IRS encourages all truckers, including owner-operators, to e-file form 2290 online, even for a single heavy vehicle, because the form 2290 e-filing process is smooth, accurate and less time-consuming.
TaxExcise.com is an IRS-approved federal excise tax e-filing platform with a superior and modern technological suite that enables everyone to e-file their taxes online. We are the first online tax filing service provider to get approved by the IRS and have been serving American taxpayers for around two decades. You can use the online platform to easily e-file form 2290 online directly to the IRS and instantly get the IRS digitally stamped schedule 1 copy to your email address. It's high time to file form 2290 to the IRS and report the truck taxes, as the deadline is approaching soon. You can register for free at TaxExcise.com and begin your 2290 tax preparation any time since the TaxExcise.com platform is available 24/7 for your service. You must ensure that you e-file form 2290 on or before August 31, 2022, and get the schedule 1 copy to continue your truck operations on the public highways. For queries and support, don't hesitate to get in touch with our customer help desk at 1-866-245-3918 (toll-free) or write to us at support@taxexcise.com; we will reply to you promptly.