Dear truckers! TaxExcise.com takes this opportunity to remind you that the deadline to report Form 2290 truck taxes for your heavy highway vehicles is August 31, 2023, which is just a few days away. If you haven't reported your truck taxes, this is the right time to do it. We are giving out a special coupon code that gets you attractive discounts on your Form 2290 HVUT e-filing charges on our platform. So, make use of this opportunity to e-file Form 2290 truck taxes days before the deadline and get the IRS digitally watermarked Schedule 1 copy directly to your email.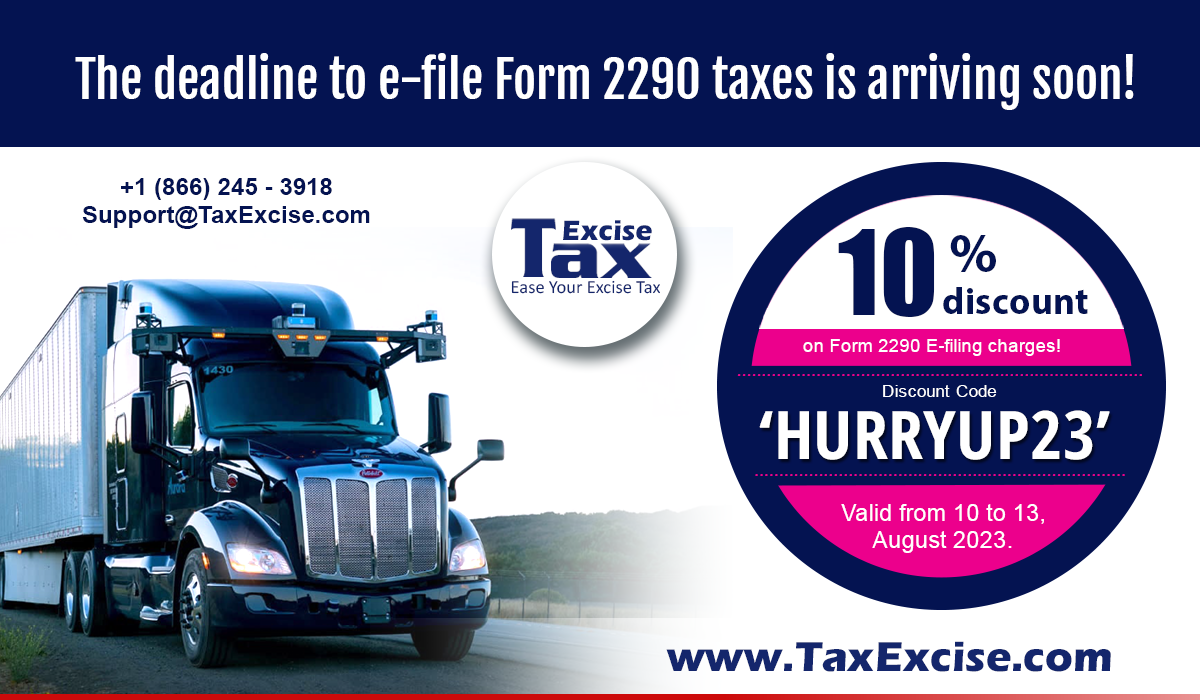 All taxable and tax-suspended heavy highway vehicles must report Form 2290 HVUT.
IRS made e-filing mandatory for all truckers reporting Form 2290 HVUT for 25 or more vehicles. They encourage truckers like owner-operators to prefer Form 2290 e-filing method because e-filing is automatic and smooth which make things easy for the IRS to process the truck tax returns effortlessly. Truckers with taxable heavy vehicles must report and pay Form 2290 HVUT before the deadline and get the IRS Schedule 1 copy to smoothly continue their trucking operations on the public highways. A taxable heavy vehicle must have the total gross weight of 55,000 pounds or more and estimated to travel more than 5,000 miles (7500 miles for agricultural vehicles). IRS charges 2290 truck taxes based on the heavy vehicles total gross weight. Each weight category has different tax amount; so, truckers must identify the weight category which their heavy vehicle belongs and report/pay the HVUT to the IRS using Form 2290. Heavy vehicles that don't come under the taxable category are tax-suspended vehicles. Truckers with suspended vehicles must report Form 2290 HVUT for their trucks and get the Schedule 1 copy. But need not pay taxes for them.
E-file Form 2290 HVUT on TaxExcise.com before the deadline.
TaxExcise.com is an IRS-approved Form 2290 modernized e-file service provider serving hundreds and thousands of truckers and trucking taxpayers every tax season. Our platform is the one-stop solution for all your Form 2290 truck tax e-filing needs. Apart from e-file Form 2290, we support Form 2290 VIN correction, Form 2290 Amendments, and Form 8849 Schedule 6 refund claims for truck taxes paid using Form 2290. Truckers can use our platform to avail all these services at economical costings and avoid the burden of paper filing your returns to the IRS. We have the perfect user interface that takes you through simple series of steps that allow you prepare your Form 2290 tax reports easily. Then, you can transmit your 2290 tax reports directly to the IRS and get the IRS digitally watermarked Schedule 1 copy directly to your registered email address.
Use our coupon code to fasten you e-filing process today!
As the deadline is just around the corner. We are giving a special discount for our users to save big on their Form 2290 tax e-filing charges on our platform. Use the coupon code 'HURRYUP23' to get a flat 10% discount on your form 2290 e-filing charges to stay ahead of the deadline this season. This coupon code is valid from 10 to 13, August 2023. So, we request all truckers and trucking taxpayers to use this coupon code to get the discount on your Form 2290 e-filing charges. For queries and support, don't hesitate to get in touch with our customer help desk at 1-866-245-3918 (toll-free) or write to us at support@taxexcise.com; we will reply promptly.