Dear truckers and trucking taxpayers! Please be aware that the last date to e-file Form 2290 HVUT tax returns is August 31, 2023, just 2 weeks away. So, hurry up and report your Form 2290 tax returns to the IRS to get the Schedule 1 copy. If you miss the deadline, you are liable to penalties, late fees and interest over your tax dues. Also, you cannot operate your heavy highway vehicles without a proper IRS Schedule 1 copy. Therefore, don't miss the deadline; register for free and e-file Form 2290 HVUT on TaxExcise.com right now. Form 2290 e-file would not take much time on our platform. You can follow the simple steps in our UI and e-file Form 2290 tax reports within a few minutes. Once you complete your 2290 reports preparation, transmit your tax reports to the IRS in a single click. Then, the IRS will process your tax returns as soon as possible and send the IRS digitally watermarked Schedule 1 copy to your registered email address.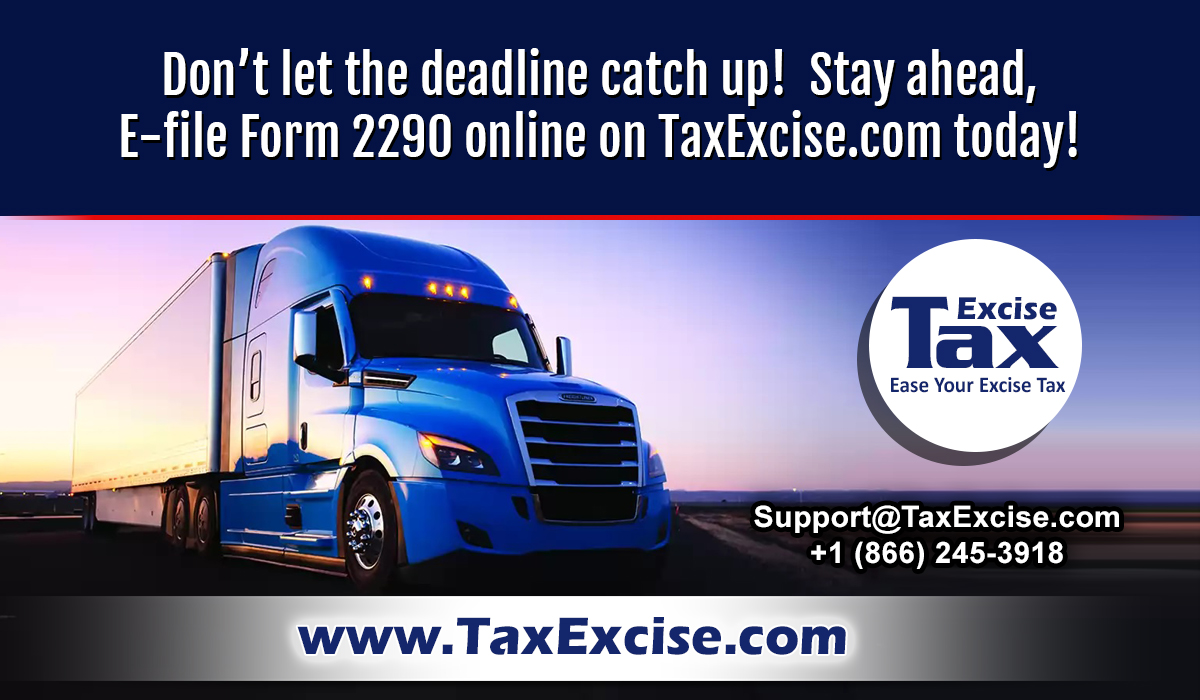 E-file Form 2290 on TaxExcise.com before the deadline.
TaxExcise.com is an IRS – approved Form 2290 modernized e-filing service provider. We are the first service provider authorized by the IRS to provide these services for the benefit of the trucking community. Truckers and trucking taxpayers must report Form 2290 truck taxes every tax season to the IRS and get the Schedule 1 copy as proof of tax payment to continue their trucking operations on public highways smoothly. They must estimate the taxes for the entire tax season and pay them in advance at the beginning of the season. As the last date to report your 2290 taxes is arriving in 2 weeks, you must not delay reporting your taxes. Our platform offers a complete DIY process where you can e-file Form 2290 HVUT reports yourself without seeking external guidance. E-file Form 2290 from the comfort of your home/office using your smartphones, PCs, laptops and mobile devices. Our platform is available 24/7; you can e-file your truck tax reports anytime you wish.
Get the Full-service option to E-file Form 2290!
If you cannot e-file Form 2290 by yourself, TaxExcise.com offers a full-service option where we will e-file Form 2290 for you from top to bottom. You can avail yourself of this scheme if you are busy with your workload and want to report your taxes on time. We will take care of every process once you provide all the necessary information and authorization.
To use our full-service scheme, you must provide the following information,
Download the Excel sheet from the full-service page on our website.
Fill in the information as mentioned on the Excel Sheet.
Tax Year and First Used Month
Taxable Vehicle Information
Prior Year Suspended Vehicle Information
Credits on Sold, Stolen, or Destroyed Vehicles and Low Mileage Vehicle
Third-Party Designee
Filing and Payment Option
Product or Service Payment Option
After finishing the Excel sheet, ensure you have provided accurate information and send it to our customer support team at support@taxexcise.com.
We will e-file Form 2290 HVUT tax returns based on the information you have provided in the sheet.
After that, Then, we will mail you the generated Form 8879 – Ex (IRS e-file signature authorization form 2290, form 8849, and Form 720). You must sign the taxpayer's section of Form 8879 – Ex to complete the e-filing process from our side. Once you sign this form, please choose the following means to send it back to us.
Email: support@taxexcise.com
Fax: 1-866-256-9859
Mail to: ThinkTrade, Inc., 233 Wilson Pike Cir, Ste 2B, Brentwood, Tennessee 37027
Your tax filing is now completed. We will proceed with the further process.
For queries and support about our full-service option, don't hesitate to get in touch with our customer help desk on 1-866-245-3918 (toll-free) or write to us at support@taxexcise.com; we will reply promptly.