TaxExcise.com is an IRS-approved modernized form 2290 HVUT e-filing service platform providing convenient online form 2290 filing support for all truckers and trucking taxpayers. We have been providing this service for almost two decades solely to benefit the trucking community of the United States. We proudly serve hundreds and thousands of truckers in all their form 2290 e-filing needs every tax period. Many truckers and taxpayers have gained a lot through e-filing their form 2290 truck taxes at TaxExcise.com every year, and this year is not an exception. We thank all our beloved customers for their constant support in making TaxExcise.com a leading form 2290 HVUT online filing service provider in the market year after year. We assure you that we will keep providing you with sophisticated technologies that make form 2290 filing even simpler and more accessible.
There is more to TaxExcise.com than e-filing form 2290 online directly to the IRS and getting the instant schedule 1 copy.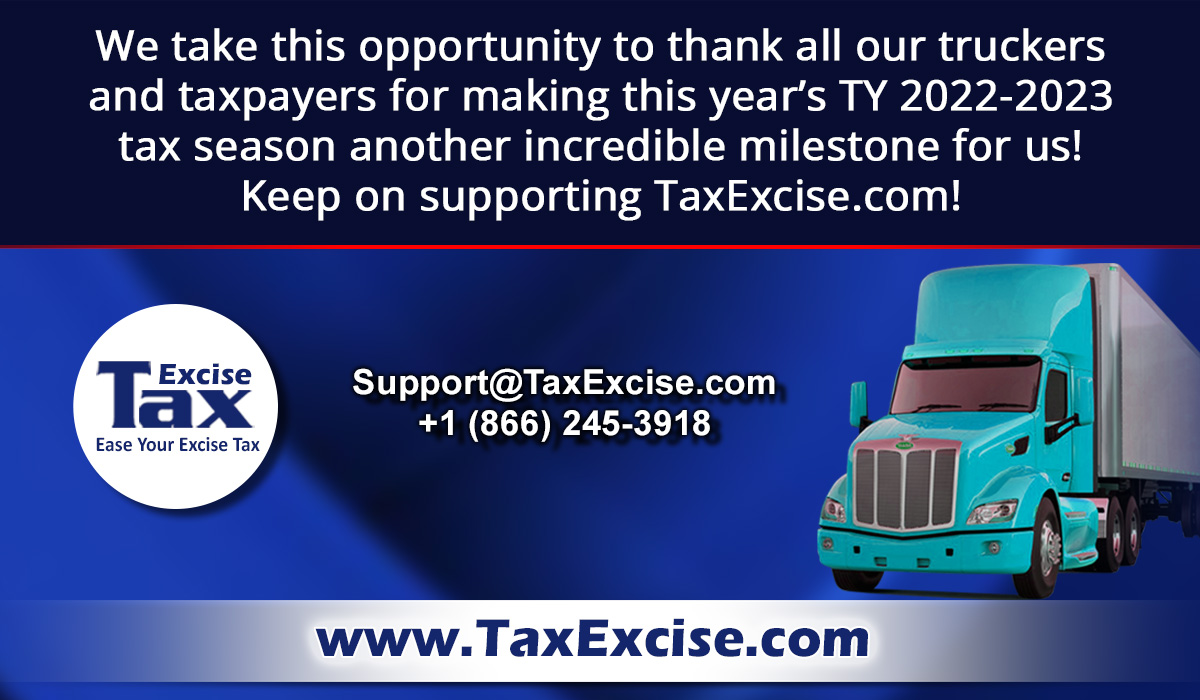 Easy VIN Corrections!
You can apply for easy VIN corrections if you incorrectly typed your VIN while e-filing and got the IRS stamped schedule 1 copy with the same incorrect VIN. You must correct your VIN with the IRS as soon as possible because VIN is a unique identification of your heavy vehicle, and it is essential that your vehicle's schedule 1 copy has its valid VIN. Therefore, you can easily apply for VIN correction at TaxExcise.com and instantly get the revised schedule 1 copy to your registered email ID.
Pro-rated Form 2290 HVUT
TaxExcise.com supports form 2290 pro-rated tax filings for the heavy vehicles or trucks that are newly purchased or used away from the regular tax filing season throughout the year. TaxExcise.com has a tax calculator feature that allows you to calculate your pro-rated taxes based on the first used month of your heavy vehicle. These pro-rated taxes are calculated from the vehicle's first used month till the end of the ongoing tax period. The deadline to report your pro-rated form 2290 HVUT is the end of the following month of the first used month of your heavy vehicle.
Form 2290 Amendments
Also, you can easily apply for form 2290 amendments online at TaxExcise.com. You may apply for amendments when your vehicle's taxable gross weight increases and exceeded mileage limits. You must choose your suitable amendment category and e-file with supporting documents directly to the IRS. You can make the difference tax payment and get the revised schedule 1 copy from the IRS accordingly.
Tax Credits or Refund Claims
TaxExcise.com also supports form 8849 schedule 6 refund claims; a special refund claims form for all form 2290 truck tax claims. You can claim credits or refunds over your form 2290 tax payments if your truck is stolen, sold, transferred or destroyed. You can also claim refunds if your vehicle traveled less mileage and if you overpaid your form 2290 tax dues. You must choose your appropriate category and claim your refunds directly to the IRS at TaxExcise.com.
Timely Customer Support.
You can always contact our customer support desk to learn more about form 2290 and its related services at TaxExcise.com. Your hard times of paper filing your form 2290, amendments and refund claims are over. You can e-file everything at TaxExcise.com and get instant approval from the IRS. For queries and support, don't hesitate to contact our customer help desk at 1-866-245-3918 (toll-free) or write to us at support@taxexcise.com; we will reply to you promptly.