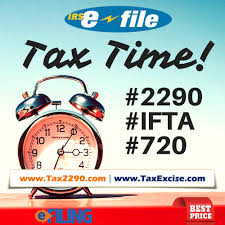 Tax Excise is an authorized and certified by IRS to offer e-filing services for federal excise taxes. Tax Excise is the FIRST EVER & THE ONLY DECADE OLD IRS Authorized E-file Service provider for E-filing Heavy Highway Vehicle Use Tax Form 2290. There are various Tax Forms, Supported by ThinkTrade Inc. under the banner of www.taxexcise.com / www.tax2290.com . One can say for sure that there are no months without some or the other tax deadline.
Month of October comes with few Excise Tax obligations, below are the list of Tax Forms that are due this Month, than can be filed through Tax Excise Line of Products:
Form 2290: Federal Excise Tax Form 2290 (HVUT) for vehicles with gross weight of 55,000 lbs or above and first used in the month of September 2018 since July 2018.
Form 720: Federal Quarterly Excise Tax for the Third quarter of 2018
IFTA: International Fuel tax Agreement report for the Third quarter of 2018
The Above mentioned Tax forms are due by the End of the Month that is October 31st & can be very Easily Prepared and Filed through www.TaxExcise.com / www.Tax2290.com .Though the Applications are very user friendly and self-explanatory, we still have appointed Handpicked, Industry's Best Tax Experts to assist you. Call them @ 1-866-245-3918 or write to them @ support@Taxexcise.com or you may even seek their assistance through LIVE CHAT option embedded with our website.