Dear truckers and trucking taxpayers! Your unwavering support has made this Form 2290 E-filing period a great success. We feel immensely grateful for your consistent support. For nearly two decades, our sole mission has been to serve the hardworking trucking community of the United States. TaxExcise.com is the first IRS-authorized online Form 2290 HVUT e-filing service provider to bring this essential service to the trucking community of the United States. Our platform and solutions fit truckers of all sizes and are ideal for e-file Form 2290 returns for a single vehicle up to large fleets conveniently. Our flexibility and innovation in the service of truckers make us grow year-by-year and attract new users every tax season. We owe this successful tax period to our cherished users who have continuously placed their trust in TaxExcise.com.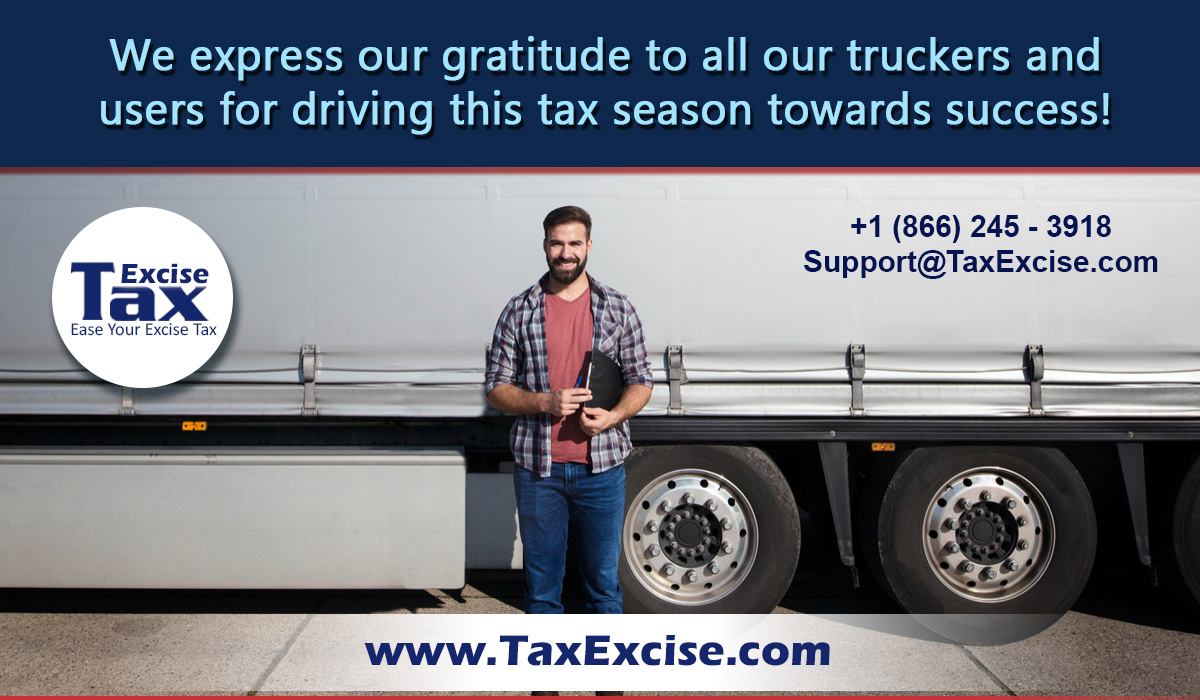 A message to truckers and trucking taxpayers who missed the deadline.
We sincerely hope you know the consequences of failing to report Form 2290 HVUT returns to the IRS by the deadline. You are liable for penalties, late charges, and interests on your tax dues up to 4.5%. But you can control the damages if you act now; don't delay anymore. E-file Form 2290 tax reports for the current tax period, 2023-2024, and get the instant Schedule 1 copy directly to your registered email address. You must ensure you pay the tax dues and IRS penalties to comply with the law. You cannot operate your heavy highway vehicles on public highways without a valid Schedule 1 copy. You will run into trouble with the authorities if you do so. Also, you cannot register your vehicle, renew your license, claim/apply for insurance, or perform any official process with DMV, DOT, etc.
E-file Form 2290 on TaxExcise.com!
TaxExcise.com provides a comprehensive platform to prepare and report your Form 2290 HVUT returns to the IRS smoothly. You can access our platform 24/7 from the comfort of your home/office using your PCs, smartphones, laptops, and tablet devices. We also have mobile applications for Android and iPhone users to e-file Form 2290 online using their smartphones. Our platform brings you 100% accessibility and accuracy. You can save your progress to leave any time and return to pick up where you left off. Even if you choose to start to e-file Form 2290 HVUT now, you can complete the entire tax preparation process within an hour. You must ensure that you have all the necessary information and data to prepare your tax reports. Once you prepare your tax returns, you can transmit them directly to the IRS in a single click. The IRS will process your tax returns and send the digitally watermarked Schedule 1 copy to your registered email address. You can pay your tax dues along with penalties online through IRS-authorized payment gateways and get everything sorted.
Apart from Form 2290 e-file, we also provide Form 2290 VIN correction, Form 2290 Amendments, Form 8849 Schedule 6 refund claims, and Pro-rated Form 2290 e-file based on the vehicle's first used month in our platform. You can opt for your preferred service and get the best e-filing experience. For queries and support, don't hesitate to get in touch with our customer help desk at 1-866-245-3918 (toll-free) or write to us at support@taxexcise.com; we will reply promptly.