Urgent attention to all truckers! The deadline is here. Today, August 31, 2023, is the last date to submit Form 2290 tax reports for this new tax season, 2023-2024, pay the tax dues, and get the IRS Schedule 1 copy. If you miss the deadline, you will be subjected to IRS actions like penalties, late charges, and interest on your tax dues. Also, you must operate your heavy highway vehicles on public highways with a valid Schedule 1 copy. You will get it only after successfully reporting Form 2290 to the IRS and paying your tax dues per their regulations. Also, you must register your vehicle, renew your license or insurance, and another process with DMV, DOT, etc., with a Schedule 1 copy. Therefore, it is highly essential that you act now and e-file Form 2290 and get your Schedule 1 copy today!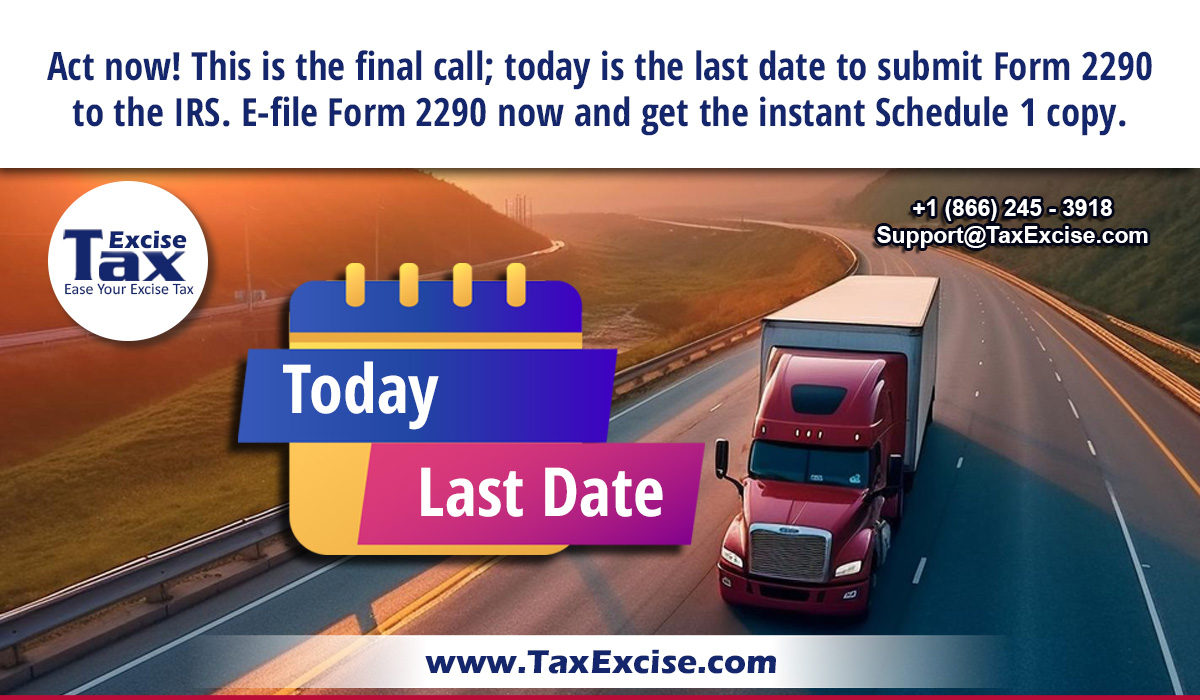 Form 2290 e-file is the convenient way to report your taxes.
The clock is ticking, and the logical path to report your Form 2290 to the IRS on this last day is e-filing Form 2290 on TaxExcise.com. However, the IRS made e-filing Form 2290 HVUT returns for the truckers and trucking taxpayers reporting 25 or more vehicles at a time. Also, they recommend Form 2290 e-file for truckers reporting tax returns for a single vehicle because it is convenient and automatic. It helps them to process the taxes quickly and avoid human errors.
E-file Form 2290 HVUT returns on TaxExcise.com now!
TaxExcise.com is an IRS–approved modernized Form 2290 e-filing service platform. We equip you with the latest and valuable features to prepare your taxes accurately and transmit them to the IRS in a single click. Our platform is very user-friendly, and you can e-file Form 2290 online without expert guidance. You can follow the screen-by-screen interface, enter or choose the necessary information, and provide all business and heavy vehicle details. You will prepare your 2290 taxes within no time. After that, you can validate your tax reports for errors to ensure they are 100% accurate. Once confident with your tax reports, transmit them to the IRS in a single click. They will process your tax returns at the earliest and email your IRS digitally watermarked Schedule 1 copy. You can download it from your email, print it, and use it as proof of Form 2290 reporting for the season. Also, you can pay your tax dues online through IRS–approved payment gateways. Since it is the last day, you should use the EFW method or credit/debit cards to pay the tax dues swiftly. We guarantee you that you will have a smooth and stress-free e-filing experience on our platform. For queries and support, don't hesitate to contact our customer help desk at 1-866-245-3918 (toll-free) or write to us at support@taxexcise.com; we will reply to you promptly.