This is the same time of the year to report or renew your Form 2290 heavy motor vehicle use tax with the IRS and to receive the stamped Schedule -1 proof. Because you need to renew and register your vehicles with the states authorities. This year we're going through tough time fighting the pandemic and thanks to the Truckers who still on the wheels when the world is staying at home. We're with you and we wish everything come to an end and the industry recovers faster than before. Let us all fight it together as an unit.

Prefile 2290 for July 2020 – June 2021 Tax Period
Why you wait till July or August to report your Heavy Vehicle Use Tax Form 2290 for Tax year 2020 – 2021, we at TaxExcise.com made it simple and prefiling 2290 is now available exclusively at a discount of 10% from the e-file service fee. 
What is Prefile? Well Prefile is preparing your tax return earlier, well ahead of the actual filing period.
Prefile works in the same way as you e-file, but doing it well in advance ONLY with TaxExcise.com.com, you can now beat the queue and complete your 2290 returns even before IRS officially opens up by July. You get lot of time to work on your tax return, consolidate it and transmit. Our website will securely hold your return and file it with the IRS once they are up and start accepting 2290s for processing. You could be the 1st to get your return sent to the IRS and receive back the Stamped Schedule-1 copy. Prefiling is just completing your return and transmitting to us, pay the dues when the IRS accepts it.
Prefiling Discount – 10% from your e-file fee
Tax 2290 has good news too and this exclusive prefiling is to all taxpayers out there, waiting to file form 2290s online for the year 2017 – 2018. You can now prefile HVUT online only at TaxExise.com and Tax2290.com.
---

Tax2290.com is powered by TaxExcise.com and owned by ThinkTrade Inc.
---
Being pioneer in the world of e-filing, we have added extra effort in making this possible for you. You can submit your form 2290 electronically for the tax year 2020 – 2021 even before the tax year officially begins. This week the entire world is coming together to celebrate Father's Day and we're also joining the party. Offering a flat 10% discount on our e-file preparation fee by applying coupon code "THANKSDAD". Thanks to the great truckers who are also fathers and the super hero for their son or daughter, not only for them the real super heros supplying essentials across the country during national emergency and pandemic COVID-19.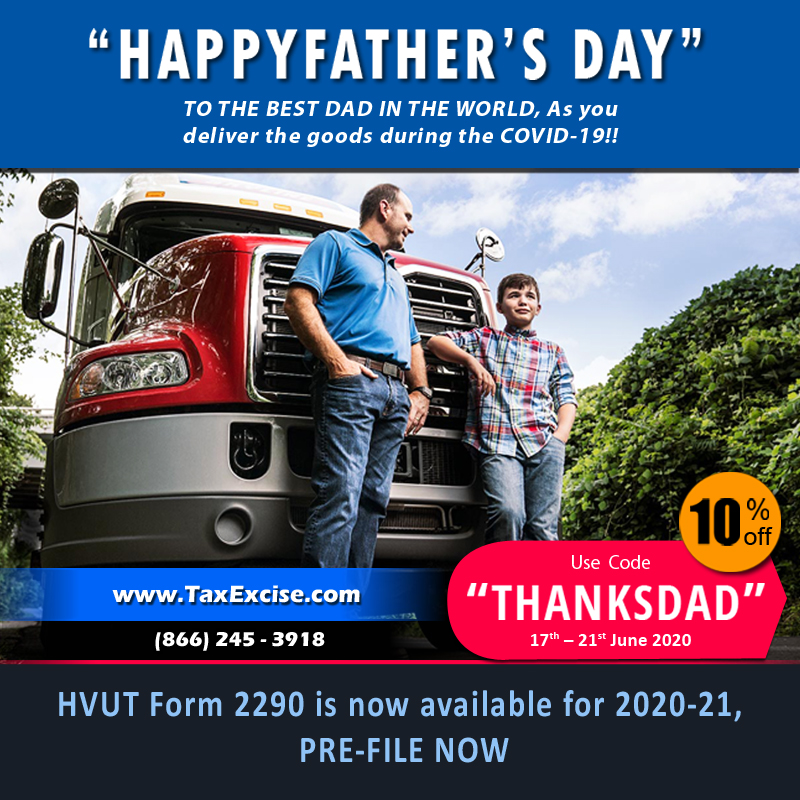 The sooner you e-file, the faster you get your Schedule-1 copy stamped. Please do note, the IRS would remain closed until 1st week of July to process your 2290s. Once they are operational your return is pushed at first note and the stamped Schedule -1 proof for payment is shared right to your inbox without any delay.
Prefiling 2290 Call Support
We understand the importance of your business and are working persistently in effort to minimize disruptions associated with COVID-19. You can completely rely on us for your 2290 tax reporting as we have taken adequate steps to support you and your business with 2290 efiling. We're working in full potential to keep this efiling service operational and to open up prefiling for those who are asking for it.
We're always there to help you and walk you through the electronic filing process, this time we have put in more efforts to make it much simpler than ever and to take off your tax stress away. Be the early bird and file form 2290 return today. Tax2290.com recommends all the truckers to efile their return online at the earliest in order to stay on safer grounds.
Call us at 1-866-245-3918 or mail us at support@taxexcise.com for any suggestion and queries. Rest assured, our Tax Experts would never let you go wrong!