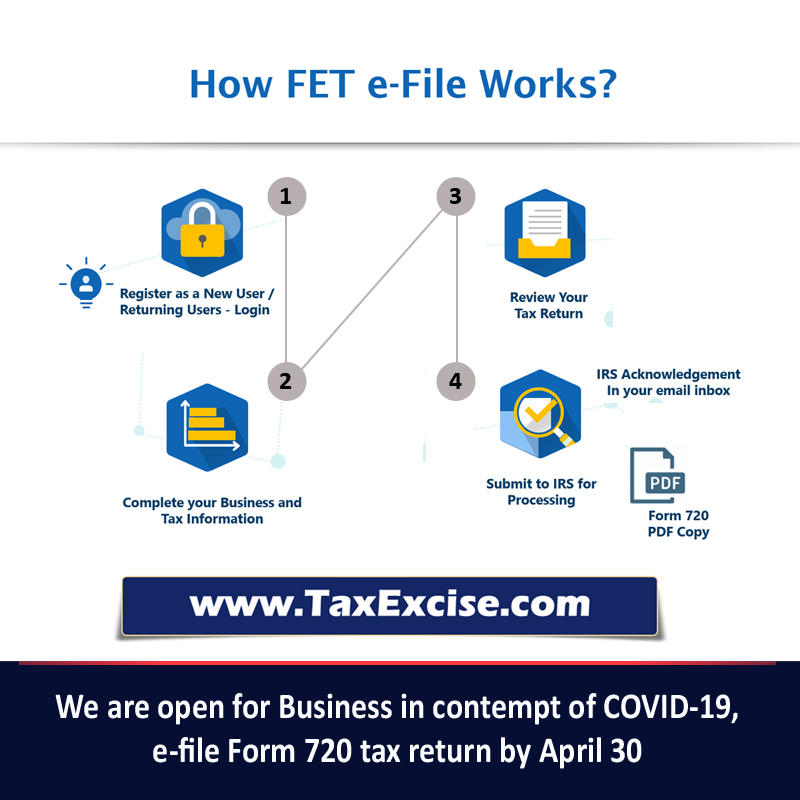 TaxExcise.com the only E-file service provider that helps to report a wide assortment of Excise Tax forms would like to keep you reminded about the upcoming April 30th Deadline on Form 720 for the 1st Quarter of 2020. Form 720 is filed every quarter to report taxes imposed on a business for the manufacture, sale or use of a certain type of goods and products, these businesses are required to pay extra taxes, known as "Excise Taxes" and this has to be reported by the last day of the month following the calendar quarter.
Due to the ongoing Covid-19 pandemic, most businesses will not have any excise tax to report for the first quarter, however, in order to abide and stay compliant with the IRS, these businesses should still file and report a Form 720 by selecting the option for a Zero Tax Liability.
Need Help Filing Online?
With the IRS closed due to the persisting lockdown most filers will find it difficult to file a paper return on time. The IRS offices might not be at your reach, but they're fully operational to support E-filing and all the returns filed through our website are currently being processed by the IRS within minutes.
To ensure we are able to provide you with the best customer service, our tax experts are at your disposal for any Federal tax-related questions. Feel reach us on our toll-free number @ 866-245-3918 or drop us an email to support@taxexcise.com do also try out our LIVE CHAT option available on the website. We're available on all Business days between 9:00 AM to 6:00 PM Central Time. Thank you for your support.