America celebrates July 4 as Independence Day because it was on July 4, 1776, that members of the Second Continental Congress, meeting in Philadelphia, adopted the final draft of the Declaration of Independence.
Birthdays deserve big celebrations — and nobody will celebrate America's Independence better than Philadelphia, the city where it all began. We're here to make it more special with a flat 10% OFF on your 2290 efile fee, Yes! IRS Opens up for the new tax year and your Form 2290 and Schedule-1 is up for renewal. This is the time to enjoy great discounts on your e-file fee. Act fast avail this discount by apply the code "FREEDOM16" in the check out. You treat yourself a big independence week as this is extended till July 5th to avail this discount. Spread the world, share it with the trucking friends and trucking nation.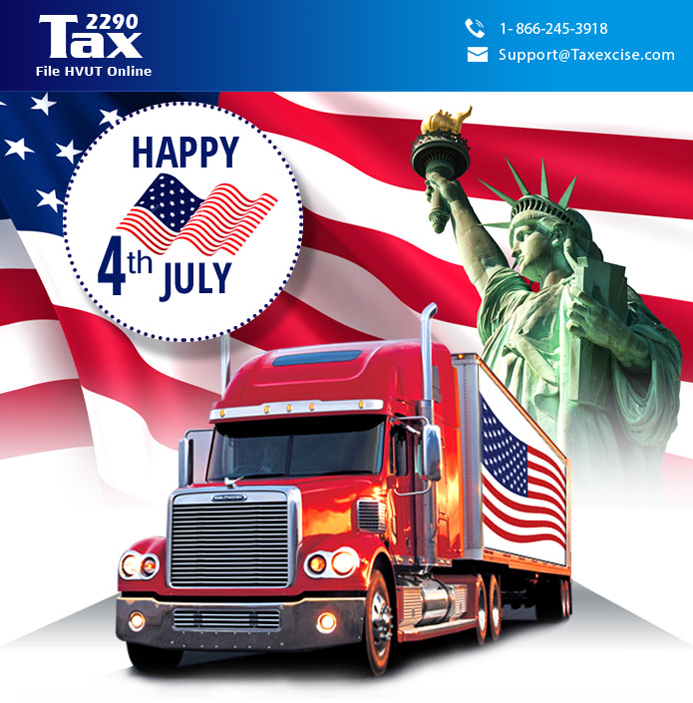 Also this is the time to file your Quarterly Federal Excise Tax returns on Form 720 for 2016 2nd Quarter, which is due by July. The IFTA Fuel Tax is also due this July for 2nd Quarter, you can give it a try at our website http://TaxExcise.com
The most common symbol of the holiday is the American flag, and a common musical accompaniment is "The Star-Spangled Banner," the national anthem of the United States. Red is for victory white is for purity blue is for loyalty USA where courage n' Fortitude is the Norm! As we celebrate our nation's freedom, we honor the courageous men and women dedicated to preserving it.
Every day, millions of trucks and professional truck drivers travel across the United States to help move America forward. Most Americans don't realize how essential trucks are to their lives until there is a severe weather or adverse condition that prevents trucks from delivering. But the fact is trucks are critical to our national and global economy, to our families, to our businesses, and so much more. When they stop moving, the country stops moving.
We salute our Truckers with great respect in our hearts, let's give our thanks to all the great soldiers also our beloved truckers who make our land live. On this Fourth of July! Wish you a safe and happy trucking this long independence weekend.
Connect with us at (866) 245 – 3918 or write to us at support@taxexcise.com for more support with your 2290 truck tax filing and Excise Tax filings.