Easily e-file form 2290 truck taxes online!
Truckers can comfortably e-file form 2290 truck tax online at taxexcise.com. We offer simple, quick, and accurate form 2290 e-filing services. With all the necessary details and information ready, you can complete the form 2290 e-filing process in just a few minutes at TaxExcise.com and get your official IRS stamped/watermarked Schedule 1 copy directly to your e-mail. We also send your schedule 1 copy via fax or additional e-mails upon request. And you can opt for our text alert services to know your form 2290 status with the IRS.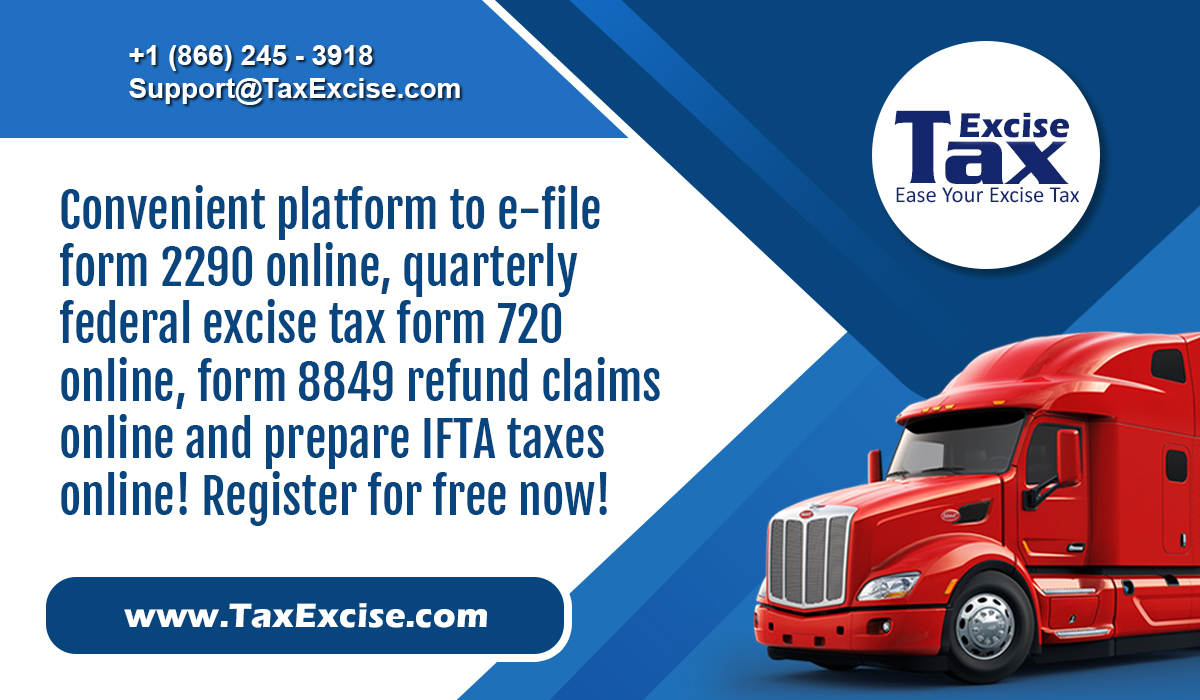 You can file and pay your due tax amounts to the IRS with taxexcise.com. We offer all the IRS-approved tax payment methods like EFW, EFTPS, Credit/Debit cards, and even check or money orders. We also accept all the major Credit/Debit cards for your service charge payments at taxexcise.com. Our payment gateway is powered by the latest encryptions that ensure smooth and secure online transactions. You don't have to worry about anything anymore once you register with taxexcise.com to e-file form 2290 online.
The best platform to e-file federal excise tax form 720!
TaxExcise.com is the perfect platform for all your form 720 e-filing needs. You can easily e-file form 720 in all the parts and categories for your businesses and services. Since form 720 is the quarterly excise tax and needs to be filed/reported every quarter within the deadline, e-filing form 720 at TaxExcise.com is the best way to do that. You don't have to go to the IRS office and paper file every time. You can register at TaxExcise.com for free and e-file form 720 directly to the IRS in a few minutes. We also facilitate all the IRS-approved online tax payment gateways. We ensure the smooth transaction of your tax payments in our highly secure network.
You don't have to worry about a thing on TaxExcise.com. You can e-file your quarterly excise tax form 720 on the go and stay ahead of your deadline. Once you become a part of the TaxExcise.com family, we will send you timely alerts and updates regarding your form 720 parts and categories to stay ahead of your schedule, never miss the deadline and stay updated on form 720 news and changes.
Conveniently e-file your federal excise tax refund claims form 8849 and get your refunds!
IRS offers refunds on your federal excise tax payments in case of overpayment and other scenarios. You should use form 8849 and the respective schedule based on your original tax form to claim the refunds from the IRS. You can easily e-file form 8849 directly to the IRS and get the refund claims at TaxExcise.com. We help you avoid any mishaps or confusion and aid you in the smooth refund claiming process. We support all the form 8849 schedules to get the refunds like Schedule 1, 2, 3, 5, 6, and 8.
IRS sends the refund check to your mailing address as per their timing regulations. It varies from a few days to a few weeks per your schedule. And you will only get the refunds if the IRS approves your claim request through form 8849 filing. So, it would be best if you made sure to get your schedule right while filing form 8849 to the IRS.
While e-filing form 8849 in TaxExcise.com, you cannot make the mistake of choosing the wrong schedule. Our interface is so transparent and clear that it never allows our customers to choose the wrong schedules, and the users can go back and double-check everything once they complete their online form before transmitting it to the IRS.