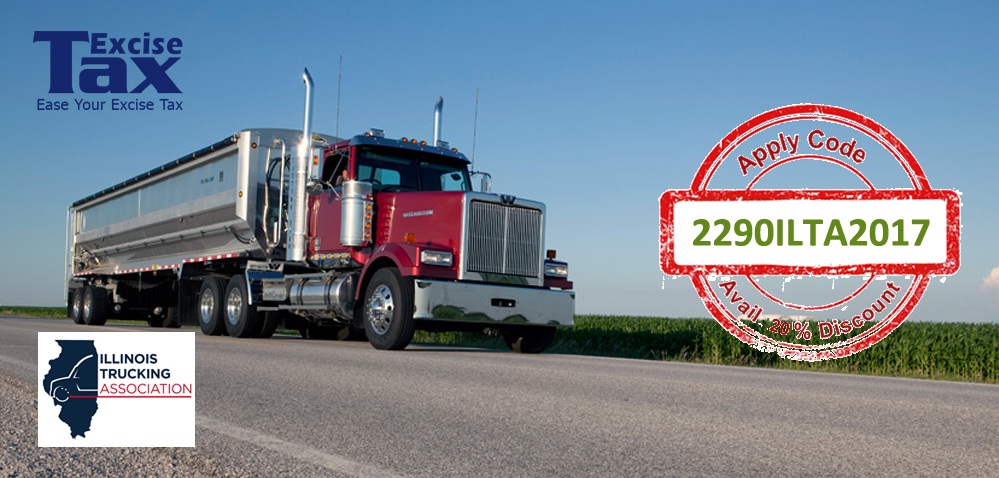 Illinois Trucking Association is an 86 year old non-profit, full-service trade association led by trucking companies to promote and protect the interests of the trucking industry in Illinois with over 37,000 trucking companies in all 50 states.  The Only Decade Old IRS Authorized E-file service Provider for E-filing Heavy Vehicle use Tax Form 2290, www.Taxexcise.com / www.Tax2290.com – Products of ThinkTrade Inc has been an Allied Member of Illinois Trucking Association for a long time now. The Illinois Trucking Association is dedicated in enhancing the effectiveness of its member companies by advocating sound public policies, providing excellence in education, training and information while promoting a safe, dependable and cost effective transportation system.
www.Taxexcise.com / www.Tax2290.com – Products of ThinkTrade Inc has joined hands with ITA as an Allied Member to serve all the men and women who are part of ITA in all 50 states of the United States of America in all possible ways. We are the First Ever IRS Authorized E-file Service Provider For E-filing HVUT; E-filing saves a lot of Time and hard earned money for Truckers and Trucking Companies.
Being an IRS Authorized E-file Service Provider and an Allied Member of one of the Nation's Oldest Trucking Associations, It becomes our responsibility to keep every Trucker and Trucking Company associated with ITA, that it is Time to file their Heavy vehicle use tax for the Tax Year 2017 – 2018. August 31st 2017 is the deadline to E-file & pay the HVUT Form 2290.
In an effort to contribute towards the betterment of Members who are part of ITA, www.Taxexcise.com / www.Tax2290.com – Products of ThinkTrade Inc is offering a FLAT 20% OFF by using promo code "2290ILTA2017" on the E-file Preparation fee. As a well known fact for Trucking Industry folks, Form 2290 for Tax Year 2017 – 2018 is due on or before August 31st 2017. So the Offer from ThinkTrade Inc will be valid till August 31st 2017.
Hurry up E-file your Form 2290 HVUT with www.Taxexcise.com / www.Tax2290.com and enjoy the Discount. For anymore Questions or Queries contact our Tax Experts @ 1-866-245-3918 or write to us @ support@taxexcise.com or you may take their assistance using the LIVE CHAT option on the website.
If you do not find time during weekdays and wish to E-file your Federal Heavy Highway Vehicle use Tax Return (HVUT) Form 2290 on Weekends and if you need assistance you have the contact information above, Yes! Our Tax Experts have decided to work on all weekends to assist Weekend tax Filers with their Queries till the End of August.