Truckers it is a reminder for you about the Federal Heavy Highway Vehicle Use Tax Form 2290 reporting for the Tax Year July 2021 through June 2022. August 31, 2021 is the due date and you have 7 more days to go. Time to act, choose electronic filing at TaxExcise.com and Tax2290.com to report and pay this HVUT taxes with the IRS and receive the IRS Schedule 1 Proof of Payment instantly.
TaxExcise.com is NOW processing Heavy Vehicle Use Tax (HVUT) Form 2290 for Tax Year 2021 – 2022. E-file Your HVUT Tax Return right away and receive your IRS Stamped Schedule 1 copy as soon as IRS Accepts your Return. Choosing electronic filing is essential and priority for truckers to receive the schedule 1 proof, working with the right electronic filing service provider is important to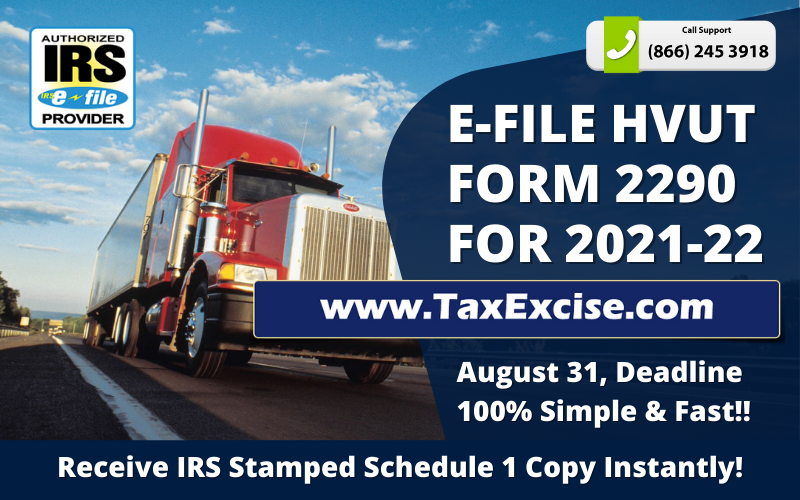 Form 2290 Electronic Filing with the IRS:
There has been a lot told about the benefits of electronic filing for HVUT Form 2290, this annual tax is paid upfront with the IRS for the tax year between July and June. Many truckers are aware of the truck tax season and the filing deadline.
Electronic filing or E-File is required for reporting IRS Form 2290 and paying taxes on 25 vehicles or more in a tax return. However, all taxpayers are encouraged to file electronically as it allows for quicker processing of your 2290 tax return. When e-filed a stamped Schedule 1 proof can be available within minutes after filing and acceptance by the IRS.
Every trucker or owner operator is insisted to avail the benefits of electronic filing as it is the fasted way of getting your return processed by the IRS, the stamped schedule-1 proof is made available immediately to your inbox.
No more driving in to the IRS Office:
Truckers no need to visit the IRS office to file Form 2290, you can electronically file Form 2290 and pay any Heavy Highway Vehicle Use Tax due's online. Generally, if you e-file Form 2290, you can receive your IRS-stamped Schedule 1 electronically in minutes after e-filing. You can print your Schedule 1 and provide it to your state Department of Motor Vehicles without visiting an IRS office. If you choose to visit your local office, be aware that many Taxpayer Assistance Centers now operate by scheduled appointments. Use the Taxpayer Assistance Center Office Locator to see if your local office will require an appointment. For more information about the highway use tax, talk to us or write to us, you can also do a live chat with our tax experts.
Help and Guide through Form 2290 Electronic Filing
We have a super star support team to guide truckers on the 2290 electronic filing process, we are available on a phone call and live chat. We have a dedicated support email to help you through the filing process.
Many of our users have given thumps up for our extensive support and handling our users questions. We guarantee our users to get the 2290 tax returns processed with the IRS instantly and share with them the watermarked Schedule 1 Proof of Payment. This is essential to have your heavy motor vehicles registered or renewed registration with the federal agencies.
Simple steps and quick process, electronic filing is the go getter for truckers to ensure reporting taxes on time with the IRS and stay complaint. At TaxExcise.com is the Priority Electronic Filing and this keeps us out of the crowd.