Are you responsible for collecting, any of the federal excise taxes listed on IRS Quarterly Federal Excise Taxes Form720? then this is a last minute alert for you to work on your Form 720, ExciseTax Reporting for 2nd Quarter of 2021. August 2, 2021 is the Due Date (July 31 is the usual due date to report it), act fast and choose electronic filing at TaxExcise.com. 
Electronic filing of Form 720 will allow IRS to provide expedited and improved service and reliability to taxpayers while reducing processing time and errors.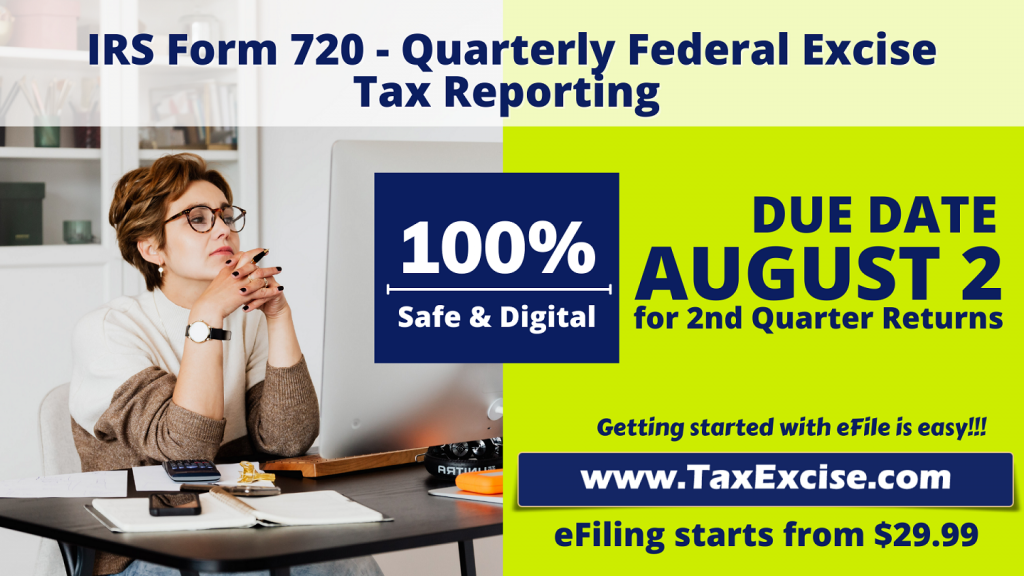 Electronic Filing for Federal Excise Taxes
The foremost is IRS could receive your returns and process it faster than any other way of filing. Choosing online filing or electronic filing eliminated all possible human errors that could happen in a tax return. Let see some of the larger benefits of e-filing Form 720 returns.
Faster Processing – e-filed returns are processed much faster than paper filed returns.
Convenience – available online 24 hours a day, 7 days a week.
Ease of use – user friendly, with step-by-step instructions and clear screens indicators to walk you through the filing process. E-file is a cake-walk
Greater Accuracy in Processing – accurate tax calculation based on the entries you make and will not sent an incomplete return to IRS.
Pay Right – while you e-file you pay the tax that you owe not extra or less.
Electronic Payment – convenience of direct withdrawal of tax due and EFTPS option to make payments.
Less Hassle, No Mails – no mailing of paper returns and waiting for mails for weeks, everything is managed electronically and digitally.
Security – safer than mailing your tax return and sent right to the IRS server no more data loss.
Avoid paying extra – when you e-file you can make sure your return reaches them well in the time frame no late penalties or late filing charges.
No more typos – while you e-file you won't get typos such us 1 for I or 0 for o etc.

Electronic filing is by and large the best way of reporting Quarterly Federal Excise Tax Form 720 returns with the IRS and get the best available resources. The most trusted and top rated website since 2007.
3 Simple Steps to complete your Quarterly Federal Excise Tax Form 720.  Sign Up Now