Time to start working with your federal quarterly excisetax returns for 2nd Quarter of 2021. Excise  taxpayers can do it online at Taxexcise.com in 3 simple steps. Sign-up, Add your business & tax information, submit, get acknowledge. It is that easy to do it yourself.
Federal Excise Tax can be prepared and reported online at http://TaxExcise.com, an IRS authorized eFile provider for all Federal Excise Tax Forms at one place. August 2, 2021 (usually July 31) is the deadline for the 2nd Quarter of 2021 reporting. Try for free and pay only when you print the form or eFile it to the IRS. Talk to our support desk today at 866 245 3918 or email to support@taxexcise.com.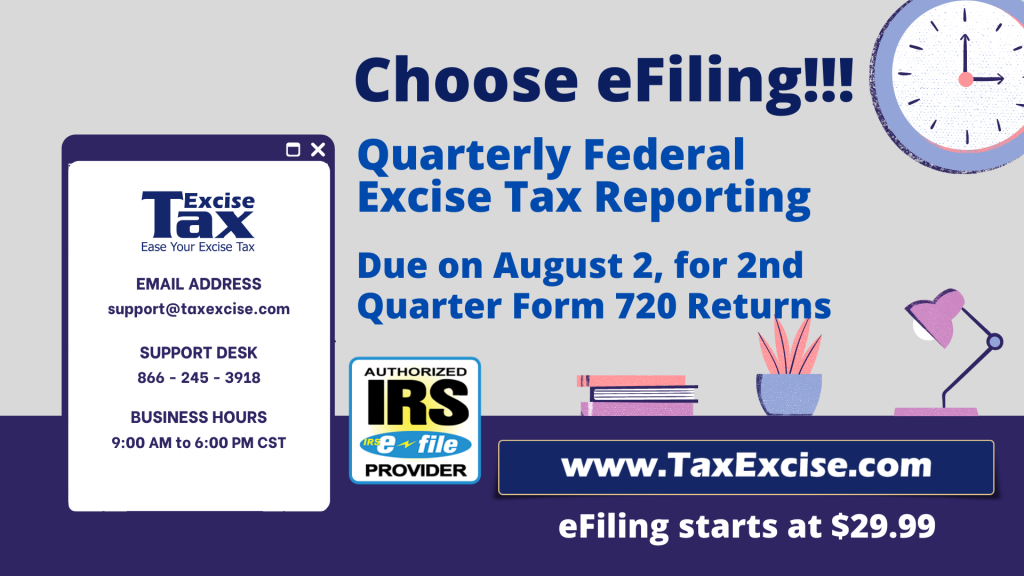 Expert Tax Preparation & e-Filing Advantages
TaxExcise.com has better ways to handle your Federal Excise Tax filing worries, being an expert and the most experience e-file service provider for all Federal Excise Tax Forms since 2007 we have the e-filing advantages and know your expectations. More over we're the 1st IRS Authorized e-file service provider for all excise tax forms. More to add and they are;
An excellent combination of comfort and expertise accessible from your home or office, desktop computer or tablet devices or from your smart phones
Dedicated tax expert who will work hard to take care of your filing and guarantee 100% accuracy as well as your satisfaction with his work.
Email or Chat or Call, we have experts to handle it with care. You're with the most trusted e-file website since 2007 and rated top "the market leader" by your fellow truckers.
Secured and Safe tax filing services from a renowned Tax e-filing company. 100% secure by Thawte SSL with encryption measures built in and an assurance about confidentiality of your personal information through McAfee Secure.
Anytime, anywhere access to your tax information and documents. This includes access to your Federal Excise Tax Returns, Schedule -1 copies, year-round assistance.
Electronic filing is by and large the best way of reporting Quarterly Federal Excise Tax Form 720 returns with the IRS and get the best available resources. The most trusted and top rated website since 2007.
3 Simple Steps to complete your Quarterly Federal Excise Tax Form 720.  Sign Up Now