Hello taxpayers! TaxExcise.com offers you a one-stop solution to e-file federal excise tax forms HVUT form 2290, quarterly federal excise tax form 720, IRS tax refund claims form 8849, and IFTA online preparation. We provide a simple user interface that takes you through the step-by-step tax preparation and e-filing process. Once you complete the tax returns preparation, you can transmit them to the IRS in a single click. After that, the IRS will process your tax returns and send your tax acceptance/acknowledgment to your registered email address. E-filing your federal excise taxes online at TaxExcise.com is the best method to report your taxes efficiently and on time. Since the IRS is very strict about the deadlines, TaxExcise.com gives you 24/7 access to report your taxes and secure gateways to pay your tax dues online through all IRS-approved online tax payment methods.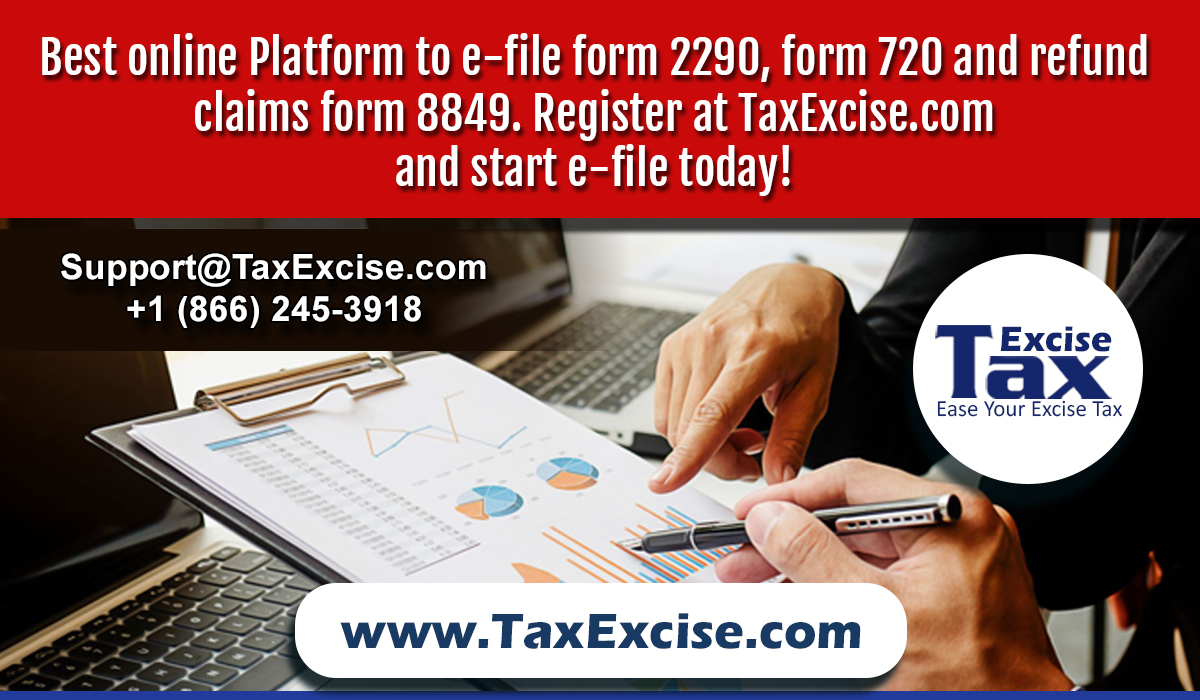 Form 2290 HVUT
IRS made e-filing mandatory for all truckers reporting form 2290 truck taxes with 25 heavy vehicles or more through an authorized e-filing service provider. TaxExcise.com is the first online e-filing service provider approved by the IRS to provide online form 2290 e-filing services to truckers. You can easily prepare and e-file form 2290 directly to the IRS and get the IRS digitally stamped schedule 1 copy straight to your email address. You can use the tax calculator feature in our platform to estimate your 2290 tax payment. You can e-file for form 2290 VIN corrections, 2290 amendments, and form 8849 schedule 6 truck tax refund claims at TaxExcise.com. Register now!
Form 720 Federal Excise Taxes
TaxExcise.com has made quarterly federal excise tax form 720 online e-filing easier, more accurate, and highly accessible. We know that preparing form 720 tax returns is tedious because it contains many sections/categories/parts. Sometimes, finding the right category and reporting your taxes is complicated. You won't face the hurdle at TaxExcise.com; you can easily choose your preferred category from our menu and prepare your taxes in our UI dedicated to your particular category. You can finish your form 720 tax returns, transmit them to the IRS and get instant acceptance to your registered email ID. As you have to report form 720 excise taxes quarterly, TaxExcise.com is the best platform to get the job done quickly.
Form 8849 refund claims
You can easily apply for your federal excise tax refunds using form 8849 online at TaxExcise.com. We support all form 8849 schedules 1, 2, 3, 5, 6, and 8. You can easily choose your appropriate schedule, prepare form 8849, attach the supporting documents for your refund claims and transmit them to the IRS. They will process your refund request and send your refund amount through a check to your registered address. Or you can convert the refunds as tax credits and claim them while reporting your taxes next time. You can avail of this credit claim facility while e-filing your federal excise taxes at TaxExcise.com.
IFTA preparation
We understand that IFTA tax preparation is complicated, and you need to report IFTA taxes for your vehicle every quarter. To overcome this hurdle, TaxExcise.com has a separate platform that helps you to prepare your IFTA tax reports easily and accurately. Since IRS doesn't allow you to e-file IFTA tax returns online, you can download and print the prepared IFTA tax reports from our platform and paper-file them to the concerned authorities. Preparing your IFTA reports online is much simpler and error-free than preparing them manually. Therefore, register at TaxExcise.com and prepare your IFTA tax report effectively.