Hello, truckers and federal excise taxpayers! TaxExcise.com has been serving you and assisting to report and pay your federal excise tax form 2290 HVUT, quarterly excise tax form 720, refund claims form 8849 online for two decades. We have innovated new technologies to make your online tax filing more convenient and accessible. Also, we are making our services more affordable for every taxpayer and giving special packages, seasonal prices, and discounts to save money on e-filing excise taxes online.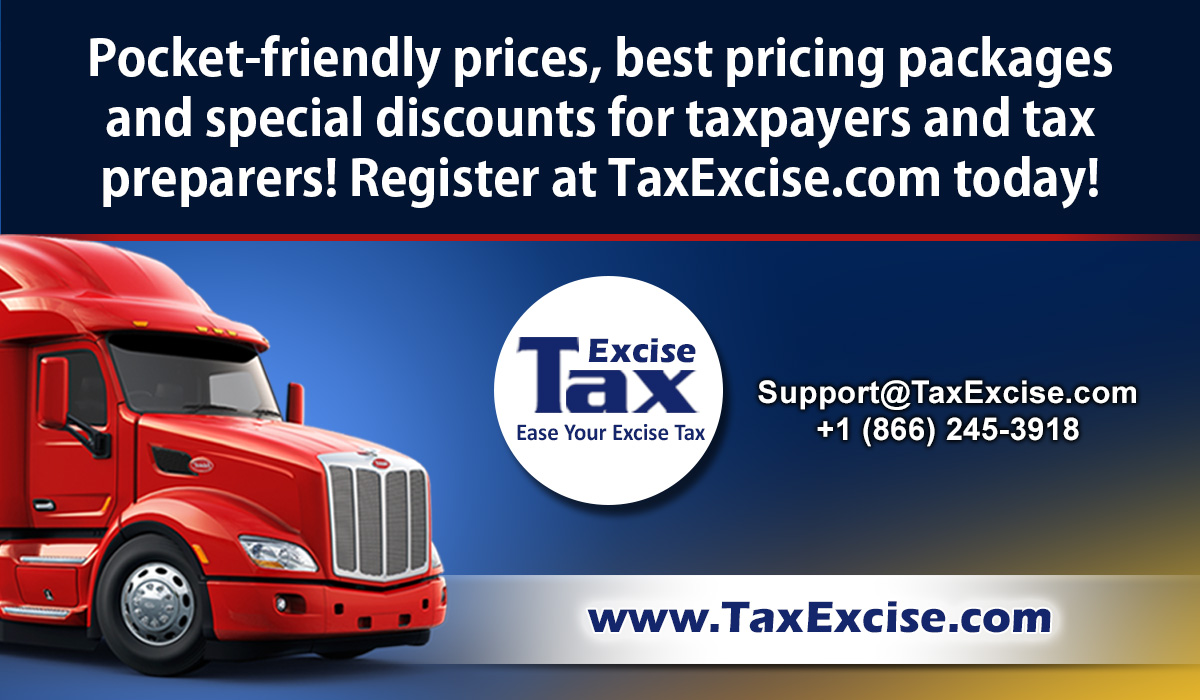 Form 2290 HVUT.
Truck tax form 2290 e-filing charges start at $29.99 for filing single-vehicle returns. Our price ranges for very small fleets (2 to 10 vehicles) at $39.99; small feet (11 to 24 vehicles) at $49.99; medium fleets (25 to 100 vehicles) at $74.99; large fleets (101 to 250 vehicles) at $124.99 and jumbo fleet (more than 251 vehicles) at $174.99. Therefore, our price structure is convenient for all truckers, from owner-operators to huge trucking conglomerates.
We also offer VIN corrections at just $29.99 and amendments filing at $29.99 for a single vehicle and $49.99 for multiple vehicles. TaxExcise.com provides seasonal filing charges for bulk e-filing for unlimited returns, along with VIN corrections and amendment filings throughout the tax period. The charges vary between $299.99 and $399.99.
Form 720 quarterly federal excise taxes.
Taxpayers must pay their form 720 quarterly federal excise taxes every quarter, and they can e-file form 720 at TaxExcise.com for just $49.99 for a single category per quarter. We also have package pricing to e-file form 720 for all four quarters of the tax period at $159.99 for single-category filing and $249.99 for multiple-category filings.
Form 8849 federal excise tax refund claims.
TaxExcise.com support form credit/refund claims form 8849, along with all its schedules. Therefore, federal excise taxpayers can apply for refunds using form 8849 with the appropriate schedule on TaxExcise.com at affordable costs. The service charge for e-filing form 8849 for a single schedule is $49.99. Also, we offer unlimited filing of a single schedule for a tax year at $350, and unlimited filing for all schedules is $550.
Tax preparers.
TaxExcise.com offers special discounts and cost structures for all tax professionals to e-file federal excise taxes for their clients. You can choose the best fitting package from our different price packages to serve your clients cost-effectively. You can learn more about the special price packages once you register at TaxExcise.com, or you can contact our customer support team to learn more about your charges.
Special Offers and discounts!
TaxExcise.com provides attractive coupons that will offer discounts on your federal excise tax form e-filing charges. Register with TaxExcise.com to keep updated with our special offers and discounts though our email campaigns. Also, make sure you follow us on our social media and blogs to know about our updates and offers.