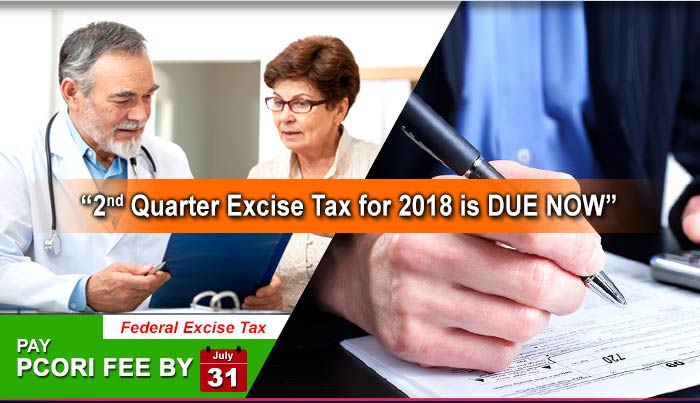 "Like mothers, taxes are often misunderstood, but seldom forgotten" – Lord Bramwell
Month of July comes in with a lot of due dates for Taxes, Once such Important Tax that is due this July is your Federal Excise Tax Form 720. Form 720 is filed after the End of Ever Quarter making it a Quarterly Federal Excise Tax that is filed on sales of certain Products that come under the Excise Tax Category. Though this Tax is Filed Four Times a year, there is one Special category in this Tax Form that is filed only once a year that is along with the Second Quarter Form 720 and that is Patient-Centered Outcomes Research Institute (PCORI).
The Patient-Centered Outcomes Research Institute (PCORI) fee for 2017 is due by July 31, 2018. The fee is imposed on issuers of health insurance policies and self-insured health plans under the Affordable Care Act to help fund the institute. The fee amount is based on the average number of covered lives under the policy or plan, and that total (along with the fee) is reported annually on the second quarter IRS Form 720 (Quarterly Federal Excise Tax Return). Payment of the PCORI fee for the 2018 plan year — the last year the fee applies — will be due by July 31, 2019 (although payments may extend into 2020 for non-calendar-year plans).
For fully insured health plans, the insurance carrier files Form 720 and pays the PCORI fee. So, employers with fully insured health plans have no filing requirement (but will be charged by the carrier for the fee). Employers that sponsor self-insured health plans must file Form 720 and pay the PCORI fee. For self-insured plans with multiple employers, the named plan sponsor is generally required to file Form 720.
There is not much Time Left behind for you to file this Annual Tax on your Quarterly Federal Excise Tax Form 720 for the Second Quarter of 2018. This Tax form 720 which is due by July 31st can be E-filed online through www.TaxExcise.com – An IRS Authorized E-file Service Provider. You can Reach us for any Support @ 1-866-245-3918 or write to us @ Support@TaxExcise.com or ping our Tax Experts using the LIVE CHAT Option on the website.