Hello, federal excise taxpayers! This message is to remind you that the quarterly federal excise tax Form 720 is due for the third quarter of this tax year. You must report and pay the taxes by October 31, 2023. So, E-file Form 720 on TaxExcise.com and stay ahead of the deadline now!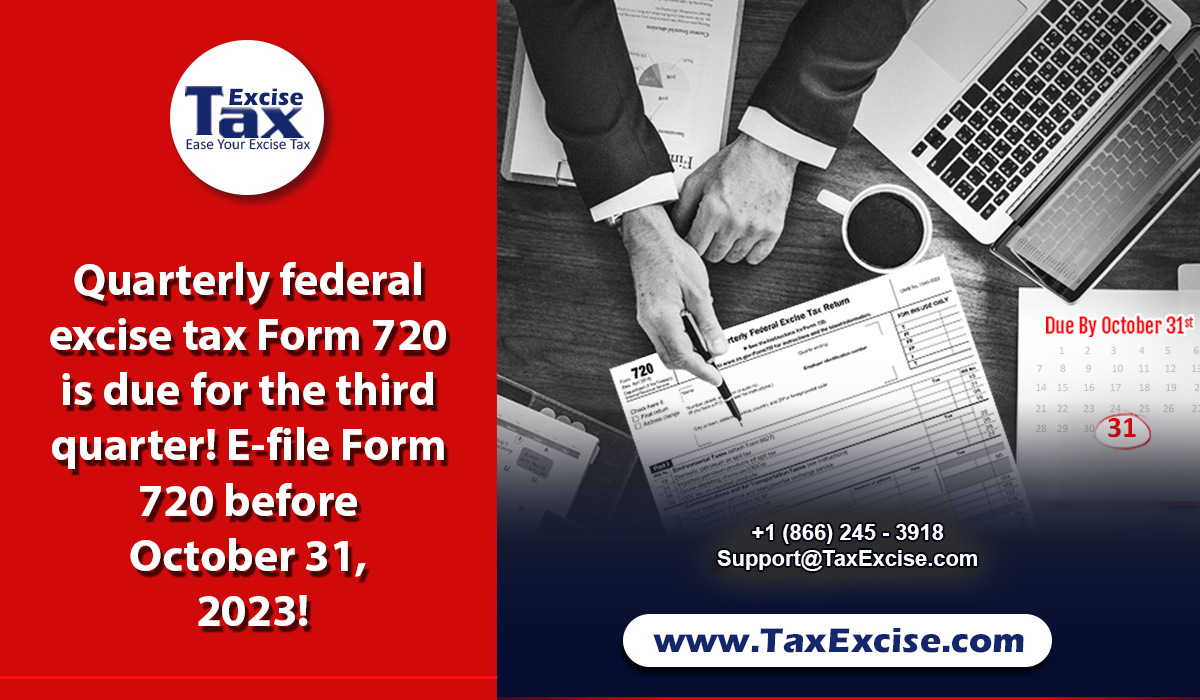 IRS Form 720 – Quarterly Federal Excise Taxes.
The United States Federal Government enforces taxes on specific goods and services. Owners, dealers, importers and sometimes, consumers of these designated products and services are required to report the taxes to the IRS on a quarterly basis, using the federal excise tax Form 720. These taxes include environmental, communication, air transportation, and fuel taxes, among others. As the form contains lots of parts, divisions, and categories with numerous products, goods and services, you must go through the form carefully, identify the category your product/service belongs and prepare your tax reports. If you have any issues or confusion regarding Form 720, you can visit the IRS website for more instructions or contact our customer support desk for assistance. Failing to report your Form 720 taxes by the last date could result in IRS penalties, late charges and interests on your tax dues. So, make sure that you submit your 720 tax reports for the third quarter on or before the end of this month.
E-file Form 720 on TaxExcise.com!
TaxExcise.com offers convenient and effective solutions to report your quarterly federal excise tax Form 720 online directly to the IRS. You can have a smooth, error-free Form 720 e-filing on our platform. TaxExcise.com is an IRS-authorized modernized Form 720 quarterly federal excise tax e-filing service provider. Since the Form 720 paper filing process is tedious and filers tend to make errors and omissions, E-filing Form 720 is the best option to report the federal excise taxes on time without facing any obstacles. You can smoothly choose your respective category in our platform and prepare your tax reports. Also, you can validate your 720 tax reports before transmitting them to the IRS. If the system shows any error in your tax preparation, you can easily go back and correct it. TaxExcise.com guarantees a 100% accurate Form 720 e-filing process at the most affordable rates in the market. Form 720 e-filing costs just $49.99 per quarter. You can also use our yearly and seasonal packages to save more money. Contact our customer support team at (866) 245 – 3918 on all working days from 8 AM to 6 PM EST or write to us at support@taxexcise.com for more queries.