Hello, truckers! Finally, the new tax period is here, and it's time to report your form 2290 HVUT to the IRS. You can file form 2290 by directly visiting the IRS office or electronically filing form 2290 at TaxExcise.com. But e-filing form 2290 online has more convenience and advantages than paper filing form 2290. TaxExcise.com offers you the best online form 2290 HVUT e-filing services where you easily e-file form 2290 online at pocket-friendly prices.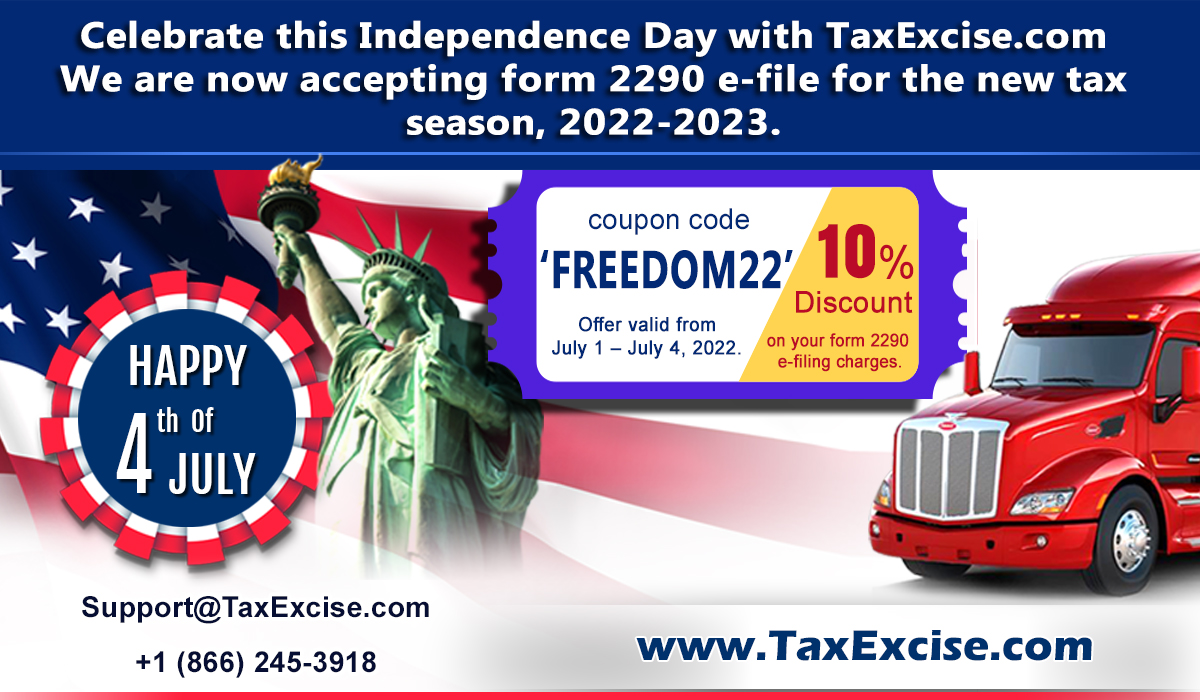 E-file form 2290 for the tax season 2022-2023
IRS made e-filing form 2290 online mandatory for truckers with 25 or more vehicles in their fleet. Also, they encourage all truckers and truck taxpayers to e-file form 2290 online because it is advanced, simple, and quick. The form 2290 processing for the IRS is also very easy as everything is electronic and automatic. They don't need to process the tax returns manually, which consumes a lot of time to do so. You will instantly get the official IRS schedule 1 copy to your registered email address. You don't have to wait for weeks to get your schedule 1 copy from the IRS. Instead, you can get it immediately after completing your form 2290 e-file at TaxExcise.com. You can print the schedule 1 copy to use it as proof for your form 2290 tax payment with the authorities and other legal formalities. You can easily pay your form 2290 tax dues using all the IRS-approved tax payments lie EFW, EFTPS, credit/debit card, and check/money order through TaxExcise.com.
Use the coupon code to save money! 
We understand the hard work of our beloved trucking community and their contribution to the betterment of our nation. To honor that and happily celebrate the fourth of July with them, we offer a special discount on the form 2290 e-filing charges at TaxExcise.com. Use the coupon code 'FREEDOM22' to get a flat 10% discount on your form 2290 e-filing charges to celebrate the spirit of freedom. This coupon code is valid from July 1 – July 4, 2022. We call out all the truckers to e-file form 2290 at the beginning of the tax season and save big bucks using our special Independence Day offer.
For queries and support, please get in touch with our customer help desk at 1-866-245-3918 (toll free) or write to us at support@taxexcise.com; we will reply to you promptly.