Dear truckers! TaxExcise.com would like to take this opportunity to wish you a Happy Friendship Day 2023. Let's build our relationship strong for the coming years. We thank you for choosing us as your Form 2290 e-filing service partner. We assure you that we will keep making your life easy by simplifying the Form 2290 reporting process with our innovation and technology. We also thank you for having our back in making us one of the US's leading Form 2290 online e-file service providers. To make this occasion more memorable and celebrate this friendship day with you, TaxExcise.com is offering a special coupon that helps you to save big on your Form 2290 e-filing charges with us. If you haven't reported Form 2290 HVUT for this tax season, don't miss this chance to e-file Form 2290 at a discounted price and enjoy the benefits of e-filing Form 2290 online in due process.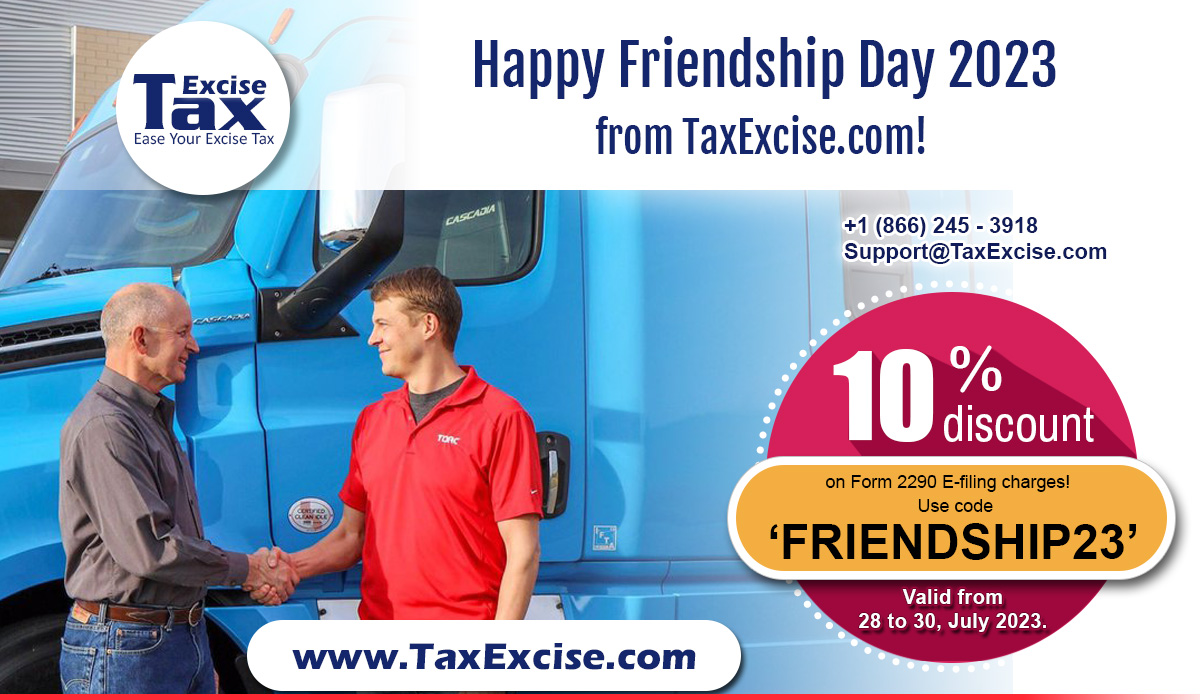 Ideal platform to e-file Form 2290 for all truckers.
TaxExcise.com is an IRS-approved Form 2290 modernized e-filing service platform where truckers and trucking taxpayers can easily report their Form 2290 HVUT for their heavy highway vehicles directly to the IRS. We are an ideal platform for single-vehicle operators like owner-operators to large trucking conglomerates. Tax professionals like CPAs, paid preparers, and tax practitioners can also maintain and run their tax filing business online on our platform. We have exclusive and customized services for them to smoothly carry out their tax filing business for their trucking clients. Apart from the Form 2290 e-file, we also support Form 2290 VIN correction e-file, Form 2290 Amendment e-file, and Form 8849 Schedule 6 refunds claim e-file for getting refunds or credits from your paid Form 2290 truck taxes. You will receive the IRS digitally watermarked Schedule 1 copy directly to your email once the IRS processes your Form 2290 HVUT returns. You can complete the entire Form 2290 truck tax e-filing process and get the Schedule 1 copy within a few minutes. We have modern and sleek facilities to reduce the burden of 2290 tax preparation. You can prepare your 2290 taxes with 100% accuracy and validate them for any errors before transmitting them to the IRS. TaxExcise.com also provides mobile applications for Android and iOS platforms. Users can download the mobile app for free and e-file Form 2290 online using their smartphones. We offer these Form 2290 e-file services at the most economical costs. We also package seasonal pricing, which is comfortable for all truckers and trucking taxpayers to e-file Form 2290 economically.
Use the coupon code to celebrate this friendship day with us!
TaxExcise.com thanks you for your hard work, sacrifices, and the vital role you play for the benefit of our nation. May the road ahead be filled with friendships that light up your path and bring happiness to your journey. To celebrate this friendship day with our trucking community friends, TaxExcise.com is giving a special discount for our users to save big on their Form 2290 tax e-filing charges on our platform. Use the coupon code 'FRIENDSHIP23' to get a flat 10% discount on your form 2290 e-filing charges to celebrate the spirit of freedom. This coupon code is valid from 28 to 30, July 2023. So, we want all truckers and trucking taxpayers to use this coupon code to get the discount on your Form 2290 e-filing charges. For queries and support, don't hesitate to contact our customer help desk on 1-866-245-3918 (toll-free) or write to us at support@taxexcise.com; we will reply promptly.