Hello taxpayers! The new tax season, TY 2022-2023, for the HVUT form 2290 is now open, and truckers are actively e-filing form 2290 truck taxes at TaxExcise.com to stay ahead of the deadline, which is on August 31, 2022. The IFTA tax for the second quarter of this tax year is also due on August 01, 2022.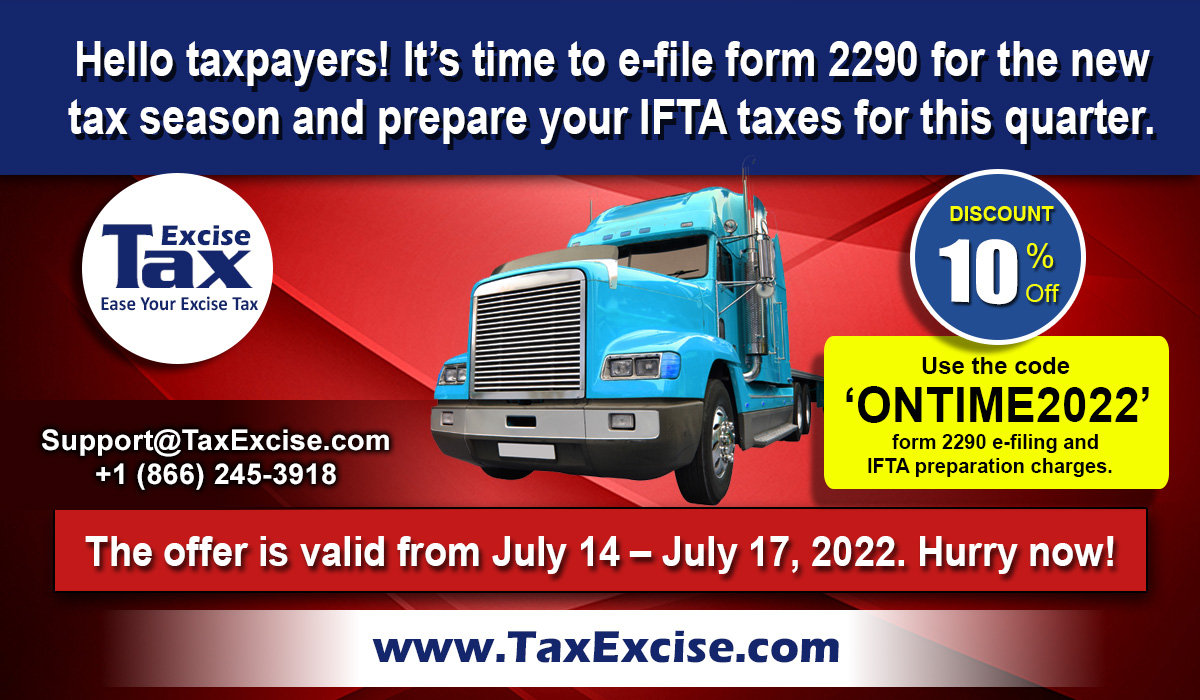 E-file Form 2290 today!
So, taxpayers who haven't filed their tax reports to the IRS must e-file form 2290 today and instantly get the IRS official schedule 1 copy at TaxExcise.com. We are an IRS-approved modernized online tax e-filing service provider with a comprehensive web platform that enables you to e-file your tax forms directly to the IRS in just a few simple steps. You don't need any expert guidance to e-file form 2290 at TaxExcise.com. Every step is a simple, do-it-yourself process where you can follow these steps, complete your form 2290 e-filing, transmit it to the IRS, and immediately get the official schedule 1 copy to your registered email address.
Prepare your IFTA tax online today!
You can prepare the IFTA taxes online at TaxExcise.com for this second quarter and file them with the IRS. We offer a convenient platform to prepare your IFTA taxes accurately. You can never make errors in your IFTA preparations since the entire online process is automatic and editable. You can double-check your information and edit them easily. After successfully preparing your IFTA tax reports, you can download them and file them with the IRS. You can maintain all your IFTA tax records and reports in your TaxExcise.com profile.
Use our special coupon code to save big!
The tax season is at its peak, and the deadline is approaching soon. Taxpayers are actively e-filing form 2290 & preparing IFTA tax reports online at TaxExcise.com. Therefore, to benefit our customers and boost the spirits of our taxpayers, we are giving a limited-time offer; use the coupon code 'ONTIME2022' to get a 10% discount on the form 2290 e-filing and IFTA tax preparation charges. This offer is valid from July 14, 2022, to July 17, 2022. We call out to all the taxpayers to make use of these special offers and save big!
Form 720 excise taxes are due for the second quarter.
Another gentle reminder for our Form 720 taxpayers, the quarterly federal excise tax for the second quarter of this tax year is due on August 01, 2022. So, the excise taxpayers must e-file form 720 at TaxExcise.com to stay ahead of the deadline and get the acknowledgment from the IRS directly to your registered email ID. Visit our website to learn more about form 720 e-filing and attractive pricing details, or contact our customer support desk at 1-866-245-3918 now.
The annual PCORI fee is due on August 01, 2022.
The annual PCORI fee, paid using form 720, is also due by August 01, 2022. The PCORI fee is a part of the federal excise tax paid by certain health insurance providers. It should be paid once a year to the IRS using form 720 during the second quarter of the excise tax year. Therefore, the PCORI taxpayers should report their form 720 taxes within the deadline to the IRS at TaxExcise.com.