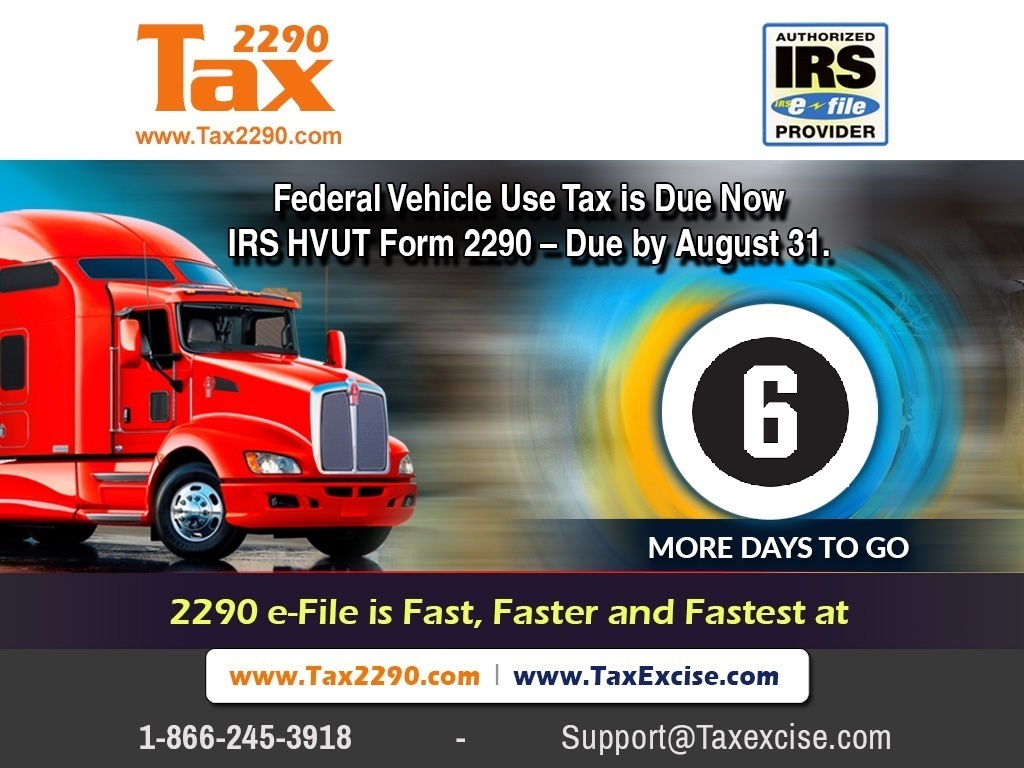 From Two complete Months it has now come to Final Six days for the Due Date to File Heavy Highway Vehicle Use (HVUT) Tax Form 2290. The Deadline to E-file IRS Form 2290 without any Penalties or Interests is August 31st. Unlike other Tax Forms which are filed after the completion of Tax Year Heavy Vehicle Use Tax (HVUT) Form 2290 is Always Filed in Advance that is by the beginning of the Tax Year.
The Current Tax is 2018 – 2019 which began by July 01st, 2018 and will go on till June 30th, 2019. The above mentioned Thumb Rule of Filing the Taxes in advance is applicable for this Tax year as well. The IRS grants a total of 62 days to renew your Stamped Schedule 1 copy – the Proof for Filing Your Form 2290 that is 31 days in July and 31 days in August.
If you have not filed your Form 2290 for tax Year 2018 – 2019 yet it means you have only 6 days including today to renew your HVUT Form 2290. Officially you have only 5 working days that is until Friday August 31st, to E-file and renew you Federal Excise Tax Form 2290 without IRS Penalizing you.
Log on to www.tax2290.com and renew your Form 2290 for Tax Year 2017 – 2018 right away. Get Assistance from our Handpicked, Industry's best Tax Experts @ 1-866-245-3918 or write to them @ support@taxexcise.com or chat with them using the LIVE CHAT Option on the website.