Attention truckers! The next tax season is approaching, and you know the seasonal surge in reporting Form 2290 to the IRS. The new tax period, 2023 – 2024, starts on July 1, 2023, and you have time till August 31, 2023, to report Form 2290 HVUT for the season. IRS starts accepting Form 2290 for TY 2023 – 24 around the first week of July. But you can report your Form 2290 for the upcoming tax period right now!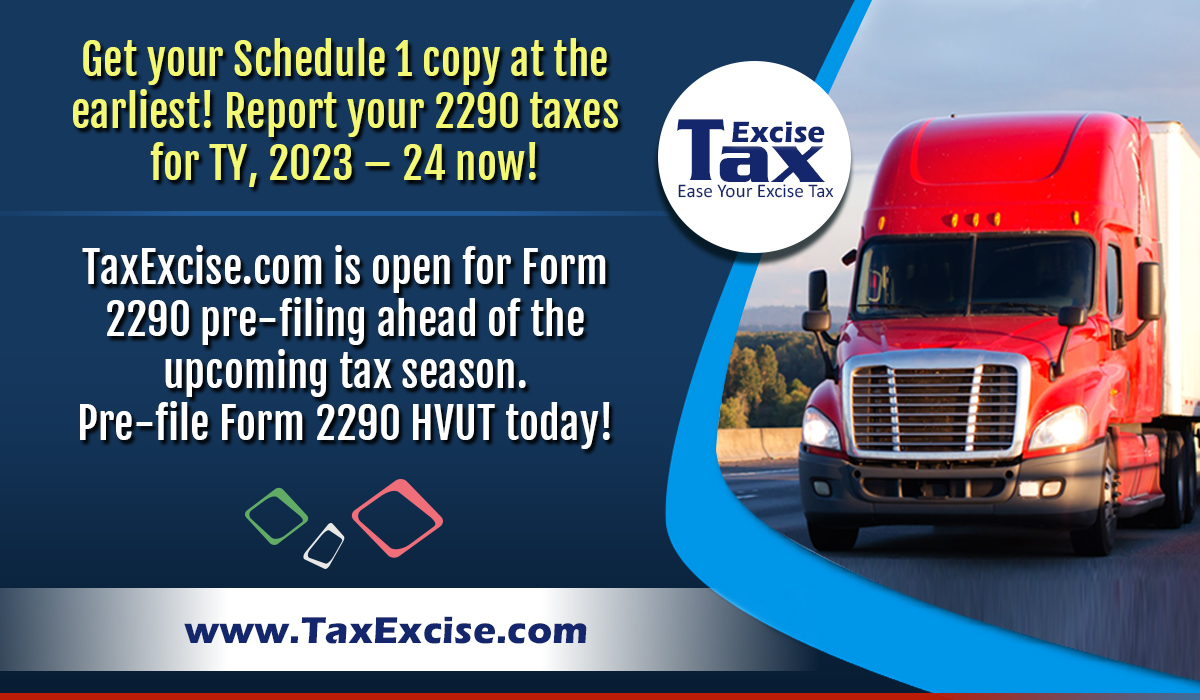 IRS will be crowded once the tax season begins.
TaxExcise.com is now accepting Form 2290 pre-file for the new tax period. You can prepare Form 2290 tax reports and submit them weeks before the tax season. As you know, almost the entire trucking community will be looking to report Form 2290 taxes at the beginning of tax season. So, the IRS will be flooded with Form 2290 filing requests. As a result, IRS gets jammed with unlimited tax reports, which cause delays, inaccuracies, server crashes, and other associated issues. These unavoidable circumstances during the season can cause setbacks in your Form 2290 process and IRS Schedule 1 copy. The IRS is very strict about deadlines; they charge heavy penalties, late fees, and interest on your tax dues if you fail to report/pay your taxes on time. Also, you cannot operate your trucks without a proper IRS-stamped Schedule 1 copy.
Pre-file Form 2290 ahead of the upcoming tax season.
Therefore, pre-filing Form 2290 on TaxExcise.com ahead of the tax season helps you to stay ahead of the seasonal surge. You have plenty of time to prepare your Form 2290 returns and pre-file them accurately. Form 2290 pre-file benefits all regular heavy highway vehicles used by taxpayers to stay ahead in time and prepare their taxes before the commencement of the tax season officially. You can pre-file Form 2290 with us, sit back, and relax. We will safely handle your Form 2290 reports and transmit them to the IRS once they accept Form 2290 for the new tax season.
Get the Schedule 1 copy at the earliest.
You should remember that IRS accepts Form 2290 HVUT returns for TY, 2023 – 2024, from the first week of July. If you pre-file Form 2290 on TaxExcise.com, we will hold your Form 2290 returns in our secured platform and pass them on to the IRS once they open for the season. Your Form 2290 will be among the first to reach the IRS, and they will process your tax reports as soon as possible. As a result, you will get your IRS digitally watermarked Schedule 1 copy once the tax season begins. You can also pay your Form 2290 tax payment when IRS processes your tax returns through secure online tax payment gateways.
Pre-file Form 2290 on TaxExcise.com today!
TaxExcise.com is an IRS – approved Form 2290 online e-filing service provider. There are no extra charges for Form 2290 pre-filing on our platform and get the Schedule 1 copy directly to your email at the earliest. You can pre-file Form 2290 at $29.99 per return and use our package pricing structures for bulk pre-filing. We also offer discounts and coupon codes to save money in your Form 2290 pre-filing. Contact our customer support desk at +1-866-245-3918 to know more about Form 2290 pre-file and discounts. Or write to us at support@taxexcise.com. Pre-file Form 2290 to save time and money.